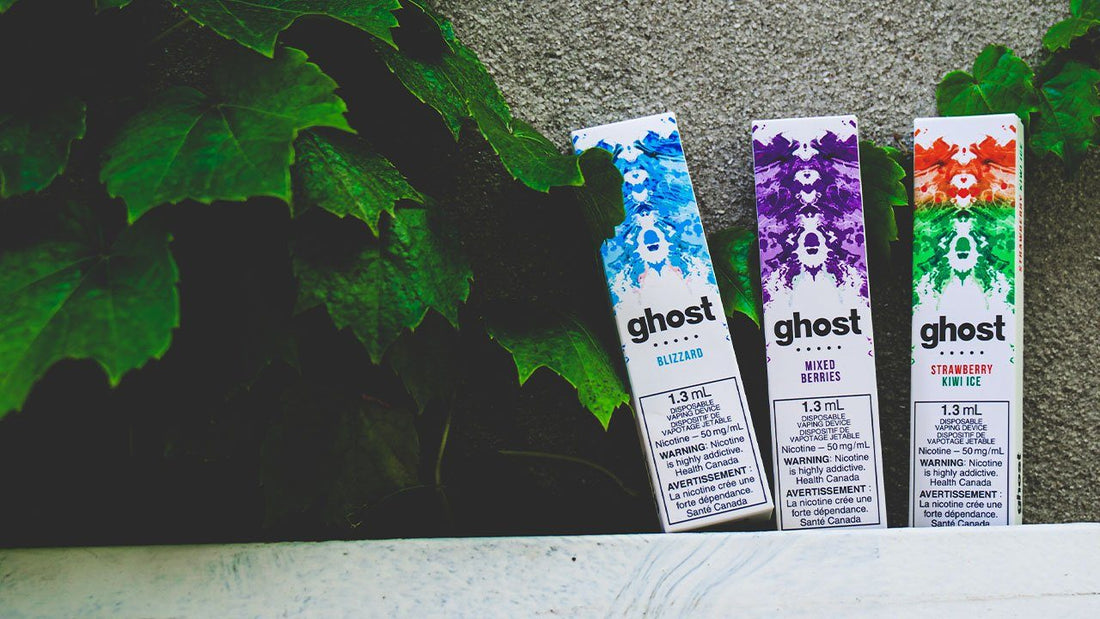 Ghost Disposables Review
Get your fix on the go with Ghost Disposables! Their classic flavours combined with salt nicotine provide the kick and throat-hit that will keep you coming back for more! In their disposable line of vapes, expect to find Banana Ice, Blizzard, Blue Razz, Mixed Berries, Peach Ice, Pineapple Coconut, Pink Lemon, Strawberry Banana, Strawberry Kiwi, and Watermelon Ice.  
Specs
Ghost Disposables come packed with 1.3mL of liquid and a 280mAh battery, which will give you about 300 puffs. Vapour is produced through 1.3ohms of power, which is great for creating satisfying clouds!
Ghost Disposables are available in 20mg and 50mg salt nicotine concentrations and in 50VG/50PG ratios in all flavours.
The Flavours
Ghost Disposables focuses on standalone tastes as well as fruit blends, with a strong emphasis on tropical experiences. Take a look below to see which Ghost vape juice will fit your fancy!
The creamy goodness of banana collides with the icy blast of mint in Ghost's rendition of Banana Ice! You'll get a fantastic balance of creamy sweetness and minty coolness while avoiding too much of either. Banana Ice by Ghost is extremely well-blended and is especially good with salt nicotine!
You'll want to bundle up before taking an excursion through the icy winds of Blizzard! This is a minty blend that is meant to hit your taste buds with refreshing coolness and an aftertaste that pleasantly lingers. Mint lovers will have their hearts frozen by Blizzard!
Blue Razz offers a delicious take on the classic blue raspberry flavours. It will hit tart on the inhale, with pleasant sweetness and tartness blending together on the exhale. Blue Razz is a wonderful choice for those that love blue raspberry.
The tasty sweet notes of blueberry, raspberry, and blackberry will be a pleasant experience for vaping taste buds everywhere! You'll find a pleasant blend of smooth, sweet, and just a bit tart as you exhale satisfying vapour clouds from this vape juice. Mixed Berries is a tasty take on a classic blend!
Peach is one of the most popular flavours of vape juice, and adding mint to it only makes it better! Fuzzy sweetness will hit your palate on the inhale, while the full-bodied juiciness of peach mixed with a tasty breeze of mint will envelop your mouth on the exhale. Peach Ice is a tasty mint blend and a great shake-up on a classic flavour!
Pack your bags for a tropical flavour excursion when you take a hit from Pineapple Coconut. The blend is perfect parts tart and light sweetness, with both pineapple and coconut notes shining through on the exhale. Pineapple Coconut is a delicious tropical blend that will become a quick favourite!
With perfect parts sour and sweet, Pink Lemon is a wonderful recipe that will remind you of a tall glass of pink goodness! Sour lemon and grapefruit notes are tamed by a foundation of sugary sweetness, which will make you pucker on the exhale (just not too much!) Pink Lemon is a refreshingly sweet blend that is the perfect partner for summertime vaping.
Strawberry Banana is a delectable blend that takes creamy banana goodness and mixes it with the straightforward sweetness of strawberries. You'll get hit with notes of strawberry on the inhale, with banana becoming the predominant flavour on the exhale. Strawberry Banana is a tasty blend of a classic fruit duo, and we're sure you'll agree!
If you're a fan of strawberry blends, like Strawberry Banana, but want something with a bit more of a tangy kick, consider Strawberry Kiwi! You'll get the juicy strawberry sweetness that you love with the tangy-sweet kick of kiwi. If you have enjoyed other similar blends, then Strawberry Kiwi might become your new favourite!
For the ultimate companion in battling the scourge of summer heat, look no further than Watermelon Ice! The juicy sweetness of summer-ripened watermelon combined with the icy blast of menthol is just what you need to keep cool with a delicious vape juice. Watermelon Ice is a delicious summer-themed taste that is one of our favourites among Ghost Disposables!
Conclusion
Ghost offers a delicious collection of familiar vape flavours in their disposables line. Find a new fave? Head over to the 
Ghost Disposable
collection page to shop now!