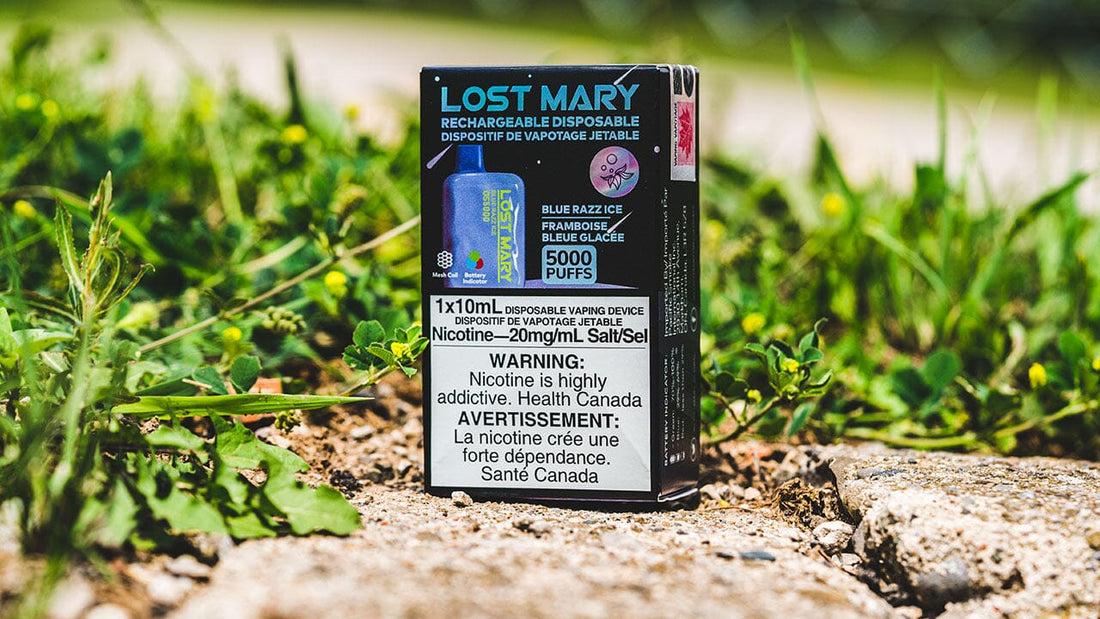 Get Lost in Flavour with Lost Mary OS5000 Disposable Vape
The vaping industry is always advancing, bringing forth innovative and captivating devices. One such device is the Lost Mary OS5000, a premium disposable vape that has greatly impacted my social group. This blog post will discuss my two weeks' experience with this vape and thoroughly examine the Lost Mary OS5000's design, technology, and flavours. Let us begin our exploration now!
Opening the Box:
This unique vape comes in a cool box packaging with eye-catching designs to make it stand out. It's a really cool-looking box, but with all the shiny holograms on the box, it makes it a bit difficult on the flavours. Should that really be an issue I look into here? Yes, because I meant to buy the Strawberry Cream and got the Tropical Bliss by mistake because the colours looked very close. I was happy regardless, and we should not judge a vape by is box or packaging, but the effort was taken to make this box the flashest I've come across in a while.
Lost Mary OS5000 Design First Look: 
Regarding design, the Lost Mary OS5000 is one of the more unique disposable vapes out there. Its glossy finish boasts a premium feel, and its unique shape makes it stand out from the competition. The device is bulky but still comfortable to hold, thanks to its textured body. It might not be the most pocket-friendly vape pen out there, but it's worth carrying around if you want a worthwhile vaping experience. 
Lost Mary OS5000 Technology: 
The Lost Mary OS5000 is not just a pretty face. It's also packed with technology, making it a great vaping device. The device uses a mesh coil to vaporize the e-liquid, giving you a cleaner, more flavorful hit. Additionally, the device has a rechargeable battery, and the battery indicators on its LED screen help you keep track of your battery life. The device is also incredibly easy to use. All you need to do is inhale on the device to activate it. This makes it great for those who want a quick and easy vaping experience without fussing over complicated settings. 
Lost Mary OS5000 Performance Assessment: 
Now, let's talk about performance. As someone who has used the Lost Mary OS5000 for two weeks, I can say it delivers an excellent vaping experience. The puff quality is one of the best I have tried, and the clouds are thick and satisfying. The battery life is impressive, meaning you can vape longer without recharge. I found that I returned to the Lost Mary over a few other disposable vapes I have been testing due to how smooth and satisfying the flavour and nicotine hits were. It is a more premium vape that will cost a bit more, but you can and will notice the difference when you try this disposable vape.
Lost Mary OS5000 Flavors are the best thing about this vape: 
Last but not least, let's talk about flavours. As I said earlier, I chose the Strawberry Surprise Ice flavour and ended up with the Tropical Bliss Ice instead. On no- a vape with pineapple in it! Actually, this blend was one of the BEST tropical flavours I have ever had, where everything blended so perfectly that all the flavours helped elevate each other versus taking away or being overpowering. I also picked up a Blue Razz Ice thinking that lightning couldn't strike twice, but I was impressed! After hitting these two flavours over two weeks, I was very impressed at how they held up and stayed consistent, and immediately I was driven to find out what other flavours were out there so I could try something new next week.
The flavours are smooth, refreshing, and authentic, so you can enjoy a great vaping experience without worrying about artificial tastes.
Cons to the Lost Mary:
I am really not a fan of how thick and bulky the Lost Mary is. I'll say, "I got a rock!" because I find these vapes look very rock-like. If you buy 3, you can make a little Fred Flinstone Stonehenge on your desk. You are reading this and saying, "What is she on about" but you won't be able to unsee that caveman rock look with this vape. I started joking with my friends that I had too many Fruity Pebbles in my bag and then would whip them out, and we all had a good laugh. A few of my friends didn't mind the overall look, but I think it looks like a bright, colourful rock. But I digress, don't judge a vape by its look. If anything, embrace its awkwardness and run with it.
Conclusion: 
The Lost Mary OS5000 is a fantastic device that delivers an excellent vaping experience. Its design, technology, and flavours all combine to create a product worth every penny. If you're looking for a reliable and flavorful vape pen, the Lost Mary OS5000 is definitely worth considering.
Need more vapes in your feed? Stay up to date with all our deals and promotions by following our Instagram page!