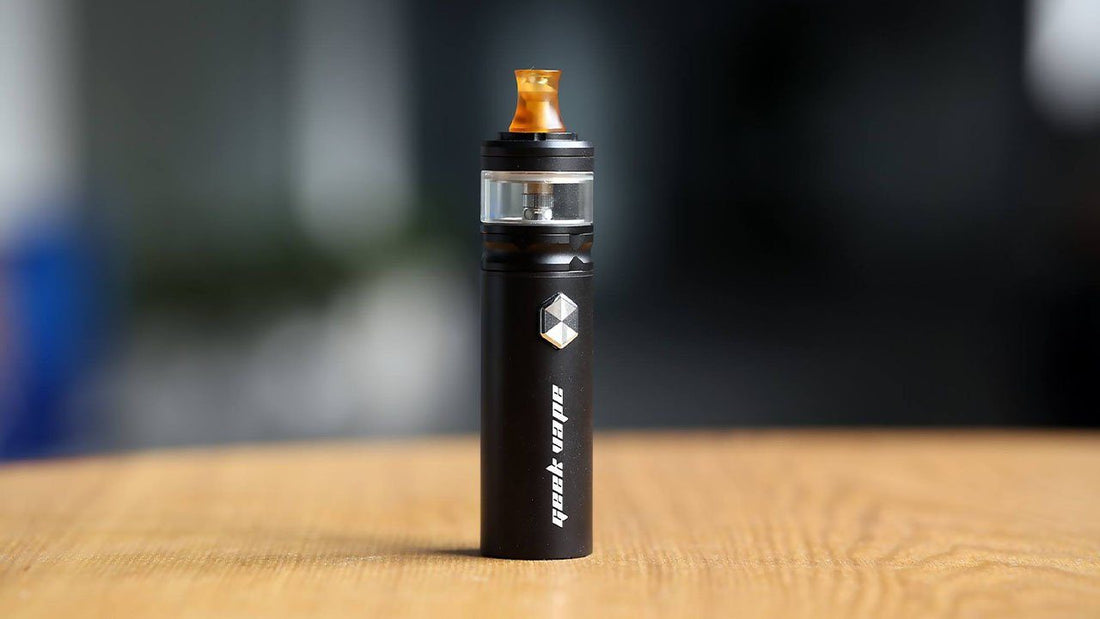 GeekVape Flint Pod System Review
GeekVape loves to produce hefty, full-featured box mods, but not everyone needs an expensive device with all of the bells and whistles. Many vapers are happy to use traditional style vape pens that are simple, easy to use, and offer a consistently wonderful vaping experience.
Does this sound like you? If so, the GeekVape Flint may be a match made in heaven! It is designed with the cylindrical vape pen style you know and love, but it is built with enough features to tweak your vaping experience to be more towards your preference.
The Flint is a compelling choice for vapers who love the vape pen style but hate how limited of a vaping experience that design notoriously brings. To see what sets the Flint apart from other cylinder style vapes, take a look below!
What's in the Box
1 x Flint Device

1 x 1.6ohm Coil (Pre-Installed)

1 x 1.2ohm Coil

1 x Micro USB Cable

1 x User Manual
Look and Feel

The Flint uses a stainless steel design to create a smooth feel with enough weight to provide a sense of quality construction. The power button is a multi-use design, as it is used to power the device on and off, cycle through voltage options, and as the fire button to produce vapour. With a height of almost 94mm, the Flint easily fits in the palm of your hand for easy handling and discrete use.

The included tank holds 2mL of your preferred vape juice and sits flush with the body of the Flint. However, since the body is made with a gold-plated 510 connection, you can use a variety of different e-liquid tanks, if you'd prefer.

Overall, the look and feel of this device are sleek, comfortable, and perfect for on the go, discrete use. You'll love the way it fits and feels in your hand, as well as how easy it is to reach the power button and navigate through some of the heating features.

Performance

While the Flint does have a focus on simplicity, it still brings enough features to the table to make a wonderful vaping experience. Voltage can be cycled between three options; 3.2V, 3.5V, and 3.8V. This will let you experiment with vaping at hotter and cooler temperatures, and it's a 
perfect entry point to those used to basic, draw-fire vapes.
The included tank supports coils with 1.2 and 1.6ohms of resistance, the latter being designed specifically for salt nicotine vaping. The tank also features a top-fill design, which makes refilling easy and spills unlikely.
Overall, the Flint offers a fantastic vaping experience for a device designed to be simple and straightforward and produces amazing vapour, especially from salt nicotine vape liquids. You'll sacrifice some more advanced features when compared to full-fledged box mod vapes, but you won't sacrifice anything when it comes to the quality of the flavour of vapour that this device produces!
Final Verdict
The Flint is perfect for vapers who are upgrading from disposable or draw fire vapes. You'll get the benefit of a refillable tank, impressive battery life, adjustable heating preferences, all the while avoiding overwhelming the user with new features.
If you're looking for a box mod with a full suite of features, you may want to take a peek at GeekVapes Aegis line of vaporizers (but be prepared to open your wallet a bit more). However, for those looking for the perfect little travel buddy that consistently knocks salt-nicotine vaping out of the park, wrapped up in a budget-friendly design, then the GeekVape Flint is an incredible choice.
The built-in 950mAh battery is excellent for this size of vape pen. Considering the power requirements of most e-liquid tanks, you should be able to enjoy all-day, on the go vaping without needing to park somewhere and recharge.