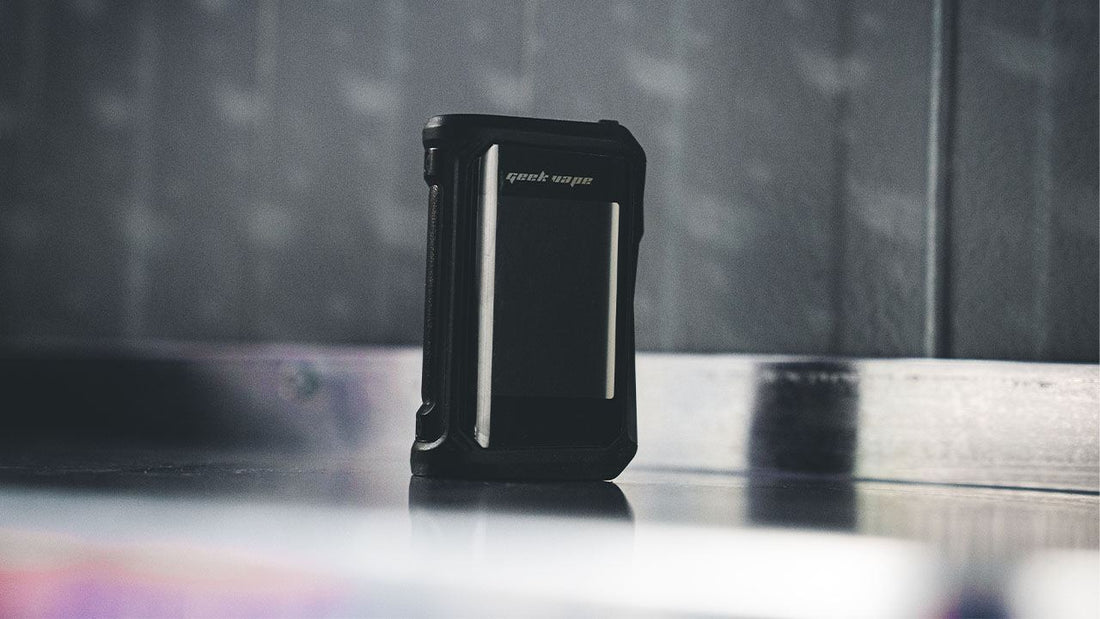 GeekVape Aegis X Mod Review
GeekVape has made a reputation for its Aegis line of vapes. Durability and ergonomic use are always at the forefront of their Aegis philosophy. However, many vapers don't just want durability. They want a powerful device filled with a full-suite of customizable features that are easily compatible with an enormous range of e-liquid tanks and attachments.

If you're wanting rugged durability, broad compatibility, and the latest and greatest that vaping devices have to offer, then the Aegis X should looking quite tantalizing. It's the newest vape in the Aegis line, and its reworked design, enormous display screen, and dedication to being rough and tough make it the leading choice in the Aegis family of box mods.

What's in the Box
1 x Aegis X Device
1 x Micro USB Cable
1 x User Manual
Look and Feel

The Aegis X looks and feels incredible. The 2.4in OLED screen is bright, vivid, and clearly shows all kinds of useful information. It will display coil resistance, wattage output, voltage options, and even how many puffs you've taken. It also clearly displays your adjusted temperature settings.
The firing button and adjustment buttons have been moved to the sides of the device to accommodate the large display screen. You can easily change options and see device info while holding and firing the device. It offers true one-handed vaping, even in the large, rugged body it offers.
The Aegis X has comfortable leather gripping on the back, completing the comfortable feel of the device while being held in your hand. GeekVape has put a lot of thought and care into how the Aegis X looks and feels, and you'll appreciate the quality as soon as you hold the device in the palm of your hand.

Performance

Simply put, the Aegis X is an absolute monster. It supports wattage output up to 200W but also has three preset power options; powerful, standard, and soft. The precision control is great for experienced vapers, and the presets are perfect for beginners who want an easier barrier of entry for playing with heating settings.
The Aegis X can read stainless steel, nickel, and titanium coils and a wide variety of e-juice tank resistances. Combine that with the variable heating options and the powerful dual 18650 batteries, and you get a box mod that can easily make vapour with nearly any e-liquid tank or attachment.
Its industry-leading performance is wrapped up in an absolute tank of a design. As is true with other Aegis vapes, the Aegis X is shock-proof, dust-proof, and rated IP67 waterproof. You can be as rough, or gentle, with this vape as you want, and it will keep cranking out plumes of tasty vapour for years to come.
Speed of vapour production, quality of control, availability of adjustable features, and a hefty battery life all join forces to make the Aegis X a performance beast.

Final Verdict

If you're an experienced vapour looking for a big upgrade, the Aegis X is going to be one of the best options on the market. It's a high-performing device that's nearly indestructible, but there isn't any compromise between its built and performance. You truly get to have your cake and eat it, too!
Beginning vapers may be a bit overwhelmed with the available features, but if you're looking for a box mod that you won't need to upgrade for a long, long time, then the Aegis X is deserving of a look. There are preset heating options to help introduce some of the temperature controls, and if you have a 510 threaded tank that you love, this box mod is almost certainly compatible.
If it's in your budget, there are essentially no downsides to the Aegis X. We know it will be warmly welcomed into any home it finds itself in!
You've made it to the end of this review! If you're still reading, there is a good chance this is the device for you. Take a look at the Aegis X product page to shop now!