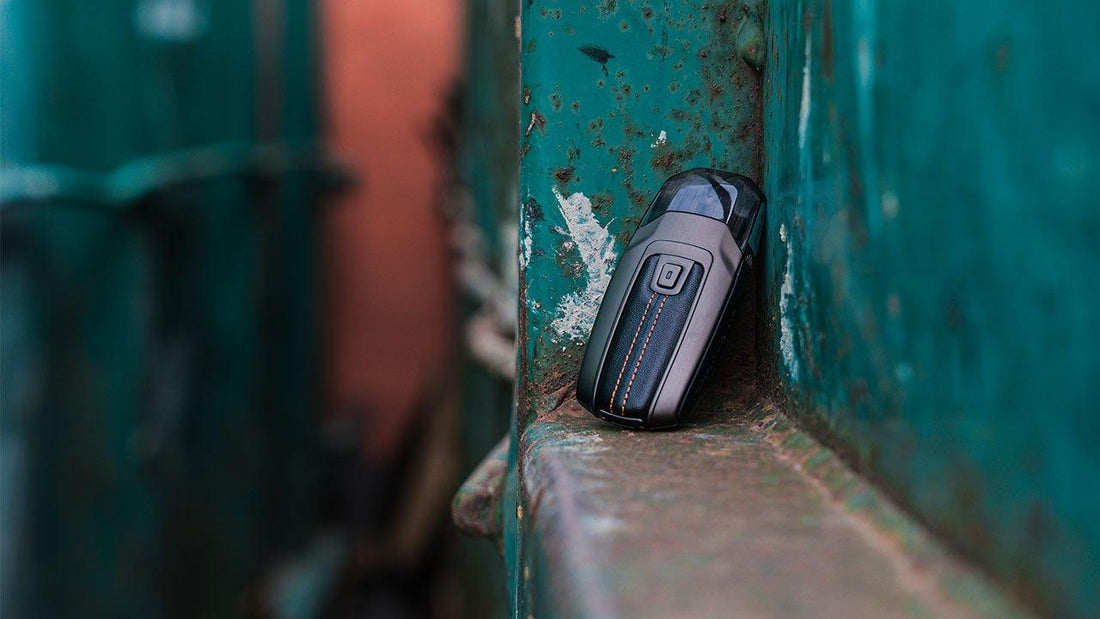 GeekVape - Aegis Pod Kit Review
The Aegis Pod is Geekvape's new AIO-style pod. All the way from the original Aegis mod to the most recent Aegis Boost pod device, the Aegis product line has become very successful due to its appearance, performance and shock resistance. However, unlike the Aegis Boost, the Aegis Pod is a more conventional and basic system of low power pods. Over the past few years, Geekvape has done a fantastic job producing some of the best products on the market.
Specifications
Weight: 73 grams
Pod capacity: 3.5 mL
Battery capacity: 800 mAh
Coil: 0.6-ohm G coil
Max puff time: 10 sec
Charging current: Type-C 5V/1.5A
Wattage output range: 12-15 watts
Dimensions: 87.7 mm x 40 mm x 17.7 mm
Battery indicator: Green (100%-70%)/Blue (69%-31%)/Red (30%-0%)
What's Inside The Box
1 x 0.6-ohm ST Coil
1 x User manual
1 x GeekVape Aegis Pod kit
1 x USB Type-C charging cable
Design

The Aegis pods is very well built, as expected. It is solid, has no rattling buttons and is overall very high quality. As usual, the leather is beautiful and looks good. There is no display or anything, just a button and an LED in the middle to show you the battery charge. What really differs from other Geekvape devices is their size. The Aegis pod is 88 mm long, 40.3 mm wide and 18 mm thick. It's probably the thinnest and smallest Aegis mod ever built.

Performance

One of the best things about the Aegis Pod is that it's easy to use. This is the perfect choice for a new vaper. While the Aegis Boost had an airflow control and a wattage adjustment, the Aegis Pod mod does not. This may be seen as a drawback to more seasoned vapers, but I think new vapers would enjoy the fact that this system is easy to use without any settings to fiddle around with.

Flavour Production

Its simplicity does not compromise the performance. The flavor you get is actually really good. And whether you're using regular nicotine or nic salt, the performance is great all the same. The capacity of the pod and the size of the battery are both quite good for the type of device this is, you're not going to run flat or empty in a hurry, and if you do, a quick charge will get you up and running quite quickly again. The draw with 20mg of nic salt is nice and smooth, and I'm sure the 18W constant output would work very well with 35mg+.

Battery Life

The Aegis Pod has a built-in battery of 800mAh, which is about average for a pod device. I've seen pods with smaller capacities, but also with much larger capacities. The Aegis Pod's charging times are short. So, although it doesn't have amazing usage times, it recharges very easily. A small LED light in the middle of the button indicates battery usage by examining the amount of charge. Not to mention that the LED light is bright enough to be used outdoors.

Verdict

It is probably the most comfortable device I have used in a long time. The Geekvape Aegis pod mod is light, thin and very practical. Advanced vapers or those looking for a tight MTL pull will probably find the device unsatisfactory. However, those who are new to vaping will probably like the Aegis Pod because it works well and still tastes good. Geekvape has done a great job with the Aegis Pod and I highly recommend it.
If you're still reading at this point then there's a good chance this product is exactly what you're looking for. Check out the GeekVape - Aegis Pod Kit product page and order yours today. You owe it to yourself!