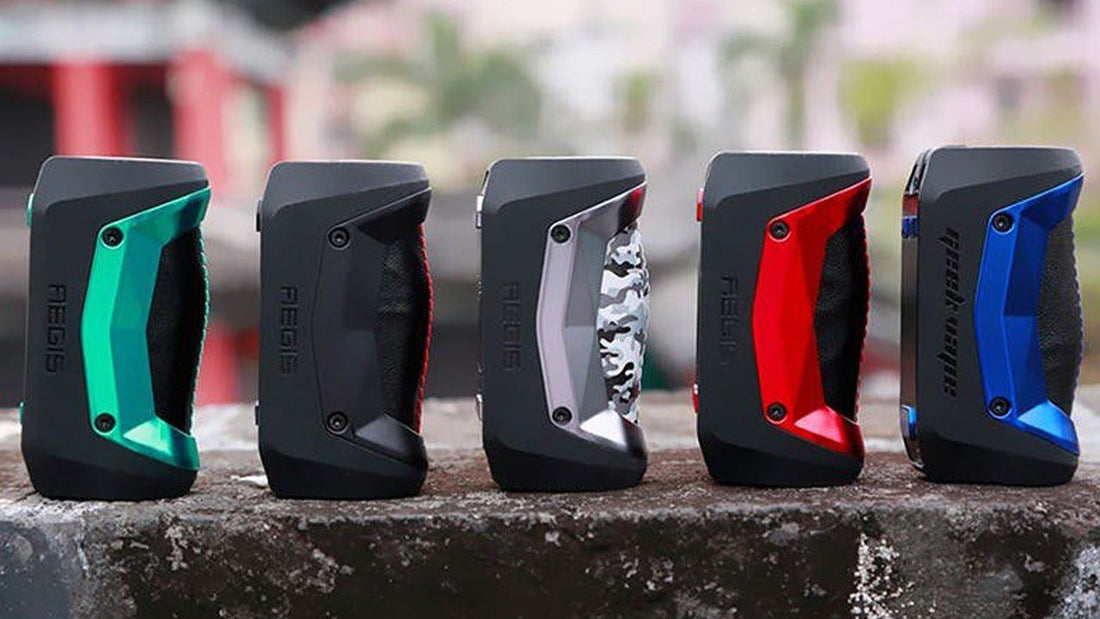 GeekVape Aegis Mini Mod Review
Not everyone is looking for a bulky, monstrous box mod that is capable of extreme wattage output packed into a huge suite of features. GeekVape recognizes this, which is why they've crafted the Aegis Mini. It's a more compact, simpler device that still offers an excellent vaping experience with plenty of customizable options.
You'll still have wattage output options, fantastic battery life, and the incredible durability that the Aegis line of vapes offer. Take a look below to see why the Aegis Mini is small in name only!
What's in the Box
1 x Aegis Mini
1 x Micro USB Cable
1 x User Manual
Look and Feel
The Aegis Mini is relatively small and compact but is comparable to most mid-sized box mods. Two physical buttons below the display screen navigate options, including adjusting temperature controls, while the firing button is placed above the display screen where your thumb will naturally rest. It maintains the basic design found in other Aegis vapes, like the Legend, so you can expect the same level of ergonomic comfort during use.

While excellent look and feel are nice, what really sets the Aegis line of vapes apart from competitors is the brand's dedication to creating incredible durable, hearty designs. The device is shock and drop proof, so even the butterfingeriest of us can be confident in using this device. Simple drops and falls won't put a single dent in this vape!

It's also waterproof, rated IP67 which will help your device survive up to 30 minutes of complete submersion. You'd have a hard time damaging this vape even if you were actively trying, let alone through occasional drops and spills. If rugged with a great feel is what you're after, the Aegis Mini is where it's at!

Performance
Of course, a rugged design and a comfortable feel mean nothing if the device doesn't perform well. Fortunately, this is not at all a concern with the Aegis Mini. It supports 5-80W output, which is perfect for most e-liquids, including those with freebase and salt nicotine. The firing button has a firing speed of 9ms, so you'll get puffs of vapour almost instantly upon pressing it.

The Aegis Mini is designed with 510 threading, so as long as your preferred e-juice tank has compatible power requirements, most will be right at home on this box mod. You'll also find a full suite of safety features, including over-heat protection, automatic shutoff after 10 seconds of firing, and short circuit protection should any part in the Aegis Mini or your preferred tank fail.

All of this is powered by a huge 2200mAh battery, which is more than enough juice to power hours of full-powered e-liquid enjoyment. Even e-liquid tanks that are more power-hungry will still be great partners with a battery with this level of capacity.

Overall, the Aegis Mini provides instant vapour from your favourite vape juices, a huge temperature range to enjoy hits at cooler or hotter temperatures, and plenty of safety features that will put both beginners and veterans at peace of mind.

Final Verdict
The Aegis Mini is the perfect option for vapers who love the ruggedness of the Aegis line but aren't ready or don't want to pay for the features packed into a higher-end box mod like the Aegis Legend. It's practically indestructible, offers plenty of features that not only make it compatible with all kinds of e-liquid tanks but also allow for tweaking your vaping experience.

If you're looking to upgrade from a more basic e-liquid pen or if you simply want a device that is rugged, easy to use, and a pleasant variety of features, then we strongly recommend trying out the GeekVape Aegis Mini.