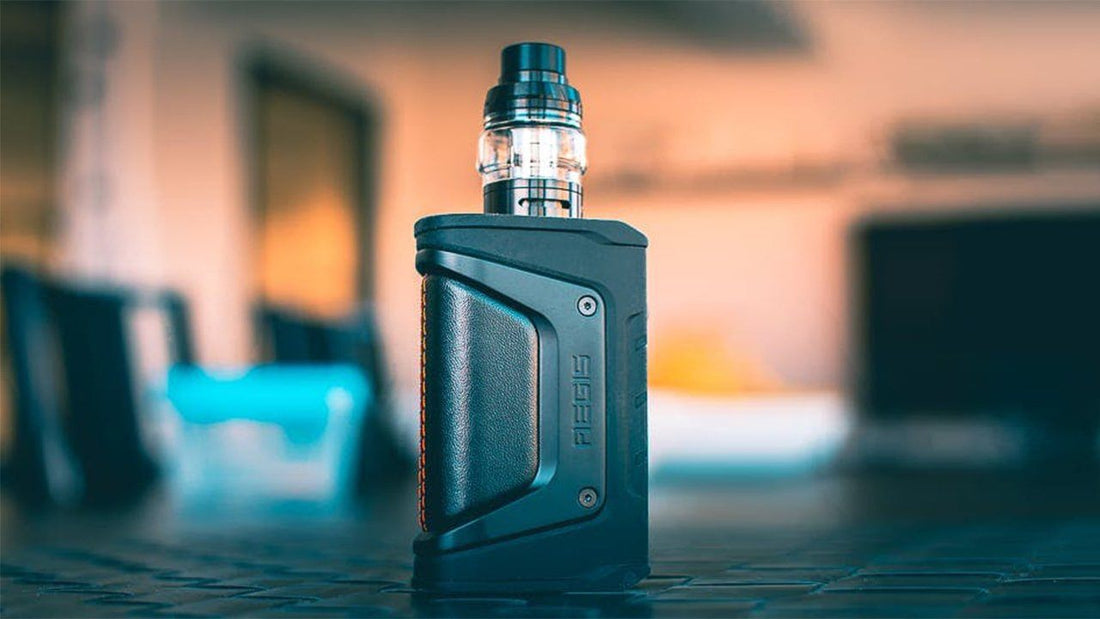 GeekVape Aegis Legend Review
Even the nicest box mods can fall victim to butterfingers, and the last thing you want to do is waste money because you dropped one in just the right, devastating way. On the other side of the coin, box mods that have a heavy emphasis on durability often compensate by low-quality features (or lack thereof), and a somewhat limited user experience.
If you're not interested in compromising on either side of this spectrum, then the hefty
GeekVape Aegis Legend
Box Mod is looking to sweep you off your feet. Not only is this device built tough with a combination of die-cast aluminum and stainless steel, but the range of features it offers will put plenty of more fragile box mods to shame.
Let's take a closer look at what makes the GeekVape Aegis Legend worthy of your attention.
What's in the Box
1 x Aegis Legend Device
1 x Micro USB Cable
1 x User Manual
Look and Feel
As we've said, the body of the GeekVape Aegis Legend is going to feel sturdy and solid in your hand. The body is die-cast aluminum, the battery case is stainless steel, and there are rubber bumpers around the corners and body, giving it incredible shock absorption qualities. The back of the body is stitched with genuine leather, enhancing the grip and overall feel.

The GeekVape Aegis Legend power with a trigger fire, which will feel natural and ergonomic in your hand (as opposed to a simple button). Temperature adjustment buttons are found beneath the OLED display, meaning it's easy to use this box mod with a single hand (if necessary).

Speaking of the OLED display, it's situated directly between the trigger-fire and temperature adjustment buttons. Your hand naturally moves out of the way of seeing the display when adjusting features, and since it's not a touch display, there aren't any problems when you readjust your grip to take a hit.

Performance
The performance of the GeekVape Aegis Legend will convert you into a long-term user. It uses a wattage output range of 5-200W to create a vaping experience that is exactly what you want, be it cooler puffs or big thick clouds. It supports a temperature up to 600F, which means it's a great choice if you want to use non-oil attachments, like those used to enjoy dry herbs or wax concentrates.

For sub-ohm vapers, you won't be disappointed either. The GeekVape Aegis uses Temperature Coefficient of Resistance to automatically provide a range of resistances, bottoming out at 0.05ohms. Not only does this allow for an amazing sub-ohm vaping experience, but it allows a huge swathe of vape tanks and attachments to work seamlessly with this box mod.

All of this is powered by removable 18650 batteries, so when it comes time to replace the entire device, it won't because of lacklustre battery performance. For oil vaping, you'll find the battery performance to be quite impressive, easily lasting for all-day vaping.

Final Verdict
The GeekVape Aegis Legend is a "true" box mod, meaning it comes with adjustable wattage output, a premium design and a swathe of other adjustable features. It is designed with a 510 threading, which means it can accommodate nearly any vape tank on the market, as well as a variety of other attachments.

Beginners might be overwhelmed with some of the options, though they should feel comfortable buying a vape tank they're comfortable with. Experienced vapers will recognize this device as a "permanent" option, as its ruggedness and suite of features will meet almost any vaping need.

Whether you're looking to upgrade or simply get a box mod that is more rugged than you are clumsy, the GeekVape Aegis Legend is a hard choice to beat.