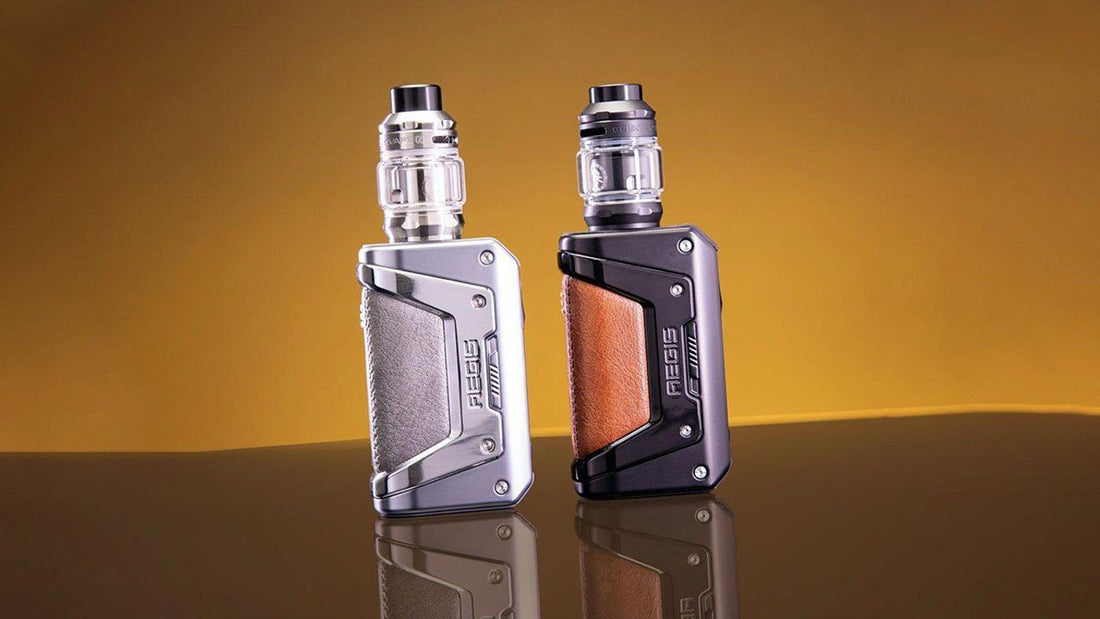 GeekVape Aegis Legend 2 Review
The Aegis name has become synonymous with durable, high quality devices with a suite of useful features. The new Aegis Legend 2 from GeekVape looks to improve upon an already fantastic ecosystem of devices. Do they have what it takes? Keep reading to find out!
Geek Vape Aegis Legend 2 : Look and Feel
The Aegis Legend 2 draws inspiration from its predecessors. The once boxy design of this mod is now more refined with rounded edges and a metal finish wrapped in premium leather. A large 1.08" full colour display can be found on the front of the device. The screen is rather bright making it easy to take a glance at your vape's vitals, even when in direct sunlight.
Overall, this device has a rather premium feel in the hand that makes it very welcoming to use. GeekVape claims the Legend 2 is 30% lighter and 15% smaller than the original Aegis Legend. This reduction in bulk is a much welcomed addition as it makes the device significantly more pocket-friendly.
Performance
While a mod can be pretty, its functionality is what will keep you coming back...and the Legend 2 has plenty of modes and settings to tinker with.
Your standard Wattage mode is available, along with temperature control support for Stainless Steel, Nickel and Titanium. For rebuildable enthusiasts, bypass and wattage curve modes are also available allowing you to fine tune your power output.
Speaking of power, this device has plenty. Powered by 2x 18650 batteries (sold separately), the Aegis Legend 2 can output up to 200W. The fire rate on this device is notably exceptional, you'll find nearly instant firing on every inhale.
A new addition to the Legend 2 is the sliding lock button. Located on the side of the device is a simple sliding switch. When pushed down, the entire device will be locked. This feature is great as it ensures users can easily travel while avoiding misfires and the need to constantly power the mod on and off. Sliding the switch up will unlock the mod instantly so you can vape away!
With an IP68 rating, the Aegis Legend 2 is waterproof, dustproof and shock resistant. These protections have become vital in the Aegis lineup and truly give a peace of mind to users.
Should you choose to pick up the Aegis Legend 2 Kit, you will receive the Cerberus SE. This tank is fantastic for everyday use with highly adjustable amount of airflow, large 5.5mL capacity and compatibility with Smok Baby Beast and Vaporesso GT replacement coils.
The Aegis Legend 2 checks off nearly every box when looking for a new device. With a sleek yet rugged design, IP68 rating and impressive fire rate, adding one to your cart should be a no-brainer!