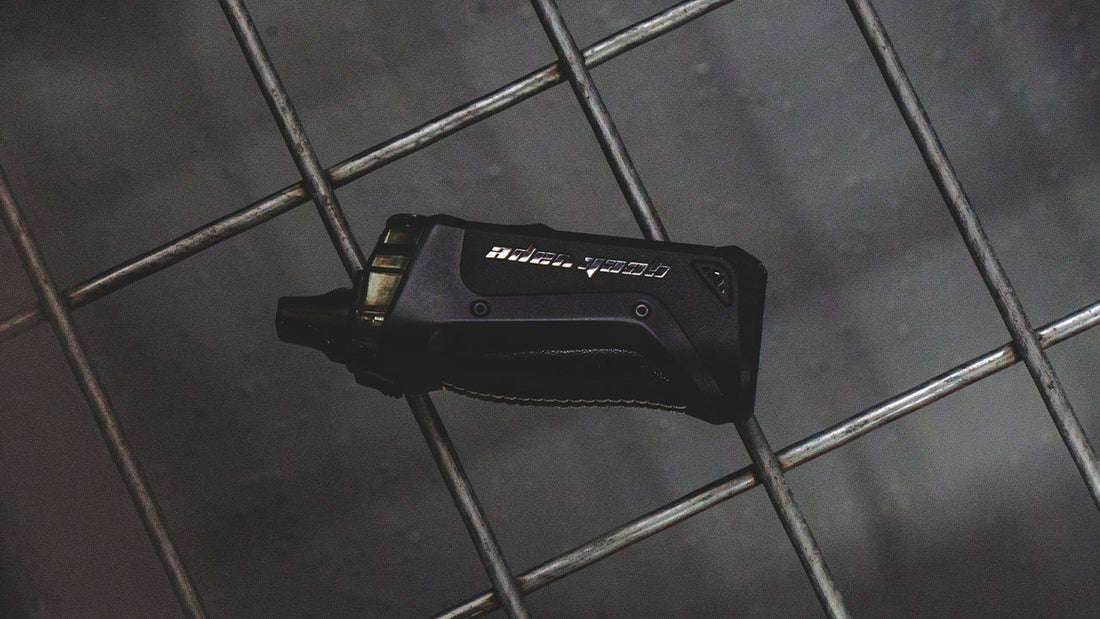 GeekVape - Aegis Boost Pod System Review
The Geekvape Aegis Boost is the first AIO device from Geekvape and the second pod-type vape after the Bident. Geekvape started by creating some of the best rebuildables on the market, then started making mods and creating some of the best. Now, not only have they started making pod-based products, but they're using the famous Aegis line in the design, which is a good thing.
Specifications
Size: 106.8×27.7×39.2mm
Battery: Internal 1500mAh
Display – 0.45in OLED Screen
Charging: Via Micro USB 1.5hrs
Coils – Push Fit
Airflow – Fully Adjustable AFC Ring.
IP67 Waterproof, Dust-proof, Shockproof.
Rebuildable Deck (RBA) – Coming Soon
E-Liquid Capacity: 3.7ml (TPD Version 2.0ml)
Output Wattage: 5-40w (Adjustable in 0.5w Increments)

What's in the Box
1 x Aegis Boost Mod
1 x Spare Drip-Tip
1 x Aegis Boost Pod
1 x Coil Removal Tool
1 x Micro-USB Charging Cable
1 x 0.4Ω Mesh Coil (25-33w)
1 x 0.6Ω Mesh Coil (15-25w)
Design

The Geekvape Aegis Boost feels good in your hand thanks to its ergonomic shape and rubber finish. Like the rest of the Aegis range, it is dust and water resistant with an IP67 rating. You won't find a more durable vape device on the market. It features a regular Aegis frame with a colour accent and a leather back. The quality of construction is excellent, but not surprising. If you've never used the Aegis system before, you're missing out.

Performance

The Aegis comes with a pair of coils. One is a coil of 0.6 ohms for 15-25 W, intended for the MTL vaping and nicotine salts. The other is a 0.4ohm coil for 22-33W, which is intended for DTL vaping and daily nicotine juices. These coils push in towards the bottom of the pod. It's really tight, and removing it can be problematic. Fortunately, Geekvape provides a tool to pull the coil out. It's so tight that I don't think I can remove it without using the tool.

Battery Capacity

The Geekvape Aegis Boost is a fully customizable AIO with 40 watts of power and uses a built-in 1500 mAh battery. The pods carry a good 3.7 ml of juice and take three types of coils; a 0.6 ohm coil, a 0.4 ohm coil and an RDA deck sold separately. A full charge takes 75 minutes, which is quite fast. It is also equipped with a pass-through system, allowing it to be used while charging.

Battery life

Battery life is really good on this device, particularly if you use a 0.6-ohm coil at 18 watts like I did. The battery is listed at 1500 mAh. I tested this and got 1363 mAh from the battery, so the rating is ok, but 1400 would have been more accurate. Still, it's closer than most of the ratings given to internal battery devices. Although several similar vapes have an LED light colour for the battery meter, the Aegis Boost has a full meter on the screen like a standard mod. It pauses to charge when you're in use and resumes when you finish vaping.

Verdict

Geekvape has really brought some good features to this device. Of course, there are a few annoying drawbacks, but none of them are a big problem. What you have is a robust, lightweight, flexible AIO-style pod with good coils that works and looks great. Overall, I'm very happy with it, and it's worth a look if you want an AIO that's not basic.
If you're still reading at this point then there's a good chance this product is exactly what you're looking for. Check out the GeekVape - Aegis Boost Pod System product page and order yours today. You owe it to yourself!