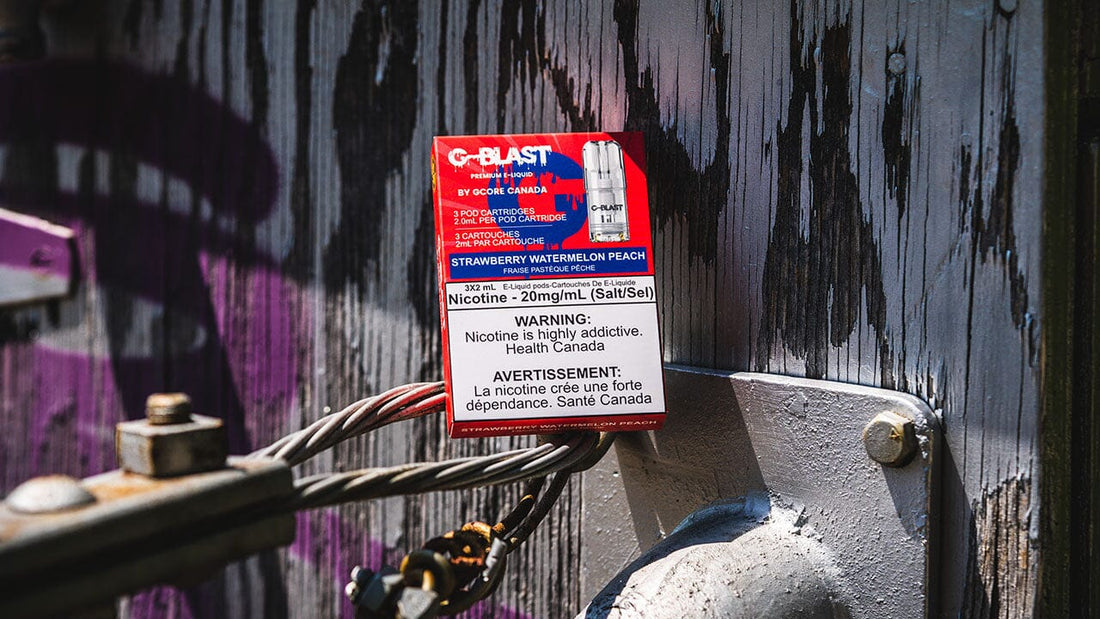 G-Blast Vape Pods Review: A Flavorful Experience Worth the Effort
If you're looking for a great vaping experience compatible with your Stlth and ALLO Sync devices, look no further than G-Blast Vape Pods. These pods come with Gcore's advanced mesh coil technology, offering superior flavour and vapour production that's sure to impress.
What is the best pod vape in canada?
I find myself drawn to vaping pods for the certain quality they possess. They offer a sensation similar to smoking a traditional cigarette, making them an excellent option for individuals transitioning from smoking to vaping. For this reason, I often recommend starting with an STLTH or pod kit. The G-Blast pods are equivalent to a pack of cigarettes and, when used with a pen vape kit, provide a smoking-like experience without the mess and leakage familiar with refillable kits. Although I have since moved on to larger vaping devices, I still keep my trusty STLTH pods in my rotation, as there is something special about them.
I am always thrilled when VapeMeet introduces new pods because I can add new flavours to my collection. These pods are also very convenient to carry when leaving the house. This could be why I keep returning since it's a simple grab-and-go option. After using these pods for a few weeks, here's what I discovered.
What are the Features of the G-Blast Vape Pods?
The Stlth Compatible G-Blast Vape Pods boast impressive features that make them stand out. One of the most notable aspects is their mesh coil technology, which enhances flavour and vapour production, and you'll enjoy a richer taste and a more satisfying cloud with every puff. Additionally, these pods are compatible with both STLTH and ALLO Sync devices, making them a versatile option for vapers who own either or both of these popular systems.
Another key feature of the G-Blast Vape Pods is their 20mg nicotine strength, providing a satisfying hit for those who crave a higher nicotine level. This strength is perfect for vapers seeking a powerful experience without sacrificing flavour. Each pack of G-Blast Vape Pods contains three 2mL pods, ensuring you have plenty of e-liquid to keep you vaping happily throughout the day. With these fantastic features, the Stlth Compatible G-Blast Vape Pods are an excellent choice for anyone looking to elevate their vaping experience.
How do I use the G-Blast Vape Pods?
Let's discuss how to use these pods. Initially, I found it challenging, but it became easy once I got the hang of it. To begin, extract the long rubber string that acts as a plug and wait for three minutes. During this time, the mesh coil inside the pod absorbs the e-liquid, guaranteeing a smooth and tasty vaping experience from the first puff.
Although it might take a little getting used to, the incredible taste and performance of the G-Blast Vape Pods make it well worth the effort. I've personally enjoyed the variety of fruity and sweet blends that Gcore offers, and I'm confident you will too.
How do these Pod Flavours Hold Up?
Regarding flavour, the G-Blast vape pods provide a great variety of sweet and fruity options. I've tried a few and would highly recommend them to you.
G-Blast Blue Lagoon Vape Pods
Have you ever had a "Blue Drank" but never knew what that blue drink was? That's a Blue Lagoon, and this pod captures it perfectly. It's uncanny how perfect they got this delightful cocktail mix of Blue Curaçao, vodka, and lemonade. Inspired by French cocktails, its sweet and zesty flavour will tantalize your taste buds and transport you to a tropical paradise.
G-Blast Grape Honeydew Vape Pods:
I really enjoyed the grape blend in this flavour. It had a nice sweetness that was balanced well with honeydew melon. This grape melon blend is a great way to brighten your day! Even those who are picky about fruit flavours will find something to like in this mix.
G-Blast Blue Razz Banana Ice Vape Pods:
Blueberry is a popular flavour this season, and many customers coming to VapeMeet are requesting it. This new blend of blueberries, raspberries, and creamy bananas will be a big hit. These pods offer a smooth and icy flavour that will tingle your tongue. So, if you want to try something different and exciting, try this blend! The unique combination of flavours will keep you satisfied and returning for more.
G-Blast Blue Raspberry Peach Ice Vape Pods:
Fans of Blue Raspberry refer to it as "blue." Interestingly, the most popular flavour associated with the colour blue is not an authentic flavour. Why not try something new this summer and switch up your blue raspberry fix with a unique blend of blue raspberry, sweet peach, and a hint of ice? These vape pods provide a delightful and unforgettable flavour experience that will satisfy any fruit lover or anyone seeking something different. Plus, you can always count on a perfect hit every time.
Conclusion
I had a great experience using the G-Blast vape pods with my STLTH device. The unique and crazy flavour blends were enjoyable, and the pods performed well without any leaks. Initially, I had some trouble figuring out how to use them, but after some practice, I found the process easy to master. I highly recommend trying out G-Blast Vape Pods for a high-quality and delicious vaping experience. Give them a try, and you won't be disappointed. Happy vaping!
Need more vapes in your feed? Follow us on Instagram and find out every day when we drop new products and deals!