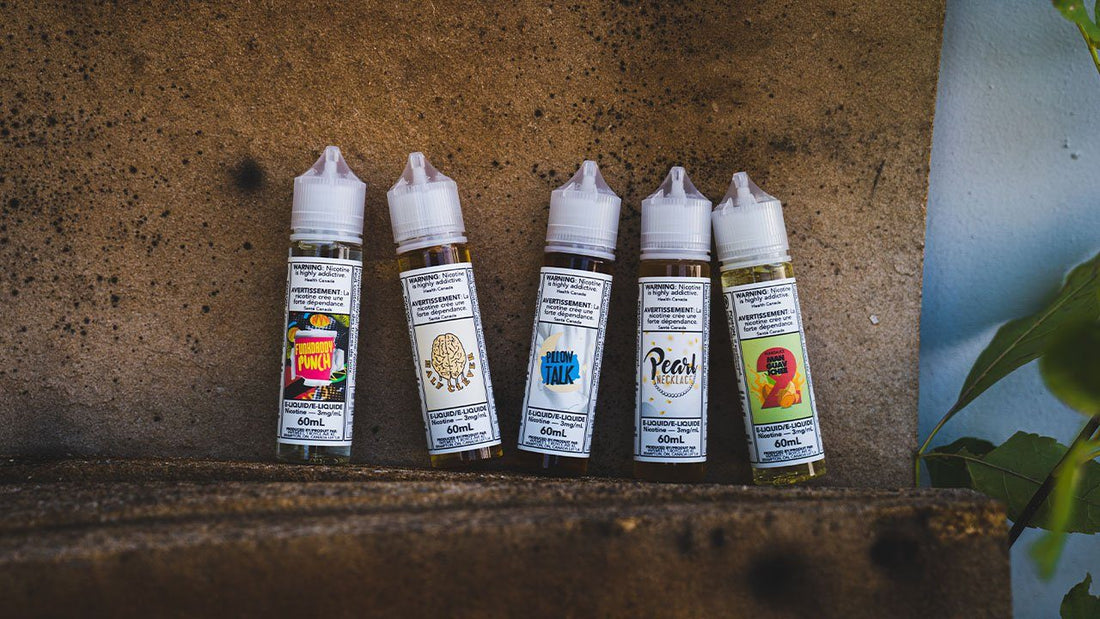 Funksauce E-Liquid Review
If you're looking for the origin story of VapeMeet's rise to greatness, you've found it! Funksauce was our first vape juice line, launched seven years ago and still made in Canada today. What made the Funksauce different were carefully crafted recipes that offered delicious, unique flavours that weren't available anywhere else.
Prepare your palate for the perfect presentation of piquancy with recipes like Funkdaddy Punch, Half Clever, Manguavichee 2, Pearl Necklace, and Pillow Talk. These e-liquids have stood the test of time for nearly a decade, and we're certain you'll find a new favourite!
Funksauce e-juices are available in 60mL and 120mL bottles and 0mg, 3mg, 6mg, and 12mg freebase nicotine concentrations. All Funksauce flavours are crafted with a 75VG/25PG ratio, which means those delicious tastes will create billowing puffs of vapour easily.
The Flavours
Every Funksauce vape juice is a complex recipe that combines a variety of flavours to create a one of a kind taste.
Funkdaddy Punch is a combination of your favourite fruit flavours into a pleasant vape. You'll catch slight notes of watermelon, but the joy of this flavour is that the recipe is a secret. Reminiscent of a classic tropical drink, you'll have to try it to see what mystery fruit flavours your taste buds can detect!
You only have to be half clever to see why Half Clever has remained a mainstay of Funksauce e-liquids. Targeting vapers that love sweet vape juices, Half Clever has a taste base of whole-bean vanilla subtle notes of sweetness swirled in. If you have a sweet tooth for vaping, then Half Clever is calling your name!
A rare instance when the sequel isn't a disappointment, Manguavichee 2 takes on the flavour profile of the original and makes those tastes brighter, better, and more vibrant. Manguavichee brings tropical flavours to the table, blending Mango, Guava, and Lychee to offer a smooth, punchy sweetness with just a pinch of tartness. An excellent choice for tropical fruit lovers!
Pearl Necklace is THE original flavour that put VapeMeet on the map, and how could it not?
With its delicious blend of sweet, ripe banana, vanilla bean, and coconut, it remains one of our all-time favourite flavours. If you like sweet, smooth juices, then Pearl Necklace is a must-have!
Just like how real pillow talk is a sweet gentle experience, so too is Pillow Talk! It uses a base of vanilla bean and mixes in a pinch of warm spices, creating a soft, kind flavour that remains one of the most popular tastes among Canadian vapers. It's one of our most unique flavours, and you'll have to try it to see what all the talk is about!
Conclusion
Funksauce is what launched VapeMeet's reputation as one of the best vape juice manufacturers in the country. While you'll find dozens of different flavours on our site, the Funksauce line continues to remain a force among a crowded, competitive field. If you want to see some of our finest recipes at work, give Funksauce e-liquid a try!