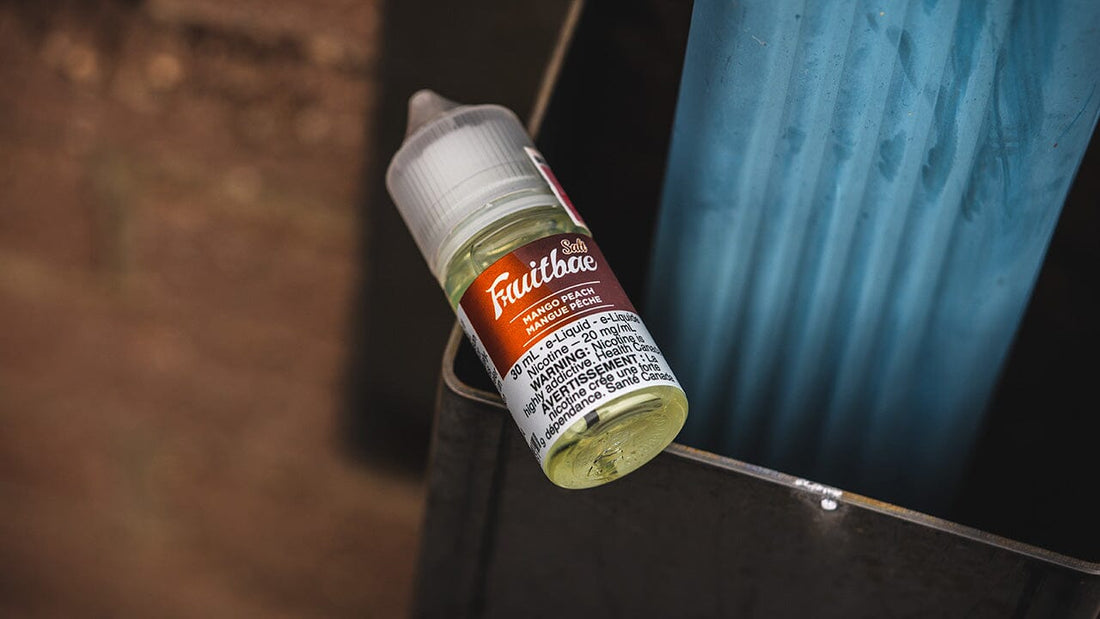 Fruitbae E-Liquid Review: A Refreshing Journey Through Exotic Fruity Vaping
I recently tried out a lot of new Salt Nic e Juices that VapeMeet got in stock, and I've been enjoying testing out all the unique flavours and brands. I heard many good things about FruitBae's flavours while browsing on Reddit, so I decided to check them out. I've already tried the STLTH line of FruitBae juices and enjoyed them, but I wanted to see if the actual juice would be just as good or even better. Fruitbae E-Liquid, previously known as Sorbae, promises a unique and refreshing fruity vaping experience. What makes Fruitbae stand out is its secret ingredient, Koolada, which adds a cooling sensation that enhances the overall enjoyment of their e-liquids. So, let's take a closer look at the fruity and icy line of Fruitbae!
The Flavours of Fruitbae E-Liquid
Fruitbae E-Liquid boasts a range of flavours that promise both delicious and refreshing sensations. If you're yearning for a taste of summer with an icy twist in every puff, this line is an absolute must-try. With several flavours, I played it safe and went with what my friends had told me about which flavour profile I should try first.
Fruitbae Mango Peach Salt Nic E-Liquid hints it's a tropical paradise in a bottle. This e-liquid advertises that it seamlessly blends tropical peach and ripe mango, creating a mouthwatering fusion that delivers a refreshing exhale.
When I don't know much about a fruit vape line, I prefer to try a blend that strikes a balance between flavour and sweetness. Mango, a moderately sweet fruit, pairs well with combinations that are a little sweeter. This mango-peach blend is basic in terms of flavour profile, and I hope it delivers a well-balanced sweetness that is manageable after extended use. 
As a vape enthusiast, I enjoy good flavour and tangy sweets, but vaping ultra-sweet blends for a long time makes me crave something less sugary. Unlike most vapers who prefer bold and intense flavours, I want my vapes to taste good without feeling like I'm drinking a syrupy, melted, slushy drink. Also, I'll be paying attention to how this juice affects my coils because I've noticed that overly sweet vape juice does tend to wear them out faster. 
Let's give this blend a try and see how it holds up.
Versatility and Compatibility
One of the outstanding features of Fruitbae E-Liquid is its versatility and compatibility with various devices. It's well-suited for lower power wattage devices, ensuring optimal performance and maximum flavour delivery. This adaptability allows you to tailor your vaping experience to your preferences, making Fruitbae an excellent choice for all vapers, whether a novice or an experienced enthusiast.
I have several devices and tried this out using my Eco Nano vape to see how it performs in a simple, easy-to-use vape kit and my SMOK Nord 5 for something a bit more complicated that will give me huge clouds (cause your girl is a bit of a cloud chaser). 
What I thought:
I started by trying the Mango-Peach flavour in my Eco, which is an excellent device for on-the-go situations like when I need to take a day trip to the city or driving around. One of the things I like about the Eco is its large 6ml pod that holds plenty of juice, so I don't have to refill it frequently. Moreover, the Eco brings out the flavours, making it taste almost like puffing on a disposable vape. Although the clouds aren't as impressive as when using a more powerful vape kit, it still did the trick and impressed me. The flavour is a mix of mango and peaches, and despite being labelled as "icy," it's not overpowering, but rather a slightly sweet and excellent taste that complements the blend instead of dominating it with mint. The Eco is user-friendly, making it a perfect starting point to determine the low wattage for my Nord.
Using my Nord, I got the same effect but found the flavour was less intense than using my Eco. But gosh, clouds for days, my friends. If you enjoy the actual clouds when vaping, you want to choose something that will give you way more temperature controls, like the Nord. Right now, I'm using SMOK LP2 coils in my NORD, and I will say, don't go over 40w when hitting Salt Nic, as I can start to taste when things are not so great, and I'm killing my coils now. But averaging around 30-35w does have some great tastes and cloud performance. 
Mango has a way of being a pallet neutralizer, and the peach notes compliment this to be an overall fruity experience that was manageable. For coil performance, this juice performed exceptionally well, and I only started to notice the flavour performance dipping after five days of hitting, which is good in my books as I've had some vape juice destroy a coil in 48 hours. 
Features of Fruitbae Mango Peach Salt Nic
Let's take a closer look at the features that make Fruitbae Mango Peach Salt Nic and the entire Fruitbae line exceptional:
The e-liquid provides a smooth and enjoyable vaping experience with its balanced VG/PG ratio of 50/50. You can choose the nicotine level that suits your preferences in 20 mL bottles. Fruitbae E-Liquid is crafted with premium ingredients, ensuring a high-quality vaping experience. It's ideal for mouth-to-lung vaping, offering a satisfying and smooth draw. Fruitbae is perfect for lower power wattage devices, providing the best performance. With efficient nicotine delivery, experience satisfying nicotine hit with less e-liquid consumption, making it a cost-effective choice. The slow oxidation process means you can enjoy your e-liquid over an extended period without losing quality.
FruitBae, yay or nay?
It turns out FruitBae holds up! I still need to try more of the flavours, but this juice was great, and it held up when I was using it. The best part was I didn't get sick of it. After five days of hitting this juice, I didn't feel like I needed to eat piles of dirt to get that ultra-slushy-sweet sensation out of my mouth.
Conclusion
In conclusion, Fruitbae E-Liquid, formerly known as Sorbae, is a brand that deserves your attention if you're searching for a unique and refreshing vaping experience. With its exceptional flavour blends and versatility, Fruitbae caters to vapers of all levels and preferences. Whether you're savouring the tropical paradise of Fruitbae Mango Peach Salt Nic or exploring other flavours in their line, you'll find a vaping experience that tantalizes your taste buds and transports you to a world of fruity delight. So why wait? Explore exotic fruity vaping with Fruitbae E-Liquid and discover your new favourite e-liquid brand.
At VapeMeet, we're committed to providing you with premium vaping solutions. Explore our range of products and take advantage of exclusive deals to enhance your vaping experience. Choose STLTH Pro and redefine the way you vape! Stay updated with all our deals and promotions by following our Instagram page!