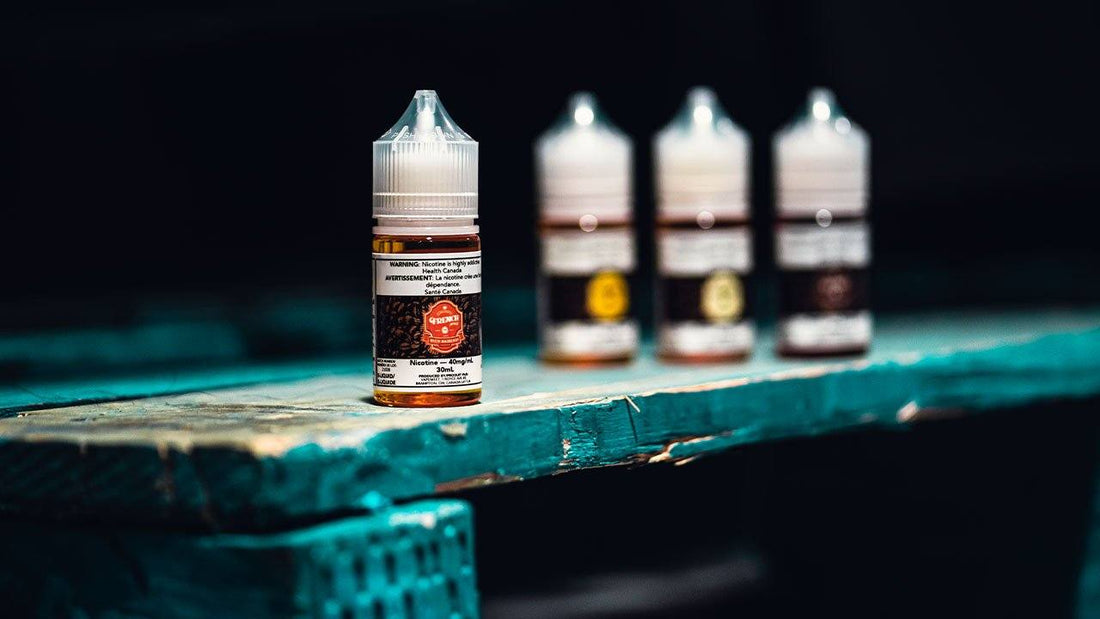 French Press Salted E-Liquid Review
Love coffee AND salt nic? French Press Salted was made just for you! This line is home to the best coffee e-liquid flavours in Canada! You can expect to find your regular cup of java, along with some more outside of the box creations with Au-Lait, Mocha Bean, Monday Morning and Rich Hazelnut.
French Press Salted e-juices are available in 30mL bottles, and all flavours are available in 10mg, 20mg and 40mg, salt nicotine concentrations. All flavours are made as a 60VG/40PG blend to ensure flavour production is perfect on even the most petite of pod systems.
The Flavours
While all of the flavours offered by French Press Salted make use of a coffee base, each has its own flair of originality. You'll find softer coffee notes, flavoured coffee notes, and bold, straightforward coffee flavours.
Au Lait is for coffee drinkers that enjoy gentle, smooth flavours. Mimicking the taste of a light roast, the Au Lait vape juice incorporates the taste of cream and a hint of vanilla bean to create a crisp, refreshing, and not-too-bitter coffee experience. If you don't usually drink coffee, or typically add a good helping of cream, then Au Lait is a great place to begin with the French Press line of e-liquids.
Mocha Bean is for the black coffee drinkers out there that also enjoy a dash of cocoa beans. You'll get bold, pleasantly bitter notes on the inhale, and your mouth will be coated with a creamy, smooth coffee and rich cocoa beean aftertaste. If you already enjoy a profile of bitter flavours, Mocha Bean might become a new favourite.
Monday's are our least favourite mornings, so we thought we'd name our most favourite French Press flavour after it! The coffee notes strike a goldilocks level of bitterness, with a pleasant mid-level roast of flavour that will neither be too sweet or too bitter. Add a bit of gooey sweetness to the aftertaste, and you get a great taste for all week vaping, not just those nasty Monday's!
Rich Hazelnut is geared towards coffee drinkers that fill their mugs with sugar, flavoured-coffee, or sweetened creamers. The roasting flavour profile is very light and is overloaded with hazelnut sweetness. The coffee serves as a very mild base with strong hazelnut notes on both the inhale and exhale. Rich Hazelnut is particularly good for those that love the smell of coffee but have a hard time handling its traditional bitter notes.
Conclusion
From newbies to connoisseurs, French Press Salted offers blends that coffee lovers at any level will love! With lighter blends like Au-Lait to more complex blends like Monday Morning and Mocha Bean, you're sure to find something to enjoy! Skip the mug and fill your tank with French Press Salted!