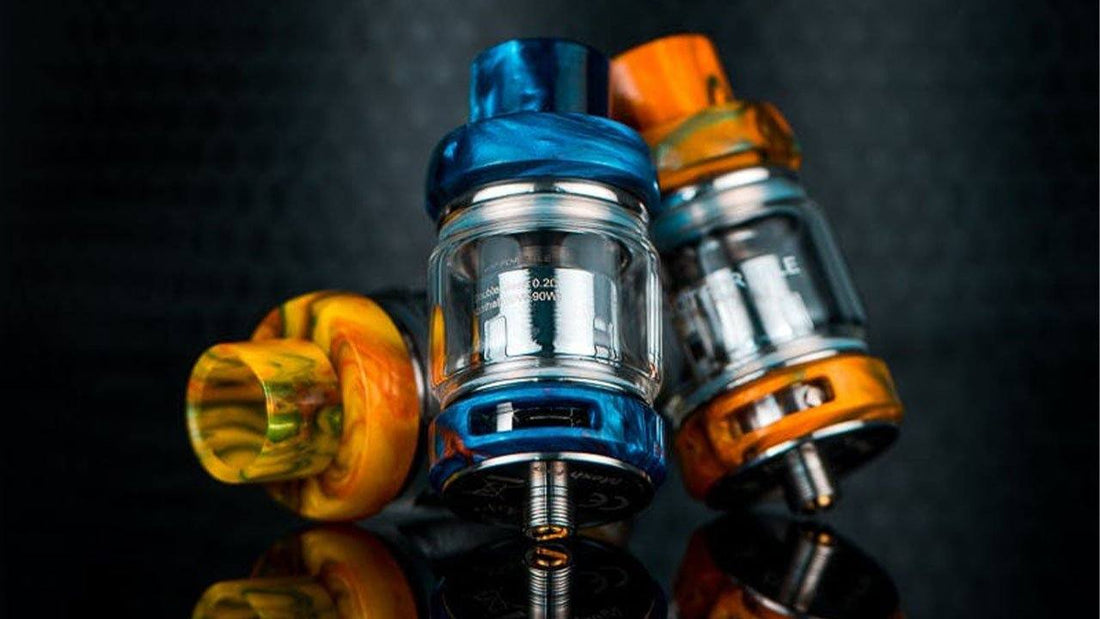 Freemax Fireluke Mesh Pro Tank Review
If you're looking to get the highest quality taste from your vapour, the magic comes down to the coils. Quality coils vaporize e-liquid without burning it, and multi-coil atomizers quickly vaporize e-liquids without creating a scorched taste. This is a particular issue with sub-ohm vaping, as you're usually dealing with bursts of power.
The Freemax Fireluke Mesh Pro Tank offers a design and experience that hits a home run in the "vapour production" department. It's compatible with a wide variety of multi-coil atomizers, it sports a gorgeous look, and it features generous vape juice capacity (which can also be adjusted to your preference).
If you like to tweak and tinker with your vape juice tank to find the perfect combination of coils and power settings, then the Fireluke Mesh Pro Tank might be the high-end product you've been looking for!
What's in the Box
1 x Mesh Pro Tank
1 x 0.15ohm Single Mesh Coil (Pre-Installed)
1 x 0.2 Dual Mesh Coil
1 x Replacement Glass
1 x Instruction Manual
Design
The special attention a high-end design will make instant fans of many vapers. The mouthpiece and drip cap are coated in resin designs, making several different bright colours available to choose from. The base itself is 25mm with a gold-plated 510 threaded design, which will make this vape juice tank fit on all kinds of different box mods.
You'll also find enormous adjustable airflows towards the bottom of the tank. They measure 16x4mm, which means you can let a lot of air in with each hit (or you can adjust it to where only a bit comes in. Your choice!) The Firefluke Mesh Pro Tank also features a standard 6mL capacity, but if you'd prefer something smaller, it also comes with a 5mL and 4mL tank to help create an overall slimmer aesthetic.
The design is hyper-focused on a customizable experience, all the way from the colour of the tank, to the amount of airflow coming through, to even how much e-liquid you want the tank to hold. While beginners may be overwhelmed by options, experienced vapers will love the flexibility this design allows for.
Performance
As if the design wasn't enough to entice many vapers, the performance sports an equal level of customization options. You'll get two different coils right out of the box: a Kanthal Single Mesh 0.15ohm coil, a Kanthal Double Mesh 0.2 coil, but the tank is also compatible with the Kanthal Triple Mesh 0.15 coil, and the SS316L Single Mesh 0.12ohm coil.
The wattage requirements for these coils are also a broad range. The included coils give you a range of as low as 40W to as high as 90W, while the other Kanthal Triple Mesh Coil is rated as high as 110W. The SS316L coil is rated for temperatures between 400- 550F, and all of these coils together allow you to have essentially whatever vaping experience you want to have on nearly any box mod you want!
Just like the design, the performance is as adjustable as you want it to be, allowing this tank to be ideal for nearly any kind of vaping need!
Conclusion
If you're looking for extreme versatility, then the Fireluke Mesh Pro Tank is exactly what you need. It features a highly adjustable physical design as well as a high-performing coil system designed to be tuned to the exact kind of vaping experience you're looking for.
There aren't a lot of drawbacks to this e-liquid tank, though there are a few things to keep in mind. If your box mod has a super low wattage output, it won't be able to make use of the coils (remember, you need at least 40W output), though most box mods on the market can handle that.
If you're sold on salt nicotine vaping, you'll want to be sure to use the highest resistance coil in this set (and even then, you may want to consider a tank that accommodates higher resistances).
However, for vapers who love having the flexibility to create new tastes from their e-liquids without having to buy several tanks, the Fireluke Mesh Pro Tank is an absolutely fantastic choice.
You've made it to the end of our review! If you're still reading, theres a good chance that this is the tank for you! Head over to the Fireluke Mesh Pro product page to shop now!