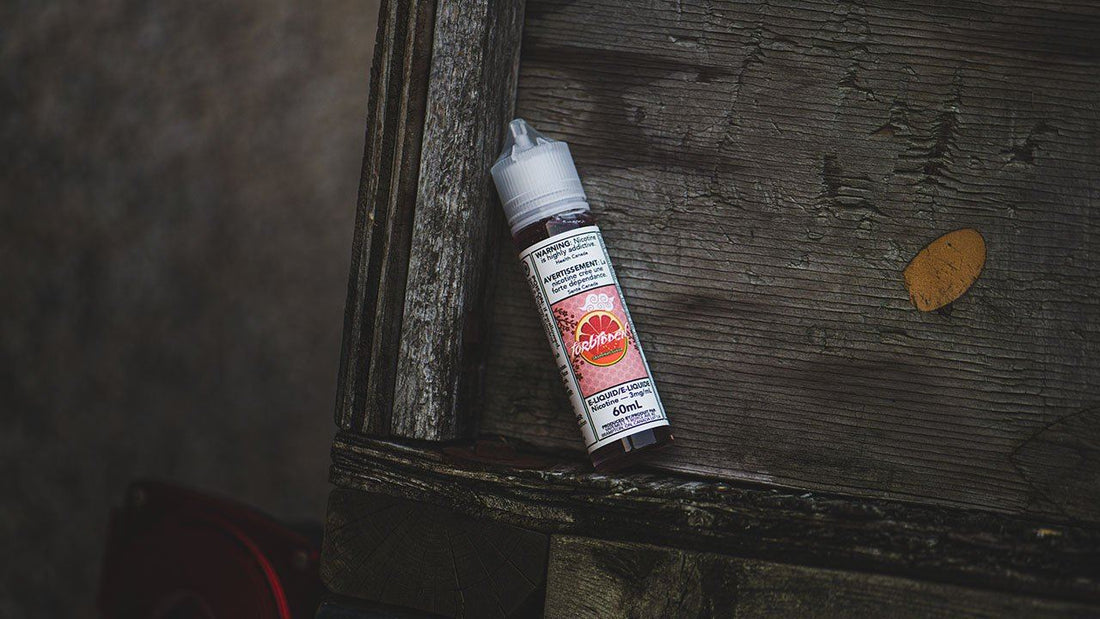 Forbidden E-Liquid Review
Forbidden is a great vape juice choice for vapers wanting delicious, authentic tropical flavours. Each recipe is a blend of the most popular tropical tastes, resulting in some very tasty concoctions. Expect flavours like Fuji Grape Lime, Grapefruit Guava, Honeydew Melon Punch, Jackfruit Lime, and Mango Citrus. Get ready for a delicious twist on basic fruit flavours!
Forbidden e-juices are available in 60mL and 120mL bottles, both of which are available in 0mg, 3mg, 6mg, and 12mg freebase nicotine concentrations. All flavours are created with an 80VG/20PG ratio, so if you love your fruit vape liquid but wish you could make bigger vapour clouds, Forbidden is an excellent choice.
The Flavours
When choosing between Forbidden's suite of tropical fruit blends, it's helpful to know specific tasting notes to expect from the more uncommon, exotic fruits.
Fuji Grape Lime is one of the most well-balanced e-liquids in Forbidden's product line. The balance between the sweetness from the apple, the tartness from the lime, and the sweet smoothness of the grape results in a calming, delicious vaping experience. If you haven't tried Forbidden e-juices, we recommend starting with this one first.
Grapefruit Guava offers a more sour taste without overwhelming your taste buds. The tart, sourness of the grapefruit will hit first, followed by the smooth sweetness of guava in the aftertaste. A great choice if you're looking for a vape liquid with a bit of bite to it!
The perfect vape liquid for a hot summer's day, Honeydew Melon Punch is full of crisp, refreshing flavours. Combining honeydew, cantaloupe, and watermelon, each puff is a mouthful of sweet, melony flavours that melt over your tongue. Vape this e-liquid while enjoying the bright rays of summer sunshine, or while huddled in blankets waiting for a cruel winter to be over!
Jackfruit, true to its name, is a fruit with a jack of all trades flavour. It tastes like a combination of several fruits, like banana or apple, and when mixed with the tarty sweetness of lime, you get Jackfruit Lime, a vape juice flavour like no other. Another excellent blend of sweet, tangy, and tart, this e-juice is a wonderful break from a world of standard, uninspired vape juice flavours.
Mango Citrus is a perfect combination of the smooth, full-bodied sweetness of mango and the citrusy tartness of lime, lemon, and grapefruit. You'll catch both tart and smooth sweetness on the inhale, and experienced vapers may detect a slight note of kiwi on the exhale. A great combo of sweet and tart, Mango Citrus is a must-try for mango lovers.
Conclusion
Forbidden goes the extra mile to create deliciously complex vape liquids with your fave tropical fruits. Each blend balances its keynote flavour-bases perfectly, be they sweet and sour, tart and tangy, or smooth and sharp. While the balance of flavour is similar between many of Forbidden's recipes, you'll find a unique, delicious vaping experience within each different bottle.
While the brand is called Forbidden, its suite of products is anything but. We believe a wide range of vaping enthusiasts will be drawn to Forbidden's approachable flavour menu, while those who already love tropical fruit tastes may discover that Forbidden is a new favourite brand!