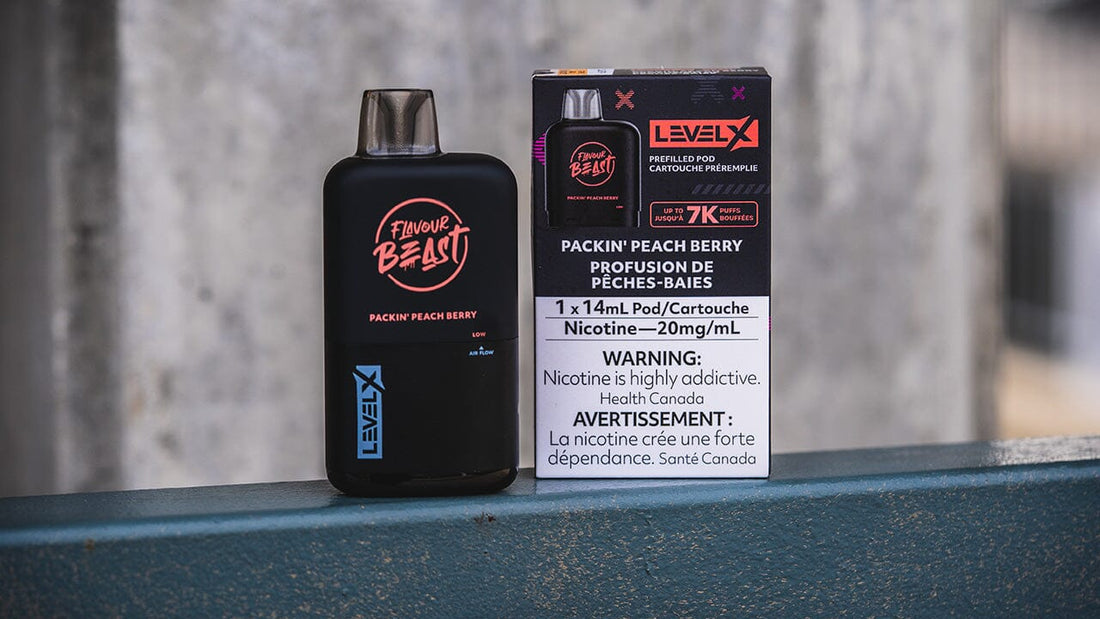 Flavour Beast's Level X Device: A Vaper's Quest for Convenience and Rich Flavours
If you've walked the path of disposables, you know the convenience it brings. Still, you've probably also felt the sting in your wallet. The time had come for me to venture into the world of refillable vape systems, and that journey was marked with challenges and surprises. However, the Flavour Beast Level X Device's promise of convenience and rich flavours was a game-changer I didn't see coming.
Disposable Vapes: The Allure of Convenience with a Hefty Price Tag
Disposable vapes, with their seamless simplicity, held me in their grip for a considerable period. Nevertheless, as time passed, I couldn't help but notice the growing dent they were making in my wallet. The allure of disposable vapes is undeniable- it's all too easy to grab a pre-filled, ready-to-go device whenever I crave a quick nicotine fix or a burst of flavour. This hassle-free aspect resonated with my busy lifestyle.
Convenience often has a price tag, and disposable vapes are no exception. They can be quite expensive, making them a costly obsession. I found myself regularly spending money on new devices, which added up to a significant expense over time. While disposable vapes offer immediate gratification, their long-term financial impact is not worth it. The initial attraction of convenience fades as the more substantial expenses accumulate in the pursuit of an easy vaping experience.
The Lifesaver: Flavour Beast Level X Device
Just when I thought my quest had hit a dead-end, Flavour Beast entered the scene. An email introduced me to the Level X Device, a fusion of a small battery and a pre-filled pod (which, by now, I'd call a tank) brimming with 15mL of e-juice. Intrigued by my positive experience with Flavour Beast disposables, I decided to try it.
My First Impressions:
The Level X Device surprised me with its excellent performance. While it boasted around 20% less sweetness than Flavour Beast's disposables, the flavours still outshone my previous DIY refills. What truly impressed me was how seamlessly the coil heated up, without any of the usual crackling or lag.
The vapor's temperature was perfectly cool, aligning with my preference, and I encountered no issues with juice spitting. For a small battery, it sported LED indicators for monitoring the battery life and included overcharge protection.
An Affordable Solution with Flavor Packed In
The Level X Device was highly appealing due to its affordability. In Ontario, a 30mL bottle of nic salt e-juice would cost around $25, while the Level X's 15mL pre-filled pod was only $20 and included a coil that lasted through the entire juice. This meant that for $40, you could enjoy the same amount of nic salt e-juice that would cost you $35 if you went the typical refillable route. 
Assuming a pod/coil costs $5 each, and you swap your pod after using 15mL of e-juice. In addition to being cost-effective, the Level X Device offers the convenience of an excellent, out-of-the-box vape experience. You no longer have to deal with the hassle of tinkering with different e-juice brands, coil resistances, or the chore of refilling every 2mL. 
As a proprietary product of Flavour Beast, it promises a consistent, fuss-free vaping experience, provided their quality control remains great.
Final Verdict: Flavour Beast Level X Has Flavour and Convenience
Although the Level X Device has a relatively small 600mAh battery and its overall dimensions are larger than most, it offers a unique and affordable solution. It's not just about replacing disposables; it's about elevating the vape experience.
For those in search of that nicotine hit or hoping to quit smoking with minimal expenses and waste, the Level X Device proves to be one of the best options available. It offers simplicity and consistency, rivaling the cost of traditional refillable systems.
In the end, the Level X Device has made my journey far more satisfying and simplified. It provides a rich, bold flavour that aligns perfectly with my vaping preferences. If you're in a similar situation, I strongly recommend you embrace this device, make your vaping journey smoother, and savour the bold, mouthwatering flavours it has to offer.
Disclaimer: Prices and experiences may vary based on location and individual preferences.
At VapeMeet, we're committed to providing you with premium vaping solutions. Explore our range of products and take advantage of exclusive deals to enhance your vaping experience. Choose STLTH Pro and redefine the way you vape! Stay updated with all our deals and promotions by following our Instagram page!