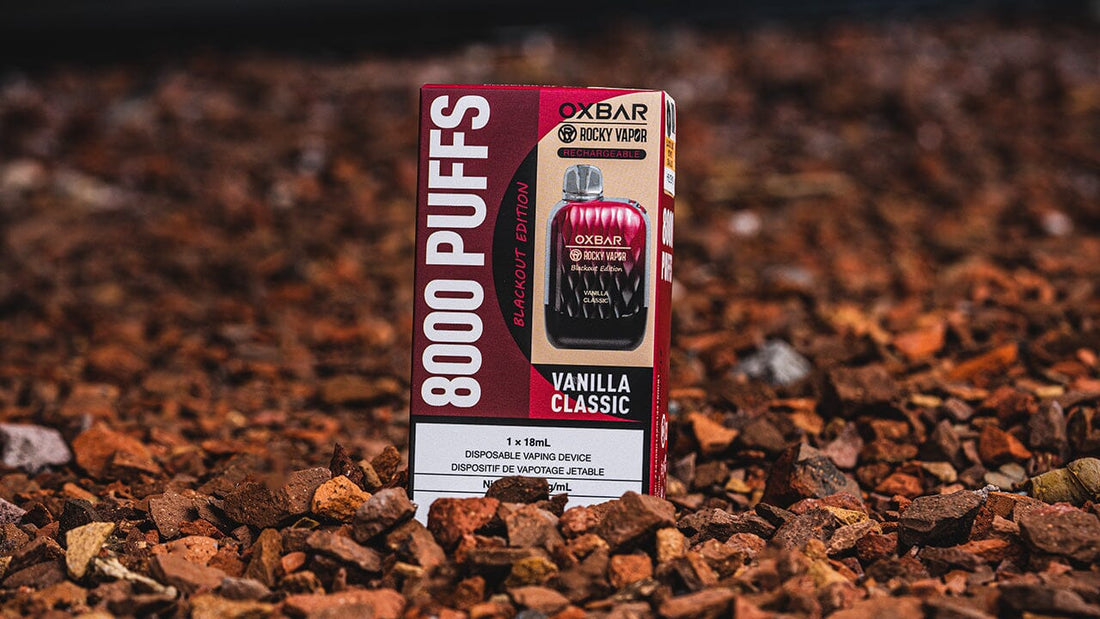 Exploring Refreshing Soda-Flavoured Vapes by Oxbar
One thing there is no shortage of when it comes to disposable vapes is the fruit blends and flavours. Fruit-infused vapes have long been favoured for their ability to enhance your vaping experience and make the transition from smoking to vaping smoother and more enjoyable. However, in a world where fruity concoctions can sometimes overwhelm your palate or leave you wanting more, it's time to put aside the fruit salad and take a closer look at a different kind of vape experience.
Instead of tossing fruit flavours around like an old-fashioned food fight, we invite you to join us on a journey that delves into the soda-inspired flavours within the Oxbar lineup. These flavours provide a delightful taste and an exceptional vaping experience that's unique and satisfying.
So, if you're seeking a break from the fruit-filled fray and craving a vaping adventure that's a bit more nostalgic, fasten your seatbelt as we dive headfirst into the cool world of Oxbar vapes, with a special focus on their soda-inspired wonders. Get ready to savour that cola in a cloud of vapour and discover a vaping experience that's as unique as it is unforgettable. Join us as we explore the three tantalizing soda-inspired flavours that Oxbar has masterfully crafted, providing a refreshing alternative to the fruity norm.
Oxbar G8000 Vanilla Classic Disposable Vape – Indulge in Creamy Vanilla Bliss!
In vaping, vanilla flavours have long held a special place as a creamy and comforting choice. But the unique combination of cola and vanilla turns heads and sets the vaping world abuzz. Enter the Oxbar G8000 Vanilla Classic Disposable Vape, a true masterpiece that offers a creamy vanilla experience like no other.
While there are many vanilla vapes out there, what makes the Oxbar G8000 Vanilla Classic truly remarkable is its harmonious marriage of cola and vanilla. This is where the classic sweetness of vanilla meets the fizzy, effervescent world of cola, resulting in an indulgent symphony of flavours that will tantalize your taste buds. Join us as we dive into creamy vanilla bliss and uncover what makes this vape stand out.
Oxbar G8000 Canada D Disposable Vape – Your Gateway to Ginger!
This one is for all the Canadians who can't get enough of Ginger Ale. When it comes to vaping, finding a flavour that truly stands out can be a thrilling adventure, and the Oxbar G8000 Canada D Disposable Vape promises just that. Imagine the delight of savouring the crisp, bubbly, and unmistakable taste of Ginger Ale in the form of a vape. It's a unique experience that combines the nostalgia of a classic Canadian beverage with the convenience of modern vaping. Let's dive into what makes the Oxbar G8000 Canada D so exceptional and why ginger ale enthusiasts are in for a treat.
Oxbar G8000 Extreme Dew Disposable Vape – Do the Dew with this shocking lemon lime vape!
Get ready to experience the zesty shockwave of flavour with the Oxbar G8000 Extreme Dew Disposable Vape. It's like doing the Dew, but in the most electrifying way possible—through vaping. This is where the classic lemon-lime soda flavour meets the cool realm of vaping, creating an experience that's nothing short of extraordinary.
If you've ever been captivated by the invigorating taste of lemon-lime soda and wondered how it would translate into a vape, you're in for a treat. The Oxbar G8000 Extreme Dew immerses you in the lemon-lime cola flavour like never before. Get ready to leap into the world of refreshment as we explore what makes this vape a must-try for fans of this classic soda flavour.
Conclusion: Oxbar is Designed for Satisfaction:
The Oxbar G8000 Disposable Vape is a cutting-edge device meticulously crafted to take your vaping adventure to new heights of satisfaction. This disposable vape boasts an impressive puff count of up to 8,000 puffs, ensuring that you have the power to enjoy your favourite flavours for an extended period. It's perfect for flavour enthusiasts and those who have embarked on the challenging journey of quitting smoking.
With Oxbar, you're experiencing remarkable flavours and embracing a healthier alternative that can aid in achieving your smoking cessation goals. So, whether you're a flavour enthusiast or looking to transition away from traditional cigarettes, Oxbar's commitment to satisfaction and innovation has you covered. Discover the world of Oxbar vapes and take the next step toward a more satisfying, smoke-free lifestyle.
At VapeMeet, we're committed to providing you with premium vaping solutions. Explore our range of products and take advantage of exclusive deals to enhance your vaping experience. Choose STLTH Pro and redefine the way you vape! Stay updated with all our deals and promotions by following our Instagram page!