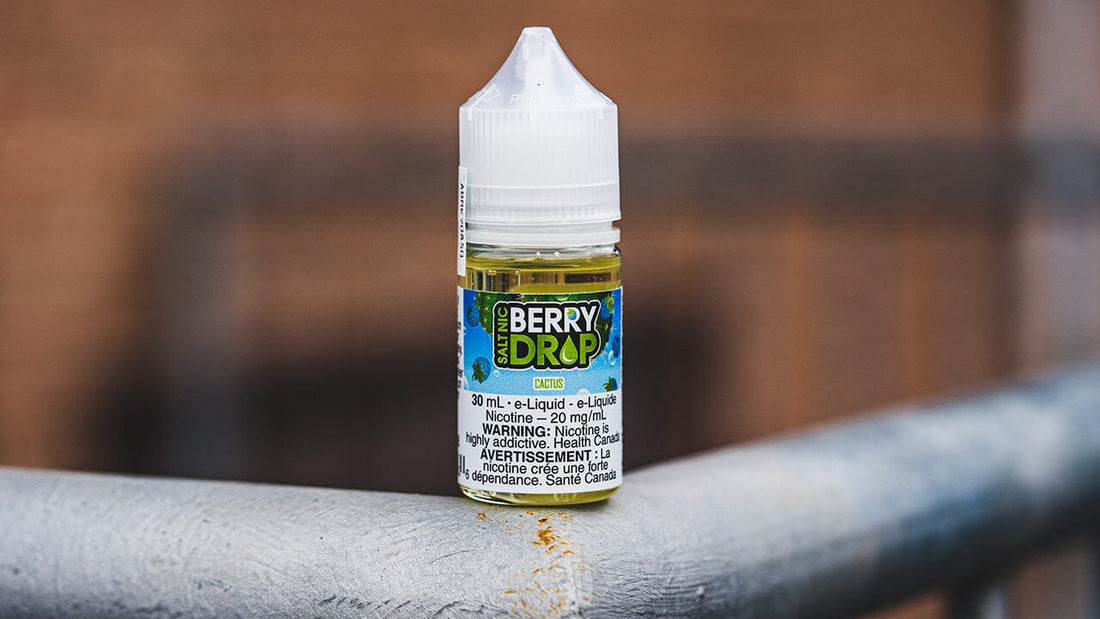 Exploring 'Cactus' by Berry Drop: A Unique Frontier in Vaping
Have you ever tried cactus juice? Better yet, have you ever vaped cactus juice? Hear me out because this game-changing flavour is my new favourite. The latest shipment of Berry Drop flavours just arrived at VapeMeet, and one of the standout unique tastes in the line is the exciting cactus flavour. However, how do you even begin to explain what cacti taste like, let alone what it tastes like to vape them? So, are you ready to step out of your comfort zone and try something new? Then buckle up and get ready for an unforgettable ride!
The Birth of 'Cactus':
Berry Drop is a company that creates innovative and exciting vape juice flavours. Their latest creation is a vape juice called Cactus, inspired by the alluring mystery of the desert. 
This Cactus Salt Nic e juice is a unique blend of flavours that starts with the famous Berry Drop base. This base has already won over many fans with its smooth and satisfying taste of blue raspberries. However, the Cactus blend takes things to the next level by introducing the tartness of blue raspberry and the refreshing taste of icy cactus. 
The result is a flavour profile that is both captivating and refreshing. The combination of blue raspberry and cactus may seem unusual, but it works incredibly well together. The tartness of the blue raspberry is balanced perfectly by the cool and refreshing taste of cactus. 
Cactus is a vape juice that is perfect for those looking for something a little different. If you're tired of the same old sweet flavours and want to try something new and exciting, then cactus is a perfect choice. So why not try it and experience the unique and captivating taste of Berry Drop's latest creation? 
Flavour Profile:
At its core, 'Cactus' fuses the Berry Drop base with the tartness of blue raspberry and the addition of an icy cactus flavour. Drawing inspiration from the prickly pear found on the Nopal Cactus, the cactus water infusion delivers a berry-like essence, creating a delightful and refreshing experience. Cactus juice presents a mildly sweet and tangy taste, with variations in bitterness and sweetness across different varieties and preparation methods. In 'Cactus,' this juice contributes a sweet and tangy note akin to a refreshing, summery pink lime lemonade, offering a unique and captivating vaping experience.
The Essence of the Berry Drop Line:
Within Cactus' Berry Drop lies many features that elevate the vaping experience. With a VG/PG ratio of 50 VG/50 PG, it promises a smooth vape session, ensuring a robust flavour and satisfying vapour production. Available in a 20 mL option, Cactus caters to varied nicotine preferences. Crafted with 100% Canadian-made premium ingredients, this vape juice assures top-tier quality. Tailored for mouth-to-lung vaping and recommended for lower power wattage devices, 'Cactus' adapts seamlessly to various setups, offering a consistent and enjoyable experience. With efficient nicotine delivery through the use of nicotine salts, 'Cactus' ensures a smoother throat hit and faster nicotine absorption while consuming less e-liquid. Slow oxidation in the formulation extends the shelf life, preserving the integrity of flavours over time.
Discover the Unexpected: A Unique Vape Juice Experience
This infusion introduces a unique twist to the vaping experience, delivering a taste that's both refreshingly original and pleasantly intriguing. The cactus juice contributes a sweet and tangy note akin to a refreshing, summery pink lime lemonade, presenting an unexpected yet delightful flavour.
It's the sort of vape juice that challenges the status quo and invites vapers to explore a new frontier of flavour. With its ability to surprise and captivate, Cactus is an emblem of innovation in the vaping world.
In a landscape where traditional flavours dominate, Cactus by Berry Drop dares to be different, beckoning vapers to embrace the unfamiliar and savour the delightfully unique experience it offers.
At VapeMeet, we're committed to providing you with premium vaping solutions. Explore our range of products and take advantage of exclusive deals to enhance your vaping experience. Choose STLTH Pro and redefine the way you vape!
Stay updated with all our deals and promotions by following our
Instagram page
!