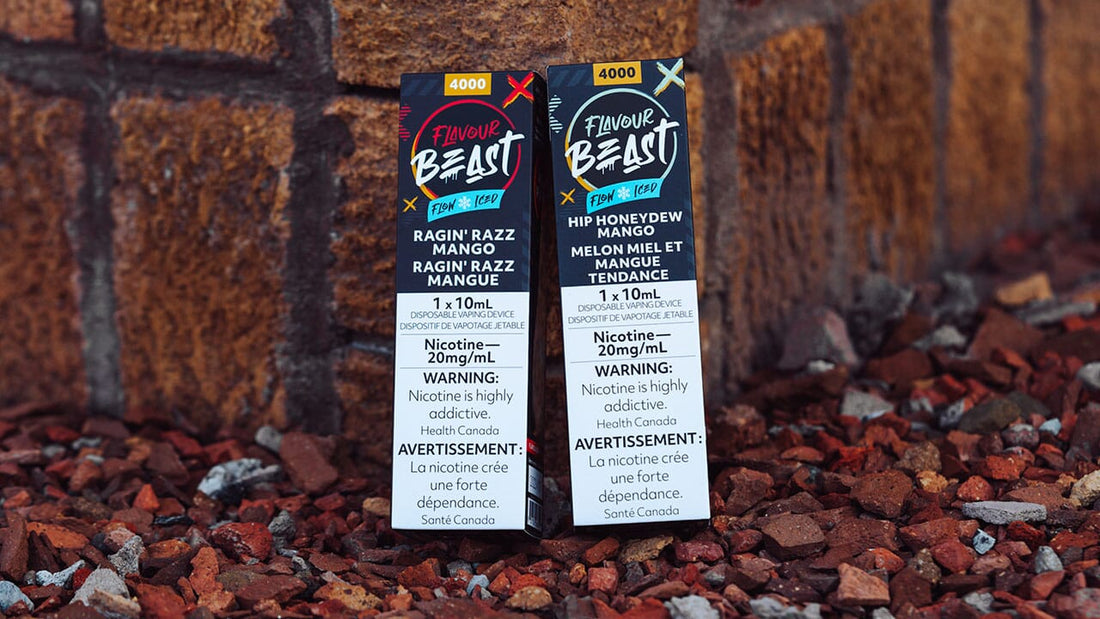 Experience the Ultimate Vaping Sensation with Flavour Beast's New Disposable Vapes
Are you a fan of vaping but tired of the same old boring flavours? Flavour Beast has the perfect solution for you! Their new disposable vapes boast a range of exciting flavours that deliver an ultimate vaping sensation effortlessly. In this blog post, we will explore the features of Flavour Beast's disposable vapes and review their two new mouth-watering flavours. We will also discuss the advantages that make these disposable vapes better than other alternatives. 
Flavour Beast's Disposable Vapes Features 
Flavour Beast's disposable vapes are known for their impressive battery power, allowing long-lasting vaping sessions. The devices have up to 600mAh battery capacity, more than most disposable vapes. Additionally, the e-liquid capacity of the new disposable vapes is 10ml, which ensures you have more vaping time before needing a replacement. However, their bold in-your-face flavours set Flavour Beast apart from other disposable vapes. 
The New Flavours 
Flavour Beast has introduced two new flavours to their disposable vape collection - Hip Honeydew Mango Iced flavour and Ragin' Razz Mango Iced flavour. A comprehensive review of the Hip Honeydew Mango Iced flavour reveals a refreshingly subtle melon flavour that blends perfectly with the tropical notes of ripe mango. The "iced" feature provides a cooling effect, making it ideal for summer vaping. The overall sensation is a smooth and delicate blend of honeydew melon, mango, and a cool, minty finish. 
On the other hand, the Ragin' Razz Mango Iced flavour provides a punchy raspberry and mango blend that wows your senses from the first puff. The iced effect adds a much-needed cooling sensation that complements the tanginess of the raspberries. The flavour provides a well-balanced experience, with fruity notes and a sensational finish. 
Benefits of Flavour Beast's Disposable Vapes 
The number one advantage of Flavour Beast's disposable vapes is their convenience and portability. You don't have to worry about charging the device, refilling e-juice, or cleaning it. It's ready to use and dispose of when you're done. 
The second benefit is affordability and cost-effectiveness. The new flavours come in affordable packs, providing great value for money compared to other vapes. The longevity of the battery and e-liquid capacity also provide prolonged vaping time, reducing the need for frequent replacements. 
Thirdly, Flavour Beast's disposable vapes have INCREDIBLE bold flavour profiles, creating an amazing vaping experience. Their unique flavour combinations provide a host of new aromas and tastes that will tantalize your taste buds. If you want an exciting vaping experience, look no further than the new disposable vapes from Flavour Beast!
Finally, Flavour Beast's disposable vapes are not only user-friendly and easy to use, but they also provide a hassle-free experience. With no buttons to accidentally go off in your pocket or bag, these devices are designed to simplify your vaping journey. Simply inhale and enjoy the smooth and flavorful vapour that Flavour Beast's draw-activated vapes deliver. Experience convenience and satisfaction in every puff.
Flavour Beast's new disposable vapes are a must-try for any vaper looking for convenience, affordability, and an ultimate vaping sensation. Their range of flavours caters to different preferences, and convenience makes things easy and hassle-free. So, stop hesitating and try out Flavour Beast's new disposable vape flavours today. Don't forget to check out their other flavours and promotions as well. Enjoy!
Need more vapes in your feed? Stay updated with all our deals and promotions by following our Instagram page!