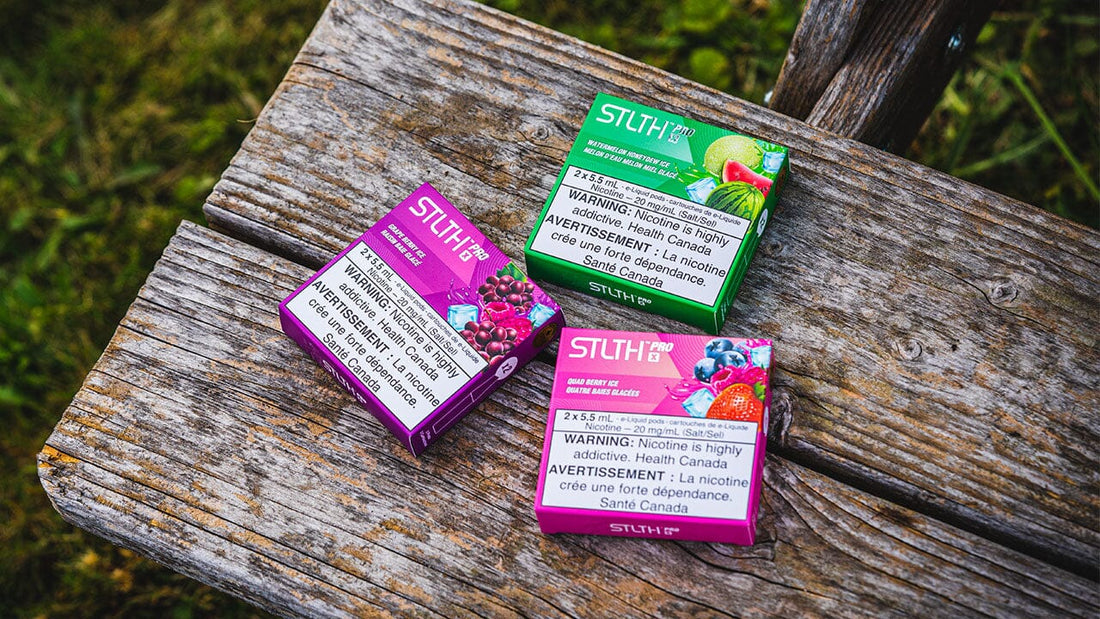 Embark on a Vaping Odyssey with STLTH Pro X: Unveiling the Elixir of Flavour and Sustainability!
In a world where vaping has become an art form, the STLTH Pro X line is a testament to the perfect fusion of indulgence and environmental responsibility. Today, we invite you on a journey that promises a symphony of tantalizing flavours and a chance to make a real difference.
Imagine a realm where every inhale is a sensory adventure, where each puff transports you to a sun-kissed vineyard or a tropical paradise. This is the promise of the STLTH Pro X line, and we're about to reveal the crowning jewels of this vaping treasure trove: Grape Berry Ice, Watermelon Honeydew Ice, and Quad Berry Ice.
These are not just flavours; they are experiences in a pod. Each one captures the essence of nature's finest, and to top it off, they come with an exhilarating twist. But that's just the beginning. Let's dive into the three most popular flavours in the STLTH Pro X line and discover what they are all about!
Imagine the lush vineyards of southern France, where ripe, plump grapes bask in the Mediterranean sun. That's the essence of the Grape Berry Ice flavour. It's a masterful blend of the unmistakable sweetness of grapes and the intricate complexity of mixed berries. The refreshing, icy twist it carries is what truly sets this flavour apart.
The grape component provides a burst of sweet, wine-like richness, while the mixed berries bring a playful medley of tartness and juiciness. It's a journey for your palate, starting with the bold, sweet grape notes and transitioning into the delightful chaos of berries. But what makes this truly remarkable is the cool menthol finish. It's like a gentle breeze sweeping through a sunny vineyard, leaving you with a refreshing and exhilarating sensation.
The Grape Berry Ice is perfect for all-day vaping. The sweetness is never overwhelming, thanks to the tartness of the berries, and the menthol adds a revitalizing touch. Whether you're a grape enthusiast or just someone looking for a unique and enjoyable vape, this flavour should be high on your list.
Watermelon and honeydew melon are the ultimate fruits of summer. Their juicy, hydrating qualities make them a natural choice for those hot, sunny days. With Watermelon Honeydew Ice, you get the essence of summer packed into a convenient pod.
The watermelon in this flavour is bursting with a delightful, natural sweetness. It's like biting into a juicy slice of this iconic fruit. Honeydew, on the other hand, adds an interesting twist. It's slightly more subdued in sweetness but brings a unique, almost floral note to the mix.
Now, imagine both fruits in perfect harmony, their juices mingling, creating a symphony of flavour in your mouth. But there's more! The addition of ice transforms this into a cooling, tropical paradise. It's like a poolside cocktail without the guilt. The gentle sweetness is balanced by the frosty sensation on the exhale, making it a perfect choice for anyone who craves a sweet yet revitalizing vaping experience.
Are you a fan of berries? If so, Quad Berry Ice is your vaping dream come true. This flavour is a berry lover's paradise, offering a unique blend of blackberries, blueberries, raspberries, and strawberries, all accentuated by a refreshing menthol chill.
Each of these berries brings its distinct character to the mix. Blackberries offer a robust, deep flavour with a hint of tartness, while blueberries add a mellow sweetness. Raspberries bring a sharp tang, and strawberries introduce a subtle, almost creamy sweetness. The perfect ensemble of berry notes creates a balanced, complex, and utterly delightful flavour profile.
The menthol aspect of Quad Berry Ice takes it to the next level. It's like a breeze through a berry orchard on a crisp morning. The cold sensation enhances the fruitiness and adds depth to the flavour. This is the ultimate choice for those who adore berries and seek a refreshing kick with every inhale.
Now, let's talk about what sets the STLTH Pro X line apart. These pods are designed for an unparalleled vaping experience, with an impressive 5.5 mL of e-Liquid per pod. This means longer-lasting vaping without the constant need for refills. It's perfect for those who are always on the go and want to avoid the hassle of frequently changing pods.
Additionally, the standard 20 mg/mL nicotine strength ensures a smooth and satisfying hit every time. Whether you're a newcomer to vaping or an experienced enthusiast, you'll appreciate the consistent and reliable nicotine delivery.
However, what truly distinguishes STLTH Pro X is its commitment to the environment. The National Greening Program Partnership with Tree Canada is a remarkable initiative that ensures that every purchase of STLTH products contributes to the planting of trees. This means that your vaping enjoyment is not only a personal pleasure but also a positive contribution to our planet.
In conclusion, the STLTH Pro X line offers an extraordinary vaping experience with its unique and well-crafted flavours. Grape Berry Ice, Watermelon Honeydew Ice, and Quad Berry Ice each bring something special to the table, catering to a wide range of taste preferences. And let's remember the user-friendly design of the pods, providing ample e-Liquid capacity for a long-lasting vape.
What truly elevates this line is its commitment to environmental responsibility through the National Greening Program Partnership. So, when you choose STLTH Pro X, you're not just treating yourself to a delightful vaping experience; you're also making a meaningful contribution to the environment. It's a win-win situation, and it's why these top picks in the STLTH Pro X line deserve all the praise they receive. Enjoy your vaping journey and the positive impact it brings to our world.
At VapeMeet, we're committed to providing you with premium vaping solutions. Explore our range of products and take advantage of exclusive deals to enhance your vaping experience. Choose STLTH Pro and redefine the way you vape! Stay updated with all our deals and promotions by following our Instagram page!