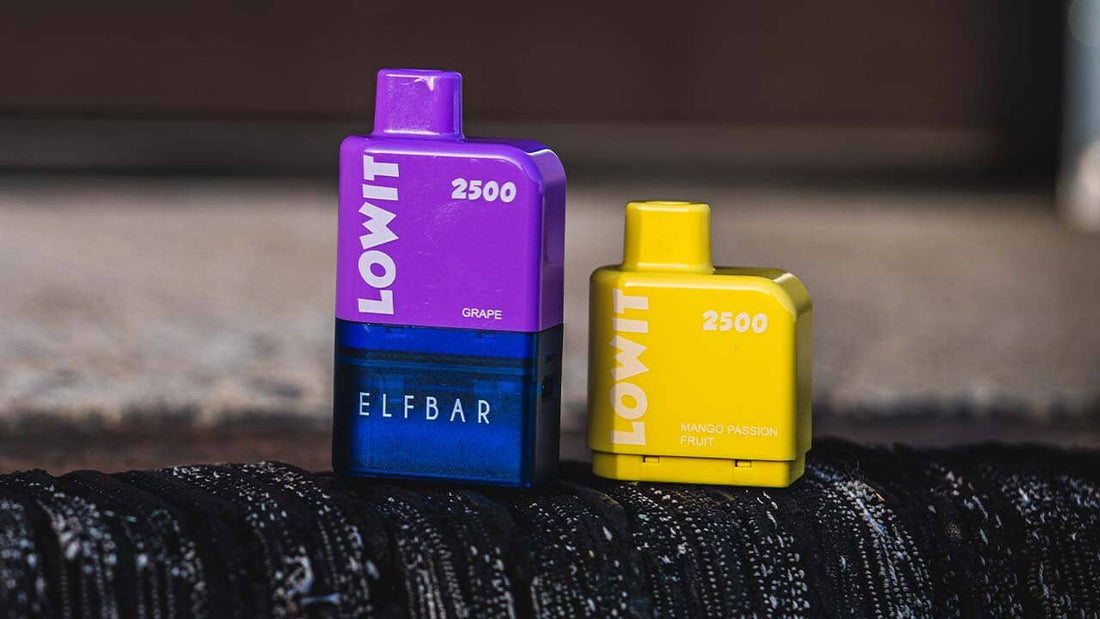 The Elf Bar Lowit 2500: A Review of the Newest Pod System at VapeMeet
If you are looking for a new pod system to try, the Elf Bar Lowit 2500 is worth checking out. This system is sleek and stylish, and it produces great-tasting vapour. It is also straightforward to use, which makes it perfect for beginners. This article will take a closer look at the Elf Bar Lowit 2500 and discuss its key features. We will also provide our thoughts on whether or not this pod system is worth buying.
I was interested in trying the new Elf Bar Lowit 2500 because I was already happy with the flavour and experience of the disposable Elf Bar 5000's. The Lowit 2500 distinguishes itself by its user-friendly design. You can easily swap out flavours using the rechargeable battery and be good to go!
The Elf Bar Lowit 2500 Rundown:
The Lowit is two parts, the pod and the battery. It is small and portable, making it easy to store in your pocket or handbag. Each pod offers 2500 puffs and is powered by the mighty 500 mAh battery, which means less charging time vs other pod systems. You buy the battery and keep reusing it, with the option to purchase new pods for various flavours.
When it comes to performance, the Lowit is impressive. I found that vapour production was plenty adequate, and the taste was outstanding! The draw resistance was also quite lovely but unadjustable. The battery has three lights that tell you where the charge is. The battery also comes in either black or blue colours.
How to use the Lowit Pod System:
Since this is a pod system, you only need to dispose of them once they are done. Another bonus! Because you keep reusing the battery, the Elf Bar Lowit 2500 is much greener than a disposable vape. If you feel bad about throwing out the pods, VapeMeet has a pod recycling program. Bring your old pods back to any participating VapeMeet store locations, and they will take care of it.
Final Impressions:
Overall, I am impressed with the Elf Bar Lowit 2500 pod system. It performs well and produces excellent flavour. It didn't have any options for airflow control, but the overall experience was convenient and enjoyable. I also enjoyed that I could get the same incredible flavours offered by Elf Bar in a less wasteful package.
The Elf Bar Lowit 2500 is an excellent choice for an easy-to-use, high-quality, affordable pod system. It's also perfect for beginners and experienced vapers alike. If you're in the market for a new disposable vape, give the Elf Bar Lowit 2500 a try!
Do you have experience with the Elf Bar Lowit 2500? Let us know in the comments!