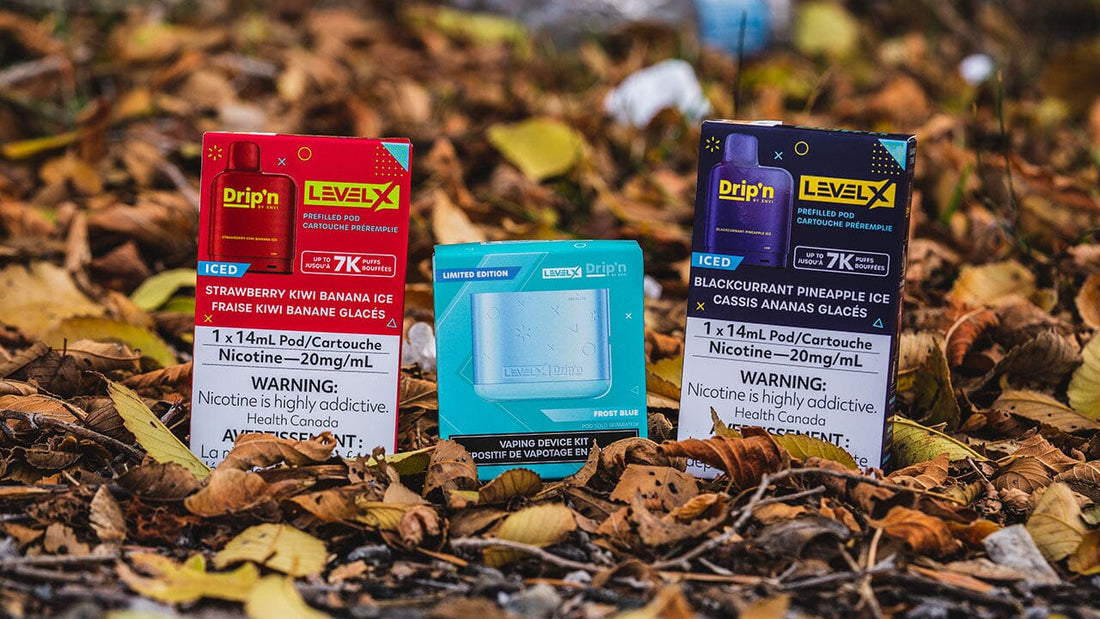 Drip'n Level X Vape Pods: Saving You Money One Pod at a Time
Saving money is always great, especially regarding something we're into, like vaping. That's why I get excited seeing more vape companies adding pod vapes to their collections. Drip'n is one of the latest names to join the disposable pod market. I tried out their pods over the weekend to see how they held up and was impressed.
Pod systems have been introduced previously in vapes, and we've seen a few companies, such as Elf Bar, STLTH, and Flavour Beast, dive into pod systems. The claim is that pods save you money because you reuse the battery you purchase separately, making these hot ticket items a reusable disposable vape. Pods are also better for the environment as you're not throwing out batteries like regular disposables. 
Drip'n by Envi disposable vapes are typically right up there when I need a satisfying hit that isn't too hard on my wallet, so these pods will run you relatively cheap when next to the Flavour Beast's. Drip'n also offers unique flavour blends in their line of vapes.
Cool Features of Drip'n Level X Vape Pods
The Drip'n Level X has an outstanding feature of a 14mL pod capacity. With this impressive capacity, you can enjoy up to 7000 puffs from a single device. This eliminates the constant need for disposal and promotes a more environment-friendly vaping experience, reducing waste and making it an ideal choice for those who prioritize sustainability.
The Level X's ergonomic and compact form factor and the anti-slip grip finish make it a pleasure to hold and use. The device fits comfortably in the hand, and the anti-slip grip ensures it stays securely in place, providing a confident and comfortable vaping experience. I'm a massive fan of this texture, and it's a silicone layer of skin over the pod itself (not the battery) that makes it feel nice when in your hands. 
Powered by a sold separately 600mAh rechargeable battery, the Level X delivers a steady 13W of power, ensuring each draw is smooth and flavorful. The twist-adjustable airflow allows users to customize their vaping experience, catering to individual preferences. I was confused when I was reading that, as I thought I was looking for a button or a switch for the airflow on the battery or pod itself. Nope! You change the airflow by taking the pod out and switching it to low or high airflow by inserting it into the battery.  
I grabbed the "Limited Edition" Blue battery, which comes in grey and black. I have used the same battery on the Flavour Beast Pods, and it works! Each battery comes with a USB-C charging cable that you can use on your charging block. It only took around 30 minutes to set, which I liked because no one wants to sit around and wait for the batteries to charge. The battery lasted me the whole day, and I thought you only get little lights on the side to indicate battery and juice health, and that's all you need. If you dive into Pod vaping, grab at least two batteries so you can have one charged and ready to go. 
Drip'n Flavours 
What truly sets the Drip'n Level X apart is the unique Drip'n flavours. The original flavours are a delightful departure from the ordinary, offering a distinctive and satisfying taste with every puff. The variety of flavours ensures something for every palate, making the vaping experience even more enjoyable. Here are three picks from the Drip'n Pod line of flavours:
The Drip'n Level X disposable vape pod offers an exquisite combination of juicy peach and tangy blue raspberry flavours that tantalize your taste buds with every puff. The crisp and refreshing finish of icy coolness enhances the vaping experience, making it a delightful treat for your senses. 
The Dripn Level X Disposable Vape Pod is popular among vapers due to its perfectly balanced blend of Blackcurrant, Pineapple, and Ice flavours. When combined, these flavours create a delicious and refreshing vaping experience that is genuinely satisfying. 
This exquisite vape is a delightful combination of the succulent flavours of Kiwi, Guava, and Passionfruit. The refreshing twist of ice in this tropical vape helps to keep you cool while enjoying the delicious blast of the tropics.
In conclusion, the Drip'n Level X disposable vaping system has redefined the expectations for disposable devices. Its impressive pod capacity, long-lasting battery life, ergonomic design, and unique flavours make it a game-changer in the vaping industry. If you're looking for a reliable, satisfying, and eco-friendly vaping experience, the Drip'n Level X is the way to go.
At VapeMeet, we're committed to providing you with premium vaping solutions. Explore our range of products and take advantage of exclusive deals to enhance your vaping experience. Choose STLTH Pro and redefine the way you vape!
Stay updated with all our deals and promotions by following our
Instagram page
!