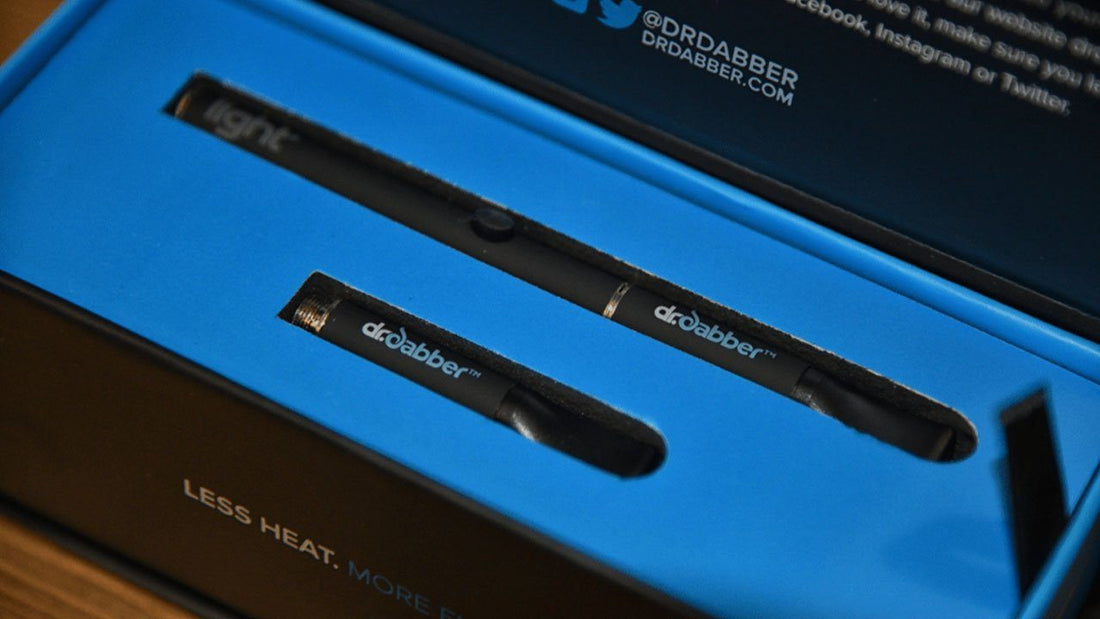 Dr. Dabber Light Vaporizer Review
Wax concentrates get a bad rap for being difficult to enjoy for beginners. Between negotiating a complicated dab rig set up or typically bulky vaporizers, it can be tough to find an easy, convenient wax pen to use that gives solid performance without the headache.
Unless, of course, you've set your sights on the Dr. Dabber Light! A smaller, more compact version of the Dr. Dabber Ghost, the Light gives a fantastic performance in one of the slimmest wax pens on the market.
Dr. Dabber, as the name suggests, made their name creating cutting-edge wax vaporizer, and the Light is no different. Read below to see if the Light might be the wax pen you've been searching for!
Look and Feel
The look and feel of the Light make it look like a traditional e-liquid vape pen. Unlike other wax pens that are "pen" in name only, the Light keeps the super-slim, traditional look. This makes it a great option for experienced vapers who are looking for a wax pen that can be used stealthily in public (it is about the same size and shape as an actual ink pen!)
There is only one button you'll need to worry about, which is the power button, located close to the center of the device. Five clicks turn it on and off, with lights letting you know whether or not power is being supplied.
The mouthpiece screws off to reveal a petite heating chamber, the perfect size for several solid puffs of wax vapour. The kit comes with a travel storage ball for more wax should you need to refill while you're out and about.
Overall, the design of the Light is true to its name. It is truly a vape "pen," and it features a simple, straightforward design that beginners will love. It's a fantastic choice for stealthy public vaping, which will appeal to all kinds of vapers!
Performance
Given its super slim size, the performance of the Light is surprisingly good. It makes use of an internal 650mAh battery and a single quartz coil to provide vapour with excellent flavour. You won't get scorched or burnt flavours (unless you've completely exhausted the wax you loaded for the vaping session, of course).
Unfortunately, the Light doesn't feature any variable heating options (a trade-off for its budget-friendly price and super slim profile). While variable heating isn't as important for wax as it is for cannabis, experienced vapers may prefer a device that allows for at least some heating choices.
Aside from that, the performance is pleasantly simple, similar to its design. The performance is good enough to be a secondary device for travel with experienced vapers but is most ideal for beginners just getting started in vaping waxes.
Conclusion
The Dr. Dabber Light is a fantastic little wax pen. Though it offers a simple, straightforward experience, the overall performance is surprisingly satisfactory. You'll get solid tasting vapour and a petite design to go with it!
As you can imagine, a device like this has obvious limitations. It lacks precision heating, has a pretty modest battery life, and offers limited capacity for loading wax concentrates. Experienced vapers looking for a new primary device are going to feel limited by the offering of the Light, especially those who look forward to tweaking their vaping experience.
For beginners or those looking for a nice travel buddy, the Light is a compelling choice. If you're looking for a high-quality, budget-friendly device for travelling or trying waxes for the first time, the Dr. Dabber Light is sure to be just what you need!
Convinced by our review? Head to the Dr. Dabber Light product page to shop now!