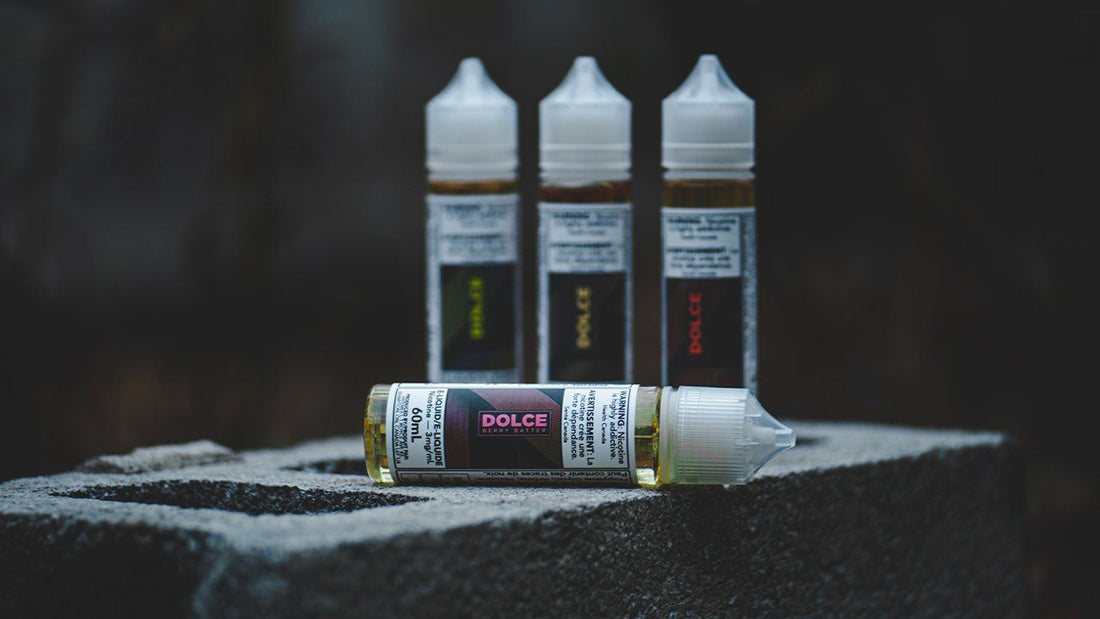 Dolce E-Liquid Review
Dolce is a vape juice brand focused on more than just sweet flavours. Their recipes focus on recreating complex, rich flavours, like Berry Batter, Cocoa Crumb, Fuji Filling, and Lemon Layers. If you're looking for simple tastes, look elsewhere. This VapeMeet exclusive is for the vaping connoisseurs of the world.
The Flavours
Each Dolce flavour is an attempt to recreate an authentic experience. Each recipe offers its own unique, complex tastes that more sophisticated vapers line up in droves for. Take your time examining the tasting notes and find an e-juice that feels perfect for you!
If you want rich and creamy, you've found it with Berry Batter. Tasting notes include baked strawberry puree, and just a hint of a vanilla bean swirl. The result is a full-bodied, smooth flavour with just the right amount of sweetness. If you aren't quite sure where to start in the Dolce product line, Berry Batter is a wonderful introduction with its gentle, delicious flavours.
Cocoa Crumb is the perfect vape liquid for cocoa bean lovers. It combines the full-bodied smoothness of a hearty baked cocoa beans with a gentle sweetness. The result is a cocoa bean-forward flavour that hits sweet on in the inhale and leaves a deeply smooth aftertaste. Cocoa Crumb is an absolute must-have for cocoa lovers.
Fuji Filling is our favourite in the Dolce flavour line. Reminiscent of homemade baked apples and warm spices, developed palates will detect hints of flakiness, mixed in with intense flavours of sweet apple and cinnamon. It's the most authentic baked apple taste we've experienced, and we're confident it will become one of your favourite vape liquids!
Aren't lemons the best? Lemon Layers recreates your favourite lemony flavours! You'll catch sweet, smooth lemon on in the inhale, while the exhale will be lemony with just a hint of flakiness. Lemons always highlight the sweet, citrusy zest of lemon, and Lemon Layers is the perfect recreation!
Conclusion
Dolce is the ideal vape liquid line for those that want sweet flavours but are tired of traditional ones. Whether you want the tastes of full-bodied cocoa beans, smooth berries, sweet and zesty lemon, or authentic spiced, baked apples, Dolce provides complex, well-designed flavours that are as close to the real thing as you can get!
Dolce is perfect for the flavour chasers in the vaping community or those wanting to experience decadence without calories!