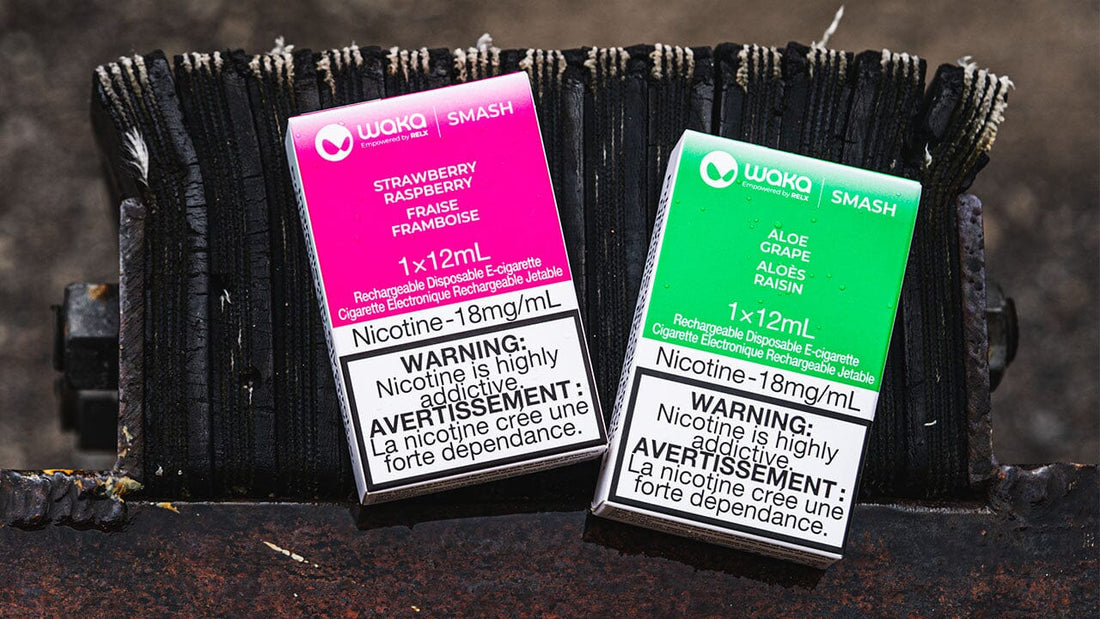 Discover the Remarkable Vaping Experience of the Waka Smash Vape 6000 by Relx
As the vaping market continues to evolve, various brands strive to stand out by offering exceptional features and benefits. One brand that stands out is Relx, known for its commitment to quality and innovation. In this blog post, we'll discuss the Waka Smash Vape 6000, a disposable vape by Relx designed to deliver an unforgettable vaping experience. In the following sections, we'll delve deeper into the device's exceptional features, safety features, and how to verify authenticity.
Vaping has evolved rapidly over the years, especially in the disposable market. It's not surprising, considering how convenient disposable vapes are. I'm starting to feel a bit overwhelmed by the number of choices available in disposables, so something about them has to stick out to me to get me excited.
I have to say, when you take a look at the Waka Smash, you'll find a clean and simple disposable flagon-style vape. It's not bulky at all, fits perfectly in your hands, and has no rough or grippy designs like some other disposables. It's nice to see a vape that's just plain and simple, small enough to easily slip into my pocket without screaming, "I AM VAPING". Design and Technology: The Waka Smash Vape 6000 boasts a sleek, ergonomic, comfortable design. Its second-generation mesh coil technology ensures even heating, giving you a smoother and more consistent vaping experience. Additionally, the device's impressive battery life allows you to enjoy a long vaping session without worrying about running out of power.
How many puffs are in a Waka Smash?
The Waka Smash disposable vape contains approximately 6000 puffs. When compared to cigarettes, a smoker typically takes around 10-15 puffs before extinguishing it. To err on the side of caution, let's assume that 15 puffs on a vape is roughly equivalent to smoking one cigarette. By this estimation, a disposable vape delivering 6000 puffs would equal approximately two packs of cigarettes. With a Waka Smash, you'll have an ample supply for a while. Now, the only question to ask is the selection of flavours that Waka has to offer.
What are the Flavours and Ingredients in a Waka Smash?
Relx takes pride in crafting delicious flavours for their devices, using high-quality ingredients. The Waka Smash Vape 6000 offers a range of flavours that cater to various tastes. From refreshing mint to classic tobacco, each flavour is crafted to savour each puff fully. The device uses food-grade ingredients, ensuring a safe vaping experience.
I gave the Cherry Lime and Aloe Grape flavours a try, and let me tell you, I am a HUGE fan of the Aloe Grape! I wasn't disappointed at all when vaping the Waka Smash. The overall taste experience was delightful. It's not too overpowering, which is great because it doesn't taste like "vape slurry" over a few days. Anyone who's been around disposable vapes for a while can relate to that "vape slurry" taste in cheaper disposables or disposables claiming to have intense flavours. Sure, the first few puffs are amazing, but I always get tired of the overpowering flavours, and they never taste as good as they should after a few days.
The Waka is just basic flavouring is perfect, and that's exactly what makes it a winner for me. It's pleasing enough that each hit is satisfying, and I never want to throw it out before it's finished because of the taste.
Relx's Commitment to Quality and Innovation: 
Relx stands out in the saturated vape market by offering a reliable and hassle-free vaping experience. The Waka Smash Vape 6000 is a testament to this commitment, having been designed with the user in mind. The device's safety features, such as various nicotine strengths and the use of food-grade ingredients, ensure a worry-free vaping session for users. 
How do I know I have a fake vape, and how to Verify Authenticity:
To ensure authenticity, users can visit Relx's official website, scan the QR code on the device's packaging, or use the Relx app. Verifying the device's authenticity ensures safer vaping and prevents users from using counterfeit devices. The other thing that goes for any disposable vape sold in Canada is always looking for the Duty Paid seal on the box. If you don't see those or any verifications on your vape boxes, stop buying your vapes from the bottom of Hell's basement already. You don't know where or who else has been puffing on it.
Conclusion: 
The Waka Smash Vape 6000 is a game-changer in the vaping market, offering a range of exceptional features and benefits. Its sleek and ergonomic design, second-generation mesh coil technology, and impressive battery life give users a remarkable vaping experience. Relx's commitment to quality and innovation and the device's safety features make it a popular choice among vapers worldwide. We highly recommend trying the Waka Smash Vape 6000 for an unforgettable vaping experience. The Waka Smash Vape 6000 by Relx is a device that stands out for its exceptional features, safety features, and commitment to quality and innovation. Its design, technology, flavours, and ingredients make it popular among vapers worldwide. Remember to verify the device's authenticity to ensure safe usage and a more enjoyable vaping experience. We hope this blog post has been informative and encourages you to try the Waka Smash Vape 6000 for yourself.
Need more vapes in your feed? Stay up to date with all our deals and promotions by following our Instagram page!