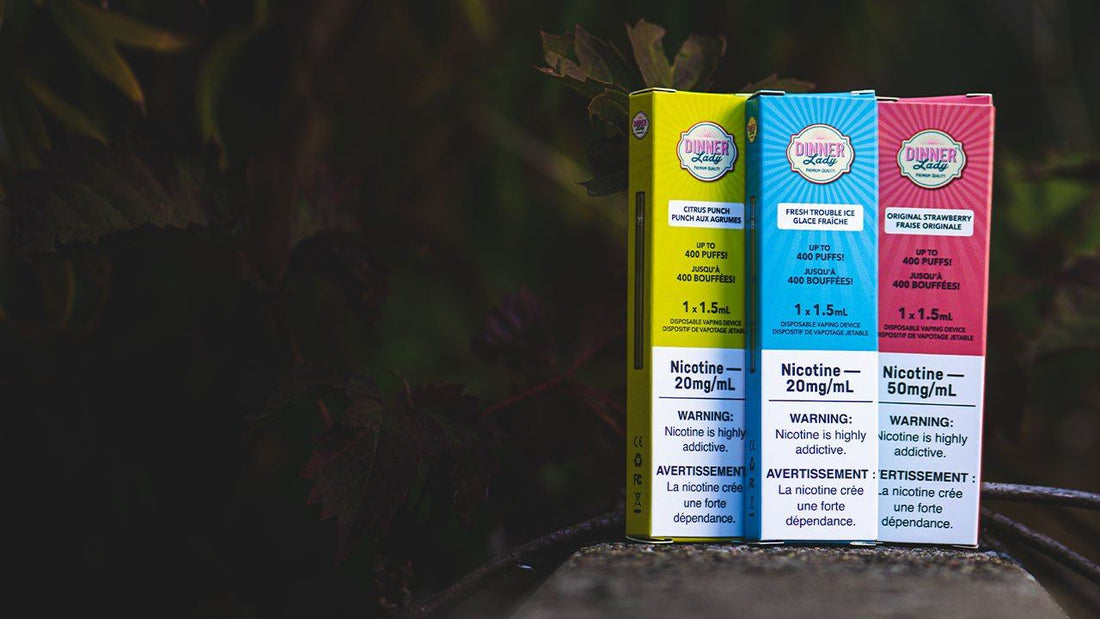 Dinner Lady Disposables Review
Fans of Dinner Lady e-liquids will be happy to hear that some of their most popular vape juices are now available in disposables! You'll come across some of their classic flavours, including Banana Ice, Citrus Punch, Fresh Trouble Ice, Fruit Punch, Lemon Citrus Ice, Mango Ice, Original Lemon, Original Strawberry, and Strawberry Ice.
Specs
Dinner Lady disposables are just shy of 4 inches long and filled with 1.5mL of vape juice. The vape juice is vaporized in a stainless steel atomizer with a bespoke mixed cotton wick, and with a battery capacity of 350mAh, you'll get roughly 400 puffs of tasty vapour.
Each Dinner Lady disposable is mixed in a 50VG/50PG blend and comes in 20mg or 50mg salt nicotine concentrations.
The Flavours
Dinner Lady offers a nice mix of unique flavours with interesting recipes as well as straightforward mixes that focus on quality. See if one of their tasty vape liquids is what you're looking for!
A must-try for mint and banana lovers, Banana Ice combines the best of both worlds to create a tantalizing blend of banana sweetness and mint. Exactly how the creamy, minty blast hits your throat depends on the salt nicotine concentration you choose, but we're big fans of each!
Citrus Punch will transport you to nostalgic times of standing awkwardly at the big dance with a cup of punch as your only social respite. However, Citrus Punch brings the flavour without the social anxiety! You'll taste a pleasant blend of orange, grapefruit, and just a hint of lemon, all layered with a taming sweetness. Citrus Punch is a fantastically tasty option, all wrapped up in a great disposable vape!
Your taste buds will be in some fresh trouble after sliding over some Fresh Trouble Ice! That classic bubbly taste gets mixed in with the bold minty power of menthol to give you an absolute blast of chewy, minty flavour. If you like mint bubbles, then you'll think that Fresh Trouble Ice was made just for you!
For those yearning for a sweet, tasty blend of fruit, look no further than Fruit Punch. Fruit Punch is a delicious take on a classic blend. You'll catch notes of all kinds of delicious fruity flavours, but you'll have to try it to see which fruits shine the best! Don't worry; we assure you that this blend will be a super tasty, fruity surprise!
Lemon Citrus Ice is going to taste like sweet lemon menthol. Notes of sweet lemon and lime are tempered with gentle sweetness, and it's all wrapped up in a satisfying minty blast! Lemon Citrus Ice is ideal for mint lovers who want a bit of the sweeter side of lemon and complimenting citrus flavours.
If you've never had the smooth flavour of mango mixed with the refreshing taste of mint, then fix your gaze upon Mango Ice! It's a pleasant blend of smooth mango sweetness that is washed away by a strong blast of mint on the exhale. Mango Ice is another intriguing choice for mint lovers!
If you want to avoid fruity blends, then consider getting back to your roots with Original Lemon. You won't find any bells and whistles of a complex recipe here. Instead, you'll be hit with the tart, sour citrus flavour of lemon with just a bit of sweetness on the exhale. Original Lemon is refreshingly delicious with a sharp taste, which we think all kinds of vapers will love (not just lemon aficionados).
Another straightforward flavour option, but instead of that sharp sourness of lemon, you'll get the juicy sweetness of Original Strawberry! Pleasantly sweet on both the inhale and exhale, Original Strawberry offers genuine strawberry flavours to make your palate dance with glee! This vape liquid is an excellent option for vapers looking for a simple, high-quality taste.
Strawberry Ice takes what you love about Original Strawberry and packs in a healthy dose of menthol! Instead of an aftertaste of gentle sweetness, you'll get a pleasant blast of refreshing coolness. Strawberry Ice is a great twist on the delicious Original Strawberry recipe.
Conclusion
Dinner Lady has done an incredible job of rebooting a plethora of their most popular flavours into delicious salt nicotine blends in disposable vapes. It's one of the easiest, most discrete ways to enjoy Dinner Lady e-juices, and we consider this brand a must-try for disposable vapers.
Find a great flavour? If you're still reading our review up to this point, there's a good chance this is the disposable for you! Head over to the Dinner Lady Disposable collection page to shop now!