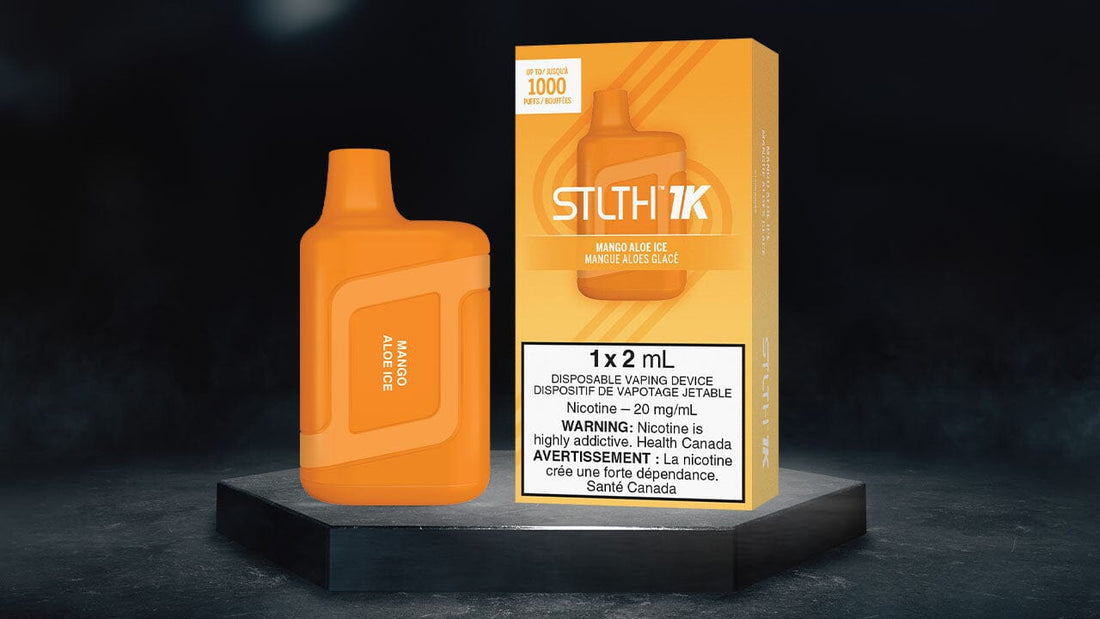 Curious Vapers will love the new STLTH 1K Disposable Vape - An Honest Look
So many disposable vapes are out there now, all claiming to have 5k, 6k, or even 8k puffs for longer-lasting enjoyment. It's awesome to have that value, especially when considering vape prices since they introduced the Canadian Vaping Excise Tax almost a year ago. In a world of super-powered billion puff disposable vapes, it's cool to know that STLTH has your back with the launch of the STLTH 1K's!
Who needs a 1K puff disposable Vape?
I mean, seriously! You're reading this and probably thinking, "Who in their right mind would buy a 1K puff disposable vape in this economy?" But let me tell you, there are so many perks to a simple, lightweight disposable with just a few puffs. Let's go through all the pros and cons right here.
PROS OF THE STLTH 1K
I don't like commitments
Yeah, that's true. I can't stand being stuck with just one flavour regarding disposables. I'll spend ages humming and hawing, whether browsing online or at the store, trying to make up my mind. Do you know why? Because once I commit to a vape with a high puff count, I will be stuck with that flavour for what feels like forever.
But when I have a 1K disposable, that commitment goes out the window, and I can decide in just a few minutes. Plus, I have more options to take risks with a lower puff count vape, so trying that BOLD TOBACCO or ULTRA MONKEY BANANA GUAVA JACKFRUIT RUMMY ICE flavour doesn't seem like such a bad idea anymore. It's a big deal in the world of vapes!
Lightweight
When travelling or carrying your vape around, having something lightweight and not too bulky makes a huge difference. Let me tell you about my recent day adventure in Toronto last weekend. I walked over 18K steps trying to visit all the stores and landmarks I wanted to see. I never like being weighed down by bags, so I always pack light for a day out. The price!
That's why having a vape with only 1K puffs was perfect. It was convenient and lightweight while still giving me the nicotine buzz I needed for my adventure.
The Price
Price is always a concern when it comes to disposable vapes. We all feel the pinch of the Vaping Excise Tax, and in many ways, it takes away some of the fun from vaping. At just $9.99 each before taxes, I appreciate the flexibility of different flavours without committing to a big vape setup. It's all about keeping things light and simple without breaking the bank.
Options to cut back and step down from Nicotine
I smoked for over 10 years, and I think I'm a way healthier person now that I switched from cigarettes to vaping. Honestly, I started to realize that smoking wasn't cool or satisfying for me. It was just my go-to stress relief. Even when I was younger, I used to tease my friends for smoking, but I hated everything about it when I tried it. The smelly fingers, the stinky clothes and hair, and how my car's windshield would get gross when I smoked inside. Smoking just sucked, but somehow all my problems and worries would magically disappear when I did it.
Stress is a major issue for many of us; sometimes, we fall into traps like smoking to cope with it. We all want to feel good and be our best selves. But as we navigate life, it's important to start making better choices to tackle that stress. The STLTH 1K is perfect for those who want to reduce their nicotine intake. Quitting is tough, and there's no one-size-fits-all solution. But it's comforting to know that options are available, and a smaller vape can offer some relief when you need it.
CONS OF THE STLTH 1K
IT CAN GET CRAZY
One of the crazy things about a smaller-capacity vape is how easy it is to go all out and buy 3-4 at once. It's great if you just need them for hanging out with friends, fishing trips, flying, or long car rides. But if you want to quit or cut back, you might not have the self-control with low puff counts. Just remember, know yourself, know your limits, chat with your friends and the people at your vape shop, and find a solution that works for you.
Look at how many vapes I have!
My buddies call me the "Vape Fairy" because my purse is filled with 10-15 different vapes in every pocket. I keep telling everyone it's for work, but I've got disposable vapes from over a year ago scattered around my place like unwanted reminders. You won't be as bad as me, but some of you will get what I mean when you buy disposables and end up with a fancy pile of half-empty vapes. Looking at your heaps of vape trash, a lot goes straight to a landfill. If that concerns you, a 1K vape might not be the best choice.
Overall, I dig the quality of STLTH e juice and the reputation of their disposable line. It's awesome that I can try out funky flavours without breaking the bank just to find out I hate 'em.
When you know what you're after and have a vaping game plan, the STLTH 1K is the perfect choice to meet your needs. Whether it's for travel, day-to-day vaping, or handling your regular routine, this disposable vape is user-friendly and offers many options.
Need more vapes in your feed? Stay up to date with all our deals and promotions by following our Instagram page!