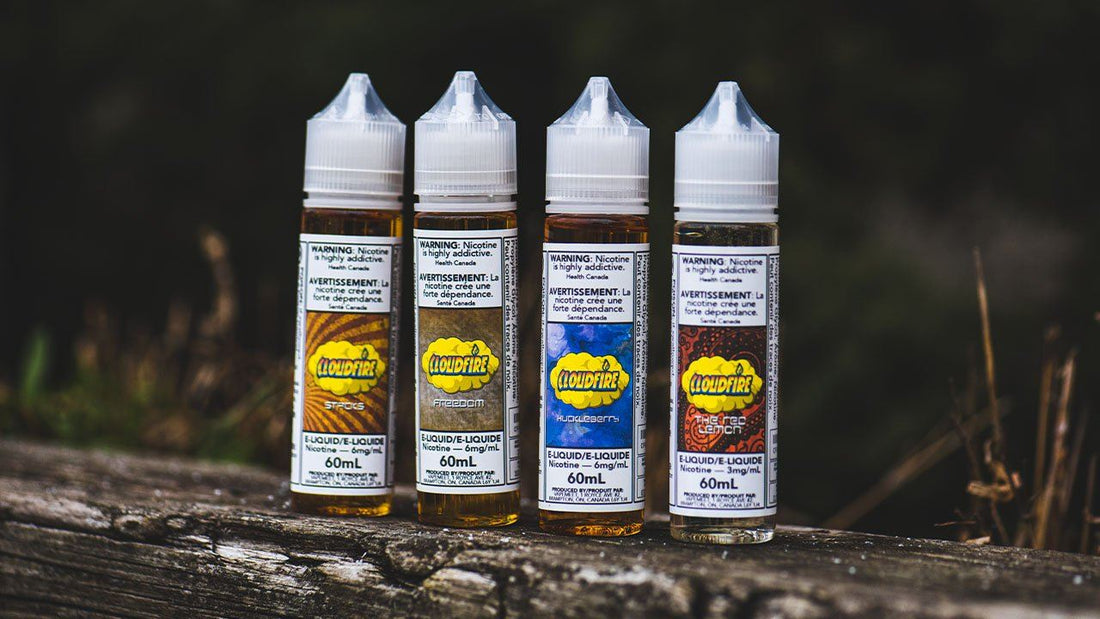 Cloudfire E-Liquid Review
Cloudfire is a classic style vape juice that provides a large variety of sweet, flavours. If you want a suite of sweet flavours that are great for making large vapour clouds, then Cloudfire e-liquids deserve your attention.
Cloudfire vape liquids come in 60mL bottle sizes and are available in 0mg, 3mg, 6mg, and 12mg freebase nicotine concentrations. The VG/PG ratio varies depending on the specific flavour, but expect VG ratios to range as low as 75 to as high as 86.
Vape juices with higher VG ratios will more easily produce big clouds of vapour but won't be quite as flavour forward. Be sure to take note of the specific ratios found in the Cloudfire vape liquid you're looking at, as they vary from bottle to bottle.
The Flavours
The flavours you'll find with Cloudfire are a spread of different blends and tasty recipes. If you're looking for simple, basic options, you'll want to look elsewhere!
Bomb O.G. provides a unique blend of mixed berries, pomegranate, and saltwater taffy. The result is a sweet taste on both the inhale and exhale, with the taffy flavouring providing a sweet and salty aftertaste. If you want a sweet, candy flavour, Bomb O.G. should be your go-to.
Freedom is the perfect breakfast blend for morning vapers. It recreates the taste of classic cinnamon sugar toast, which should be a delight to your inner child. Freedom is a smooth, sweet taste and a great alternative to fruity vape juices that are more common on the market.
While Gamma Five e-liquid won't give you cosmic powers, it will make your face pucker up! It combines grape, grapefruit, and sour orchard fruits to make a sour flavour with a nice sweet aftertaste. With a VG ratio of 80, Gamma Five will excel in creating thick, plentiful vapour without overwhelming you with sour notes.
Just as the double helix of human DNA beautiful intertwines, so do the red and black currant tasting notes found in Helix. While the fruity blend provides a tart but not too tart taste, it finishes with an icy, cool candy flavour.
This Huckleberry vape liquid is less berry-centred as much as it is baked, berry centred. Flavour chasers will pick up on flaky, buttery, baked fruit notes woven into the sweet berry taste of huckleberry. With a VG ratio of 83, this e-juice will produce a boat-load of vapour and provide excellent mouth-feel to fully enjoy some of the more subtle tasting notes.
Vaping Stacks is like vaping a mapley breakfast. There are subtle notes of butter, though maple is the predominant flavour, both during the hit and on the exhale. With a VG ratio of 86, this is the e-liquid you want if you are focused on producing monstrous vape clouds (that happen to taste delicious, too!)
Our favourite from the Cloudfire line, The Red Lemon, is a masterclass in sour vape juice. It combines sour lemon, strawberry, and watermelon to create a sour flavour that is underscored by a pleasantly sweet tasting recipe. With one of the lowest VG ratios offered by Cloudfire at 75, it is their most taste-centered vape juice.
Conclusion
Cloudfire offers great tasting flavours that are designed to offer excellent vapour production. Their product line has higher VG ratios than you'll find in other high-end vape juices, which makes Cloudfire a great option for vapers wanting to rip huge clouds without enduring nasty flavours.
Cloudfire has a fantastic product line, ideal for both new and veteran vaping enthusiasts.