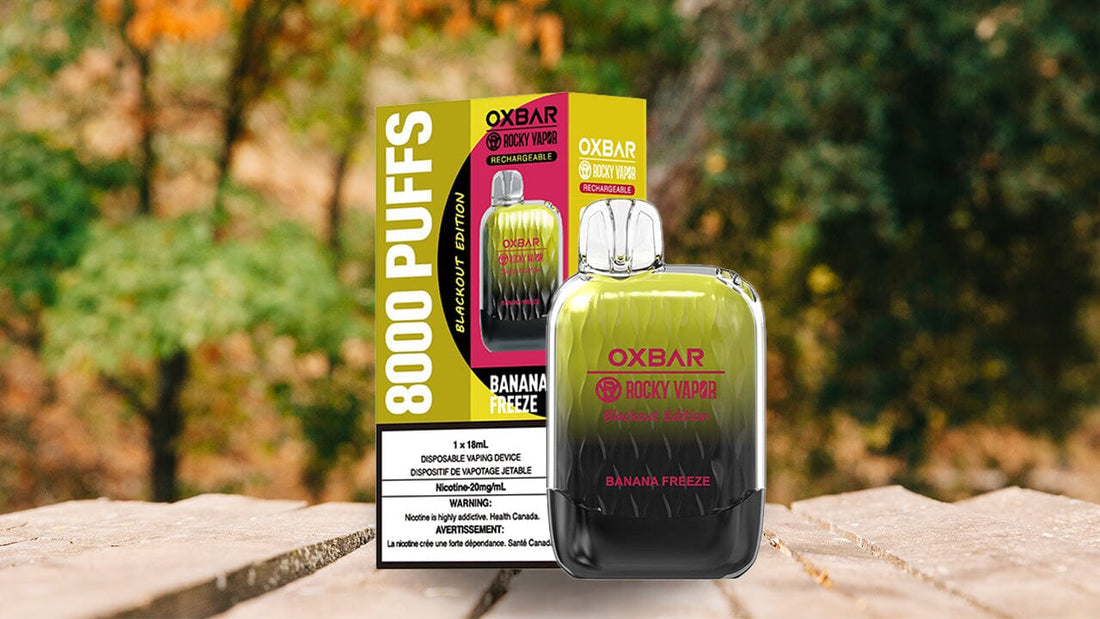 Chillin' and Thrillin' with VapeMeet's Three Sensational Oxbar 8000 Flavours
Get ready to elevate your vaping experience to new heights because VapeMeet is thrilled to introduce not one, not two, but three exciting new flavours for the Oxbar 8000 that will take your taste buds on an unforgettable journey. Are you prepared for a flavour adventure like no other? Let's dive right into the world of taste sensation!
What is an Oxbar vape?
Let me take you back to a memorable evening not too long ago when I first heard about the incredible Oxbar vapes. It was during a casual get-together with friends in the Greater Toronto Area, where we often traded stories and shared our latest discoveries. As we settled in, my friend couldn't contain their excitement and pulled out an Oxbar vape, raving about its impressive features.
Curiosity piqued, I took a puff and was instantly blown away. The flavour was unlike anything I'd experienced before, and it felt right in my hand. That night, I knew I had stumbled upon something special. Let me share what makes the Oxbar x Rocky Vapor G8000 Disposable Vape truly remarkable.
With its robust and long-lasting battery, you'll enjoy extended vaping sessions without worrying about recharging. Moreover, this innovative device boasts an 18mL pre-loaded reservoir of premium e-liquid, delivering a flavour profile that's simply extraordinary. And the pièce de résistance? This sleek, convenient device gives you a whopping 8000 puffs of pure enjoyment, making it perfect for any vape enthusiast.
Join me and countless others in the GTA captivated by the Oxbar x Rocky Vapor G8000. It's more than a vape; it's a testament to performance and convenience that has impressed me utterly. Experience vaping at its finest and discover why this extraordinary device has become a local favourite.
Banana Freeze: A Tropical Bliss
For all you banana enthusiasts out there, your dreams have come true! Picture a velvety, ripe banana transformed into a frosty delight, and you've got Banana Freeze. With each puff, you'll be transported to a tropical paradise, where the sweetness of a perfectly ripened banana meets the invigorating chill of icy freshness. This is the go-to vape for scorching summer days when you crave something sweet and revitalizing.
Cherry Lime Classic: A Zesty Tango
Prepare your taste buds for a dance of flavours, with Cherry Lime Classic! This blend is a lively duet of succulent cherries and zesty limes, resulting in a symphony of sweet and sour notes that are both bold and electrifying. With every inhale, the sweetness of cherries will delight your palate, while each exhale will leave you refreshed and yearning for more, thanks to the zingy zest of lime.
Raspberry Watermelon Ice: The Ultimate Chill Companion
Raspberry Watermelon Ice is the perfect companion for cooling down, regardless of season. It's a harmonious fusion of luscious raspberries and juicy watermelon, complemented by a tantalizing twist of icy menthol. The result? A flavour that's reminiscent of a frosty fruit punch on a scorching summer's day. It's a sweet and refreshing vaping experience that will have you returning for hit after hit.
Now, the question burning in your mind is, "Where can I get my hands on these extraordinary flavours?" You're lucky because VapeMeet has stocked up on these five Oxbar 8000 flavours, ready to be your new all-day vaping companions. Visit our store or browse our website to order these delectable flavours and embark on a flavour-filled adventure.
In conclusion, Banana Freeze, Cherry Lime Classic, and Raspberry Watermelon Ice are the three new Oxbar 8000 flavours destined to become your vaping obsessions. Whether you crave the creaminess of banana, the zesty dance of cherry lime, or the refreshing fusion of raspberry and watermelon, these flavours cater to every palate. So, grab your Oxbar 8000, take a puff, and savour the sensational vaping world these flavours unlock!
Thank you for joining us on this flavour-packed journey, and until next time, vape on and savour the thrills!
At VapeMeet, we're committed to providing you with premium vaping solutions. Explore our range of products and take advantage of exclusive deals to enhance your vaping experience. Choose STLTH Pro and redefine the way you vape! Stay updated with all our deals and promotions by following our Instagram page!