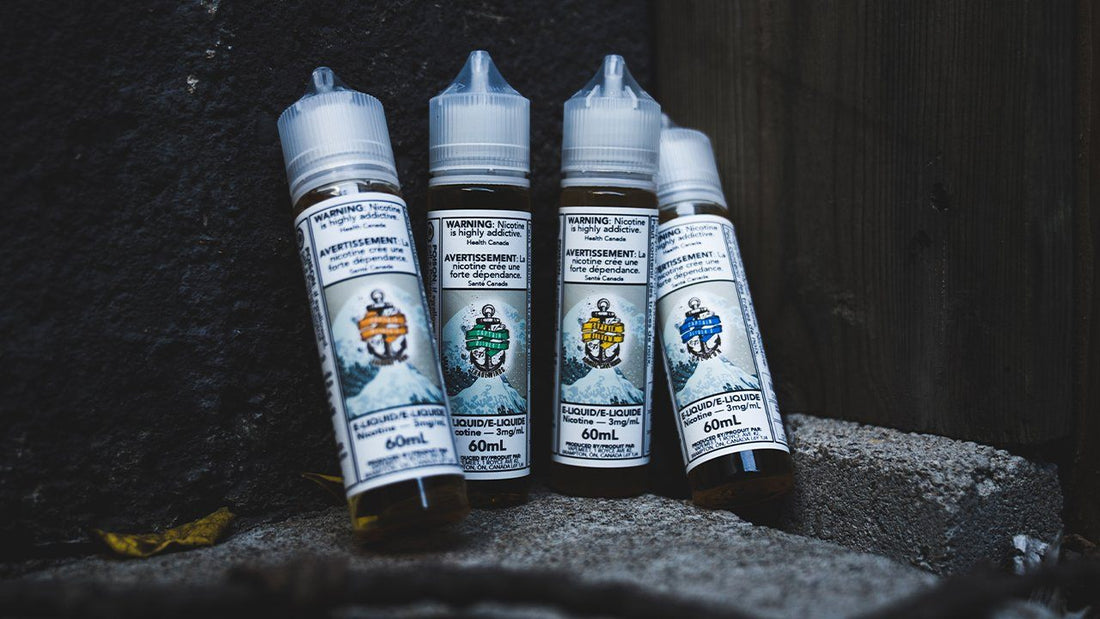 Captain Oliver's E-Liquid Review
In a world full of fruity, sweet e-juices, Captain Oliver's stakes its claim as the leader in creamy vape flavours. While they aren't the only vape juice brand with a creamy flavours, they are among the very few that offer an entire line dedicated to the category. Flavours include Admiral Cavendish, Corsair, Galleon, Gibbon's Grog, Rumrunner, and Tradewinds.
Captain Oliver's vape juices come in 60mL and 120mL bottle sizes and are available in 0mg, 3mg, 6mg, and 12mg freebase nicotine concentrations. The VG/PG ratio is 75VG/25PG, which is how Captain Oliver nails not only the flavour but also the mouthfeel of custard, too!
The Flavours
Captain Oliver's e-liquid comes in unique flavours, and the names are more creative than descriptive. We'll break down the tasting notes of each flavour to make sure you have a solid understanding of what each vape juice offers.
If you have tried banana flavoured vape juice before and liked it, then Admiral Cavendish is a must-have. It has a genuine banana taste that melts into a creamy flavour as you exhale, making it perfect for banana vape juice enthusiasts!
We love lemon, which makes Corsair one of our favourites in this line. It's not sour like lemon candy, but rather sweet and creamy lemon. The sweet, citrus taste followed by the full-bodied aftertaste is an experience you have to taste to believe!
Reminiscent of a creamy and flaky blueberry jumble, Galleon mixes the perfect taste of sweet, tart, and creamy. The sweet, tart flavour will hit on the inhale, and the smooth vanilla will fill your mouth when you exhale the large vapour cloud. Galleon is a great vape juice choice for those wanting a creamy finish with just a bit of a tarty-sweet bite to it.
Gibbon's Grog is essentially a flaky, creamy pumpkin spice, which makes it rank right up there with Corsair. You'll get the sweet spice notes of traditional pumpkin filling, the smooth pumpkin flavour, and the additional smoothness of a vanilla base.
An excellent vaping choice for the holidays! Rumrunner combines the smooth vanilla base with the rich, sweet taste of holiday spices. Discerning vapers will also pick up subtle notes of holiday cheer in the exhale, making rumrunner a fantastic holiday treat you can enjoy year-round!
No suite of e-liquid flavours is complete without a mint option, and Tradewinds offers one of the most unique takes on traditional mint vape juice. It mixes the taste of mint with the standard vanilla base to make a thick, smooth, minty experience. A very different take on mint vaping, and one that we love!
Conclusion
Captain Oliver's e-juices are a unique line that every vaping enthusiast should try at least once. The rich, smooth, creamy flavours are a great twist on some of the basic tastes you've come to love. The line also easily creates large vapour clouds, which helps mimic the mouthfeel of a thick, rich creamy delight with each puff!
The brand also offers other juices that are hard to find (like pumpkin spice), which helps the brand stand-out as a different yet enjoyable vaping experience. Captain Oliver offers a high-end vaping experience without requiring a high-end vaping budget.
Find an interesting flavour in this review? Check out Captain Oliver's e-liquid now!