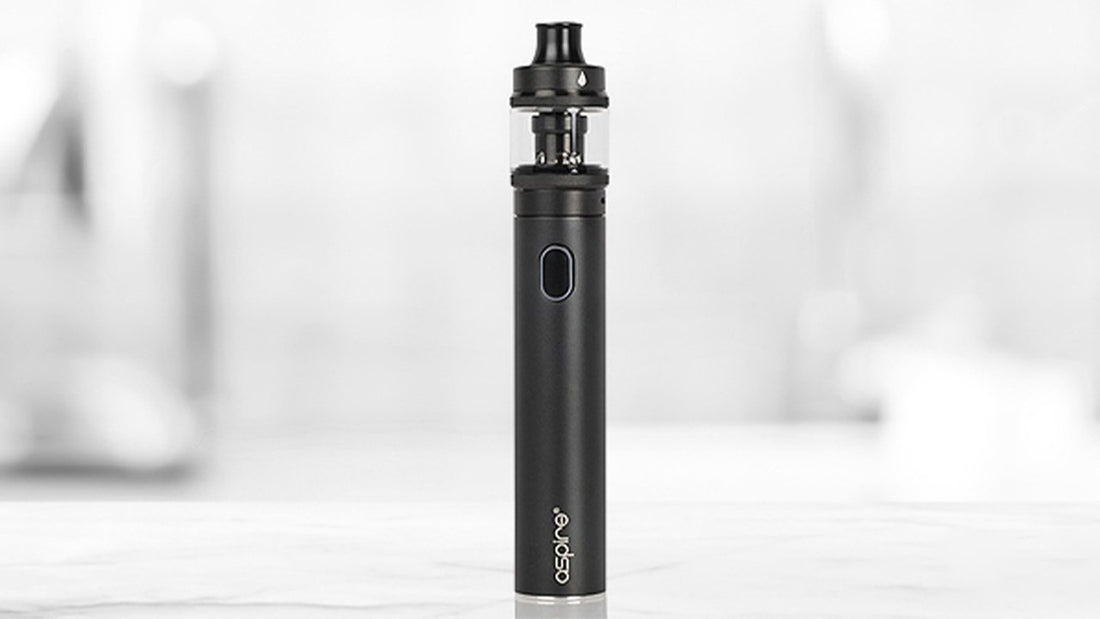 Aspire Tigon Kit Review
Want a vape that gives box-mod like flexibility but also provides vape pen-like portability and design? The Aspire Tigon Kit is exactly what your heart has been longing for. You'll find variable heating and resistance options, a high-capacity battery, and a vape tank that is perfect for ripping clouds all the livelong day.

What's in the Box
1 x Tigon Device
1 x 0.4ohm Coil (Pre-Installed)
1 x 1.2ohm Coil
1 x Micro USB Cable
1 x User Manual
Look and Feel
The Aspire Tigon uses a traditional vape pen design, so it is long and slender compared to a typical box mod. However, much like a typical box mod, the Aspire Tigon has the firing button where your thumb would naturally rest, and cycling through options with that button feels intuitive and easy.

As with vaping devices on the higher-end of the quality scale, the Aspire Tigon has a satisfying weight to it, especially when compared to other vape pens. The high-capacity battery helps to provide a weighty feel, while the zinc alloy components provide the rest of the cool, slick touch when you use it.

Since it uses a cylindrical design, the vape body is easily concealed in your hand and packed away, making it a perfect option for vapers who are regularly on the go. Overall, the Aspire Tigon provides a top-notch feel in a vape pen body.

Performance
The performance of the Aspire Tigon is fantastic, even with some of its more limited features. The variable wattage output ranges from 10-28W, which is perfect for the tank it comes with, as well as a variety of other vape tanks. The firing button will fire continuously for 10 seconds straight before the auto safety shut off kicks in, which is perfect for puffing huge hits.

While the resistance can automatically be detected, you do have two physical coils to choose from, each with its own unique resistances. One has 0.4ohms, while the other has 1.2ohms, so you can choose between a more standard vaping experience or a sub-ohm vaping experience, for those wanting to create gigantic vapour clouds.

Both varieties of coils are readily available for replacements, which is a huge quality in life adjustment from more simple pens. The ability to replace failing parts greatly increases the life-span of this device, and given its already very approachable price point, the Aspire Tigon is incredibly cost-effective.

Wattage options, powering the device on and off, and firing the device to take a puff are all seamlessly operated through the power button. It'll feel natural for those moving from smaller vape pens, but the oomph in performance will be appreciated by more experienced vapers.

You can expect to enjoy vaping on this device all day without really needing to worry about recharging. It packs a 2600mAh battery, and considering the device doesn't have any particularly power-hungry features, you won't need to worry about recharging for quite some time.

Final Verdict
For vapers looking to upgrade a vape pen but aren't quite ready (or simply don't want) a more full-featured box mod, the Aspire Tigon is the perfect step up. You get a lot more options than with other vape pens, but you won't be overwhelmed with choices. Its performance within the options that it provides is incredible, so the Aspire Tigon may become your go-to vaping device.
This device exceeds in ease of use and portability, but it's not well suited for supporting a large range of different attachments or vape tanks with specific power and resistance requirements. Instead, the Aspire Tigon excels with entry-level vape tanks, pre-filled cartridges, and any vaper looking to add a bit of punch to their basic-level vaping game.
If you've been looking for a new, sleek, high-performing device that won't take up too much space in your pockets, you'll be quite happy with the Aspire Tigon.