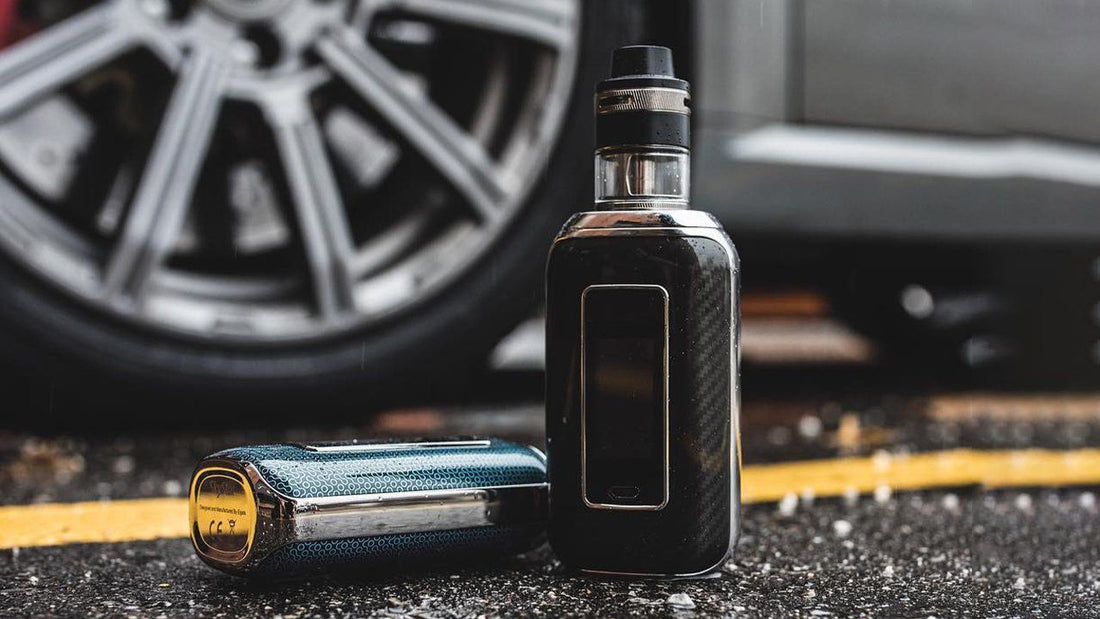 Aspire Skystar Mod Kit Review
Aspire is an established brand in the box mod vaping world, and the Aspire Skystar Revvo Kit lives up to its reputation. You'll find a vape body that is small, but not too small, making it easy to comfortably hold and vape while on the go. The kit includes the Revvo Tank, a truly unique take on sub-ohm vaping.

What's in the Box
1 x Skytar Device
1 x Revvo Tank
2 x Coil - 0.16 ohm
1 x Replacement Glass
1 x Micro USB Cable
1 x User Manual
Look and Feel
The Aspire Skystar body size is perfect for easy, comfortable gripping, It features measurements of 91mm x 50mm x 33mm, which is large enough to accommodate most tanks and accessories but still small enough to travel discretely and conveniently.

When connected to the Revvo vape tank, the entire kit has a quality, weighty feel to it. The 1.3in OLED touchscreen lies just below the fire button, which means it will feel natural to adust settings and take a puff without having to juggle the device in your hand.

The Revvo Tank connects through a spring-loaded 510 connection, which will give you a satisfying "click" when the tank is fully connected. Since it uses a universal threading, you'll be able to use a large variety of different tanks with this device, not just the Revvo Tank included in the kit.

Overall, the device looks sleek and modern and feels like a high-quality vaping device, and the OLED display makes it easy for beginners to navigate some of the different features that this box mod has to offer.

Performance
When combined, the Aspire Skystar and Revvo Tank provide industry-leading performance in tasty vapour production. The Skystar supports 210W of power, charged by dual 18650 replaceable batteries, and when you combine that with the Revvo Tank equipped with Aspire Radial Coil, you can expect a consistent product of huge, thick vapour clouds.

The Aspire Radial Coil provides ample surface area to heat more vape juice at once, which is why the entire kit can produce so much vapour at once. Since the coil runs at sub-ohm resistance levels, you not only get all the vapour you could want, you can also expect a warmer overall vape.

A big drawback to investing in expensive oil tanks is many are not designed with self-maintenance in mind. As soon as the atomizer goes bad, you'll find yourself faced with a complicated replacement process. However, the Aspire Radial Coil is designed to be easily replaced (even for beginners), making the entire vape kit designed for a long vaping life!

The Revvo Tank has a 3.6mL capacity, so you'll have plenty of vape juice for long, relaxing vaping sessions. While you could use this box mod with other 510 threaded tanks, these two are paired for a reason. You'll be hard-pressed to find a higher-performing box mod and tank combo, especially at this price point.

Final Verdict
If you're looking for a pre-made vape kit that has a primary focus on pumping out huge quantities of delicious flavour, then the Aspire Skystar Revvo Kit is exactly what you need. The Skystar body provides a long-lasting battery, plenty of safety features, and more than enough power to produce vapour quickly.

The Revvo Tank is specifically designed for cloud-chasers, but beginners will appreciate the drip-proof top and easy-fill design. Of course, don't forget that the Aspire Radial Coil not only knocks vapour production out of the park, but it's also replaceable!

Overall, this kit is perfect for someone looking to upgrade from a vape pen or a more basic box mod/vape tank combo. You'll have some upgrade options in the future, though many vapers end up staying with this duo for years to come!
Convinced by our review? If you're still reading up to this point, there is a good chance this is the perfect kit for you! Head over to the Aspire Skystar Revvo product page to shop now!