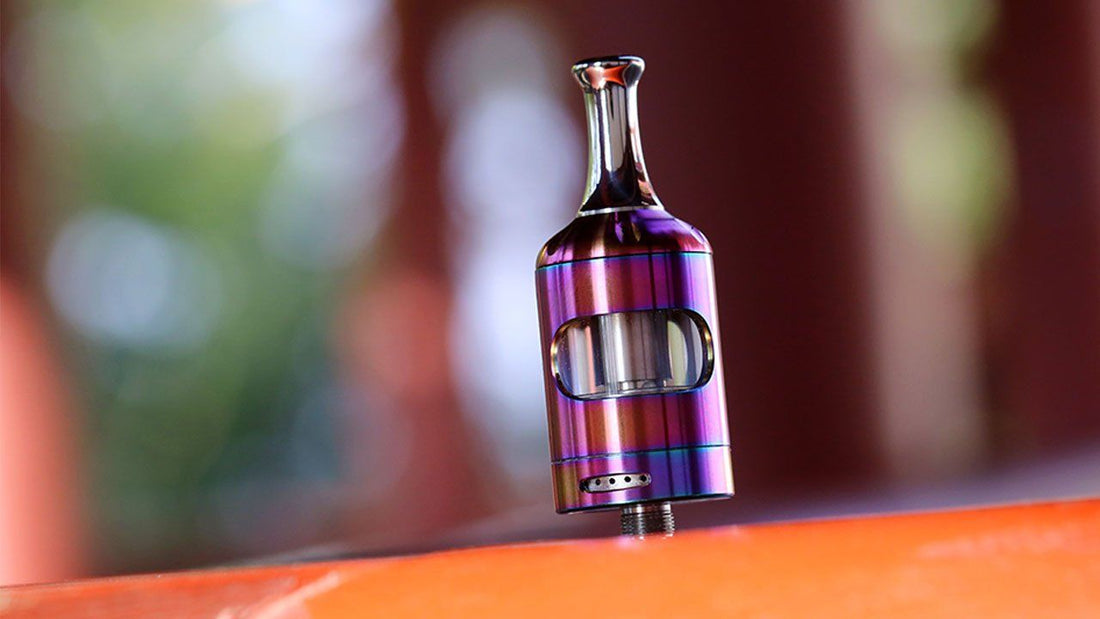 Aspire Nautilus 2S Review
For fans of Aspire's line of Nautilus tanks, the introduction of the Nautilus 2S should be seen as a welcome improvement. Borrowing heavily from its predecessor, the Nautilus 2, the updated vape juice tank keeps what you love while providing some great updates (including some new coils and an updated fill design).
With an updated physical look and the flexibility to vape all kinds of e-juices, the Nautilus 2S positions itself as a fantastic as a fantastic MTL tank that is capable of producing tons of flavour!
What's in the Box
1 x Tank
1 x Extra Drip tip
1 x Coil - Aspire Nautilus BVC 1.8 ohm
1 x Coil - Aspire Nautilus 2S 0.4 ohm
1 x Replacement Glass
1 x User Manual
Design
The size of the Nautilus 2S is just a bit bigger than its predecessor, coming in at 23x61.5mm, largely in part to the updated mouthpiece. It also features an improved leak-proof cap (which was an issue some Nautilus 2 users have reported). It makes it much easier to fill the 2.5mL tank completely so you can more easily vape while on the go.
The vapour path is extended with an extra-long mouthpiece, which is great for helping hits feel tasty and smooth. However, if you'd prefer a shorter mouthpiece, the Nautilus 2S does come with a stubby alternative to make puffs warmer and hit more quickly.
The improved top-fill design makes it so much easier to fill the tank than with previous Nautilus designs. The cap unscrews and moves (without fully disconnecting) to reveal the filling slot. If you know you need to refill for vaping throughout the day, the Nautilus 2S tank makes it incredibly easy.
There are not game-changing differences between the Nautilus 2 and 2S, but the small quality of life improvements will make it much easier and satisfying to use the tank, especially if you are a frequent, daily vaper.
Performance
As with the Nautilus 2 before it, the Nautilus 2S is an absolute boon for low-wattage vapers. It comes pre-installed with a 0.4ohm coil with a roughly 25W requirement, and you'll also find a 1.8ohm coil with a roughly 12W requirement. While these are the only coils that come with the tank, the Nautilus 2S can use all Nautilus series coils.
The airflow controls have also been revamped and can be adjusted just by turning the base of the tank, including an option that removes individual holes and leaves the adjuster wide open for maximum airflow. If you wish that the Nautilus 2 had a bit more precise control with its airflow, you'll love redesign with this vape juice tank.
The end result is a performance that caters to a wide variety of vapers and vape juices. If you've already invested in the Nautilus line of coils, feel free to keep using them with the Nautilus 2S!
Conclusion
The Nautilus 2S is a pleasant upgrade from the Nautilus 2 without an overbearing price difference. You'll get a couple of new coils, an improved mouthpiece and anti-leak design, and revamped airflow control to help cater the vape juice to exactly what you want. If you're already a fan of the Nautilus 2, the 2S is a must-buy for you.
Since it is similar to the Nautilus 2, you'll find similar limitations with the Nautilus 2S. High-wattage vapers will not find a comfortable home here, as the highest wattage limit in the included coils is 25W, hardly enough for true high-wattage vaping. The vape juice capacity is also pretty modest, so if you hate having to stop and refill your tank, you'll want to look for other products with higher capacity.
If you find yourself to be a consistent low-wattage vaper that waffles between sub-ohm vaping with freebase nicotine vape juice and higher resistance vaping with salt nicotine juices, the Nautilus 2S has what it takes to be a fantastic primary vape juice tank for you!
Ready to shop? Head over to the Nautilus 2S product page now!