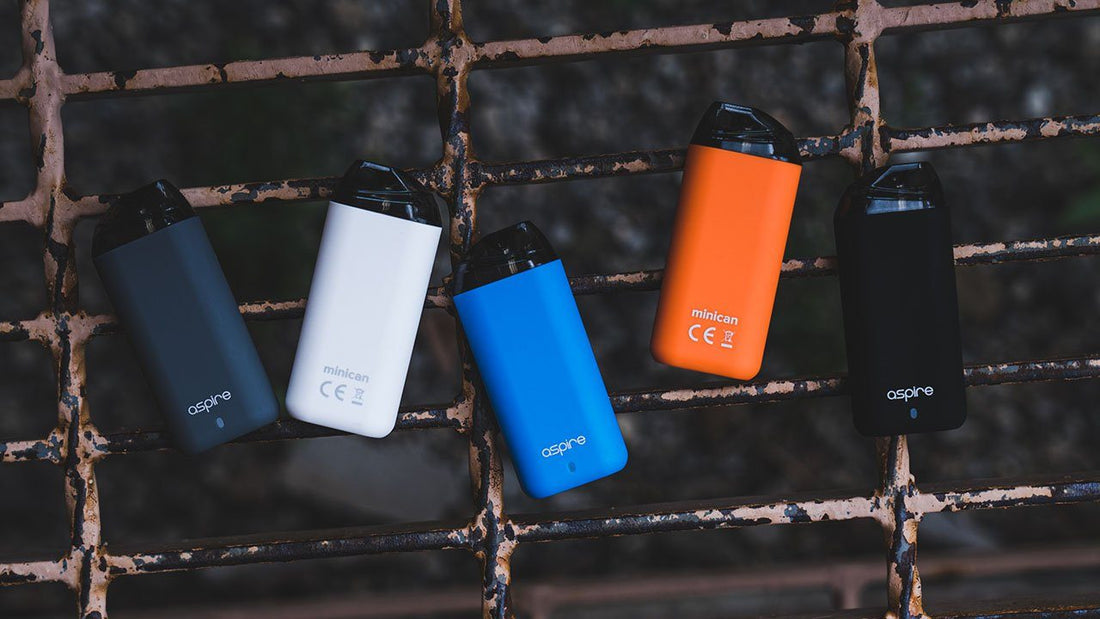 Aspire - Minican Open Pod Kit Review
The Aspire Minican is potentially the smallest and cheapest mod on the planet. Pod systems have grown and expanded since last year, with most manufacturers tending to make large pods lately. So it's nice to see that companies like Aspire haven't forgotten those who still want a discreet MTL vape, and have created this wonderful little thing, the Aspire Minican. Aspire is a starter kit specialist, so you can expect great things from this little device.
Specifications
Filling – Bottom Fill
Size: 65 x 25 x 15.5mm
E-Liquid Capacity: 2.0ml
Automatic Draw System
Battery: 350mAh Built-In
Airflow – Non-Adjustable
Charging: Via Micro USB Port
Coil Resistance: 1.2Ω Kanthal Mesh Coil
Available colours: Orange | Blue | Black | White | Grey
What's Inside the Box
1 x Minican Device
1 x Micro USB Cable
1 x Pod (2.0ml TPD)
1 x User Manual
Design
The first thing you notice when you take it out of the box is the softness of the finish! Almost like a thin layer of silicone or rubber on the device. It's really a tiny device, but in terms of overall construction quality, it does what it's supposed to do.
Flavour production
The Aspire Minican is a 100% MTL device. The design may be a little tighter for my personal preference, but it is more than appropriate for a good MTL vape. The flavour of the Aspire Minican is a good 9/10 for a pod system. The vapour production is pleasant, and since we are talking about a mesh coil, the vapour is very flavourful.  It's a nice, quiet vape.
Performance
It has no fancy features or functions, no performance control and, apart from the auto-drawing feature, all it really has are the normal built-in safety features such as a 10 second cut-off, short circuit, low voltage, overheating, overload and over discharge protection. I imagine that's how they manage to keep the device so inexpensive, but note cheap doesn't mean it doesn't work. The unusually formed pod holds 2.0ml of e-liquid, and even though it's pretty dark, you can still see your e-liquid level pretty easily.  
Battery Life
The 350mAh battery doesn't seem very powerful, but you have to think that it's a very small device. I was expecting it to last a day, especially considering the 1.2 coil. So the battery doesn't last a whole day, but it only takes 40 minutes to fully recharge it, so it's not the end of the world.  
Verdict
There is not much else to say about the Minican. Its most remarkable features are its compact size, performance and price. However, before concluding this review, there is one important selling point for this small device: its price. Which, frankly, is epic and you can't ask for much more than that at this price level. 
If you're still reading at this point then there's a good chance this product is exactly what you're looking for. Check out the Aspire - Minican Open Pod Kit product page and order yours today. You owe it to yourself!