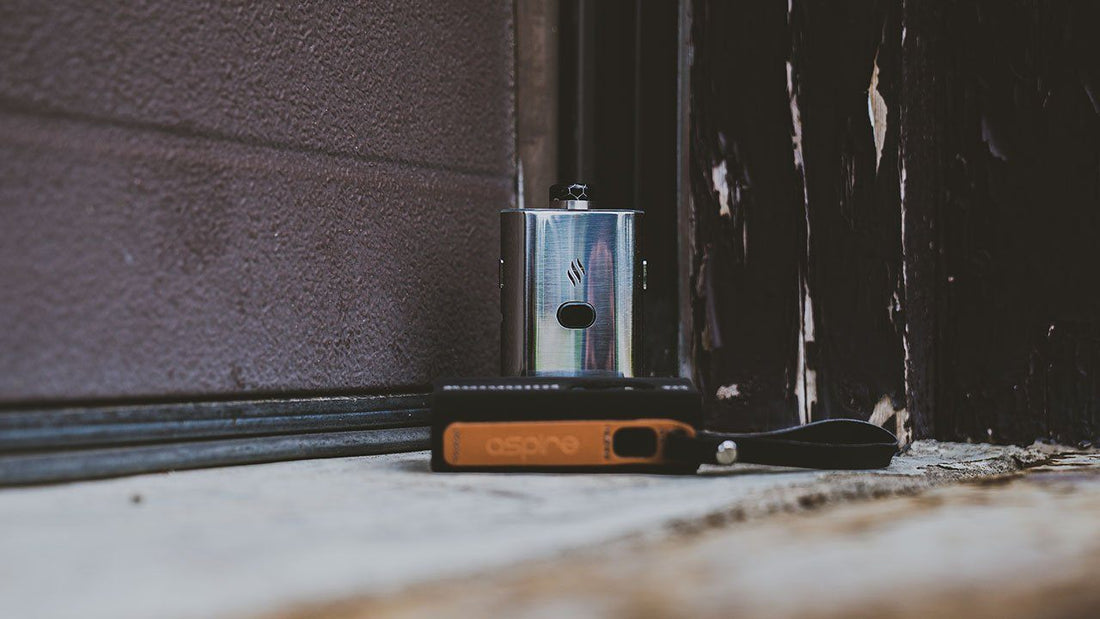 Aspire - Cloudflask Open Pod Kit Review
The Aspire Cloudflask Pod system is designed to deliver big clouds to the vapers that like to chase the clouds away. This Sub-ohm Coil Pod system is designed for those who enjoy DTL vaping. Since 2013, Aspire has been a trusted brand in the world of vaping, always at the forefront of creativity and advanced technology. The Cloudflask is attractive with its eye-catching frame and features, but before pressing "Buy", let's take a look at the features of the Pod System.
Specifications
Output Mode: bypass
Size: 95.0×54.0x25.0mm
Battery: 2000mAh internal
Airflow - non-adjustable
Charging: Max 2A charge via usb-C port
E-Liquid Capacity: 5.5ml (TPD version 2.0ml)
Available colours: black | red | grey | brown (Leather cover colour)
What's in The Box
1 x Cloudflask Device
1 x User manual
2 x 0.25Ω Mesh Coil
1 x Warranty Card
1 x O-Ring Spares
1 x Leather Cover
1 x USB Type-C Cable
1 x Cloudflask Pod (5.5ml Capacity/2ml TPD)
Design
Made of stainless steel, this mod is very well designed and is shaped like a small hip flask. The finish of the stainless steel is slightly shiny, but he device itself is actually made of very finely brushed and super polished stainless steel. Anyway, it has a fairly well made leather cover that fits the over the device. It's tight enough to fit the first time you put it on. But it loosens up a bit after a while. It won't fall off easily, that's for sure.
Flavour Production
The Aspire Cloudflask is stylish, lightweight, and portable that booms with flavours and clouds. Diving right into the pros, its body is a small imitation of a flask that can comfortably fit into your pocket, and it's easy to operate with just a single button. The Cloudflask's flavour and cloud production is exceptional, mainly due to the 0.25 ohm mesh coil. The flavour hits hard because the coil is near to your lips, just separated by an 810 drip tip, there is no condensation. As soon as the e-liquid reaches the coil, it creates vapour that shoots through the 810 drip tip and straight into your mouth.
Performance
The Aspire Cloudflask runs by Bypass mode, to better control the 0.25 mesh coil supplied. Bypass mode is ideally suited for configuration of the high-power coil, coupled with the battery power status of the mod at any given point. Maximum wattage output is 50W. A pull-and-push coil replacement system is also used. Pull the coil from the bottom of the pod and substitute it with a fresh one. You can adjust the coil even if the e-liquid is inside the pod (no leakage if the e-liquid quantity is less than half the pod capacity).
Battery Life
The Aspire Cloud-Flask uses a bypass mode, which basically means that it always uses the maximum power from your battery. It also has a fairly decent 2000mAh battery. Unfortunately, the battery takes a hit because of the 0.25 coil and only lasts a maximum of 5 hours during my tests. It's a pity that they didn't have the possibility to use a 0.4Ω or 0.6Ω coil to extend the battery life a bit more. But with the USB-C port it can be charged pretty quickly. 
Verdict
There's a lot to love about the Cloudflask, and even though it's uncontrolled and has no real airflow, I liked it a little bit. Maybe it's the shape, or the ergonomic grip, or just the ease of handling the system that attracts me, but I actually like it a lot. Even my wife commented on the fact that it's "good". I know many people who use direct lung and would appreciate a small, handy kit like this.
If you're still reading at this point then there's a good chance this product is exactly what you're looking for. Check out the Aspire - Cloudflask Open Pod Kit product page and order yours today. You owe it to yourself!