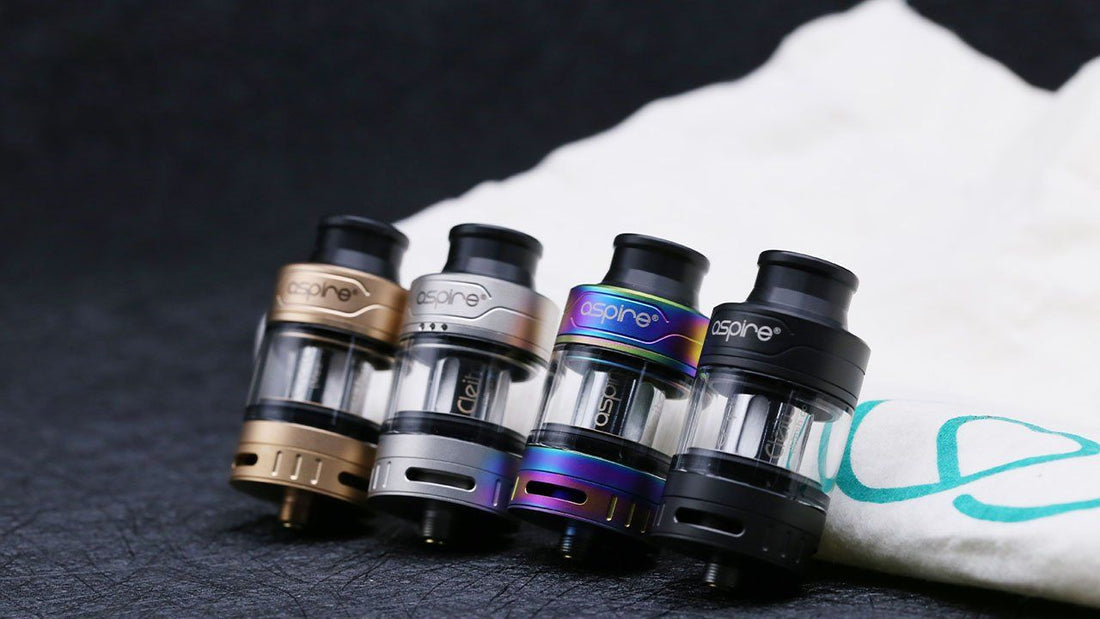 Aspire Cleito Pro Review
If you're looking to dive into amazing, great-tasting, sub-ohm vaping, Aspire is a brand you should be paying close attention to. So many of their vape juice tanks and coils are specifically geared to cater to even the pickiest of vapers. Whether you consider yourself a beginner or connoisseur, Aspire is a great place to start your search.
However, sub-ohm tanks usually come with a frustrating caveat: they very regularly require box mods with high wattage outputs. While that isn't a big problem for those in the market for both a new vape juice tank and box mod, vapers who already have invested in a box mod with lower wattage outputs may be frustrated with so many high-quality products being out of their reach.
Sound familiar? If so, then the Cleito Pro may be a much-needed answer to your prayers! It's a fantastic e-liquid tank with low power requirements, which is perfect for those that already have a low-powered box mod. If this has caught your interest, then read on to see if the Cleito Pro is right for you!
What's in the Box
1 x Cleito Pro Tank
1 x 0.15ohm Mesh Coil (Pre-Installed)
1 x 0.5 Coil
1 x Replacement Glass
1 x Instruction Manual
Design
Like many of Aspire's vape juice tanks, the Cleito Pro has a simple, standard build. With a base of 24mm and 24K gold plated 510 threading, it will easily fit on most box mods. You'll find the build to be high-quality, too, with its stainless steel construction and pyrex glass around the body of the tank.
The default juice capacity is a modest 3mL, though the tank kit does come with a bubble glass that can hold up to 4.2mL of your preferred vape juice, which will last most vapers throughout the day. In the event that it doesn't, all that you need to do to refill is to remove the top cap to access the top-mounted fill port.
Finally, airflow control is a big part of the design of the Cleito Pro, so you'll find triple adjustable airflow knobs located at the base of the tank. Being able to so precisely tweak your airflow intake is great for getting your sub-ohm vapour to just the right flavour and thickness.
Overall, the design of the Cleito Pro is what you would expect from Aspire; extremely high-quality. The design and build quality will not leave you disappointed.
Performance
The performance of the Cleito Pro is what sets it apart from other vape juice tanks in Aspire's line. It comes with a 0.5ohm Celito Pro Coil, which is rated for use at as low as 60W. This is accommodated by the vast majority of box mods on the market (even those that cater to a compact design or discrete vaping).
If you've already invested a bit into the Aspire brand, the Cleito Pro is also compatible with standard Cleito coils and EXO coils. Just be sure you pay attention to the power requirements of the coils you plan to use. If your box mod doesn't have a high enough wattage output, it won't produce vapour as it should. If it has powerful wattage, you could unintentionally burn the coils out!
However, if you're looking for low-wattage sub-ohm vaping, you'll be quite pleased with the overall performance of the Celito Pro!
Conclusion
If you have a low-wattage box mod or simply prefer low-wattage sub-ohm vaping, then the Cleito Pro is quite the comfortable choice. It comes with low-wattage, sub-ohm coils, has a fantastic build, and is compatible with a huge swathe of box mods.
If you're looking for high-wattage vaping, that doesn't necessarily exclude the Cleito Pro. It's compatible with a wide variety of coils, including those that require higher wattage requirements. This may be enticing if, as we've mentioned, you've invested a bit in Aspire coils already.
For vapers looking for a versatile, low-wattage vape juice option for sub-ohm vaping, the Cleito Pro proves to be an excellent choice!
Did you find the information you needed in our review? Head over to the Cleito Pro product page to shop now!