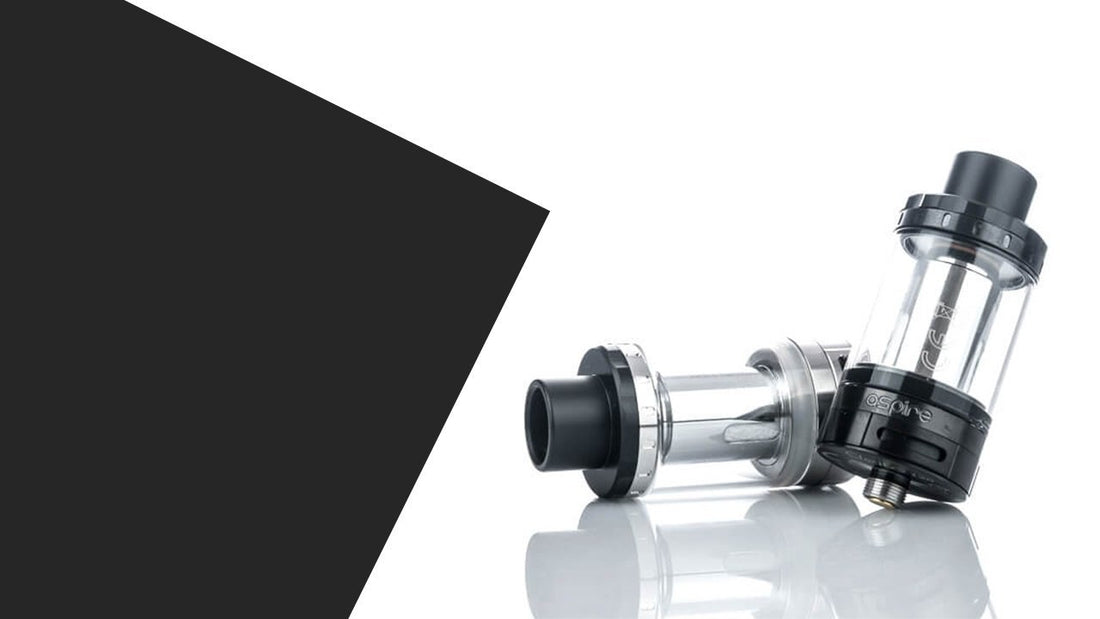 Aspire Cleito 120 Tank Review
Aspire is an incredible brand for those looking for high-quality vape juice tanks, and the Cleito 120 is one of their most impressive. Self-labelled as a "Maxi-Watt" tank, the Cleito 120 caters specifically to sub-ohm vapers who prefer to vape at high wattage levels.
What's the benefit of vaping at high wattage? It's much easier to get big, tasty clouds of vapour at a fraction of the time as low-wattage vaping, and you'll get stronger nicotine hits in each puff. It's an ideal setup for vapers who want big, strong hits quickly or prefer to puff huge clouds all day long.
Is the Aspire Cleito 120 the high-wattage sub-ohm tank of your dreams? Take a look below to see how well it fits your vaping needs!
Whats's in the Box
1 x Cleito 120 Tank
2 x 0.16ohm Coils
1 x Replacement Glass
1 x Instruction Manual
Design
The size of the Cleito 120 is pretty standard (which is great for allowing it to physically fit on most box mods without any overhang). It has measurements of 25x58mm with a 24mm diameter, which is large enough to accommodate its 4mL vape liquid capacity, but still small enough to comfortably fit on most standard box mods.
As with many Aspire tanks, the Cleito 120 features pyrex glass and a stainless steel construction, which are ideal for preventing needless cracks and breaks. You'll also get a colour-matching vape band that goes around the pyrex glass which helps to further protect the tank from drops.
Finally, the Cleito 120 features a top-fill design, which only requires the mouthpiece to be removed in order to fill the tank. It's not as convenient as the side-loading option on the Cleito 120 Pro, but it still provides a pretty easy filling experience, even if you need to fill while you're out and about.
Overall, the design is very straightforward but absolutely packed with quality. You'll be hard-pressed to find any major qualms with the design.
Performance
The performance of the Cleito 120 and its dedication to high-wattage sub-ohm vaping is what has allowed the Cleito 120 to build quite the fanbase. It comes with two 0.16ohm coils rated for use at 100-120W. It provides an incredible vaping experience at high wattage, so if you want the most out of the Cleito, make sure your box mod has the power prerequisites for the best performance.
While it doesn't have the dual airflow vents that the Cleito 120 Pro has, it still has a single notch that allows for some airflow control, which will satisfy the customization needs of most vapers.
The performance of the Cleito 120 may serve a niche vaping crowd, but it serves that niche better than almost any vape juice tank on the market. If your box mod is capable of high wattage output and you're interested in sub-ohm vaping, the performance of the Cleito 120 will serve you quite well!
Conclusion
The overall design and function of the Cleito 120 are simple and easy to grasp, but this doesn't take away from the sheer quality of performance it provides. In just a two-second draw, the Cleito 120 produces an enormous mouthful of delicious vapour. Since it has a comfortable price range, the Cleito 120 is approachable to almost any vaper (assuming you have a box mod powerful enough to use it).
This brings us to some possible deal breakers you may face. If your box mod isn't capable of at least 120W output, then the Cleito 120 is not the tank for you. You could consider the Cleito 120 Pro, which will come with a coil that can accommodate much lower wattages, or you could take a look at an Aspire tank that specifically caters to low-wattage vaping, like the Cleito Pro.
If you're in the market for a vape juice tank that exclusively caters to sub-ohm vaping at high wattages, then the Cleito 120 should prove to be a tantalizing choice!