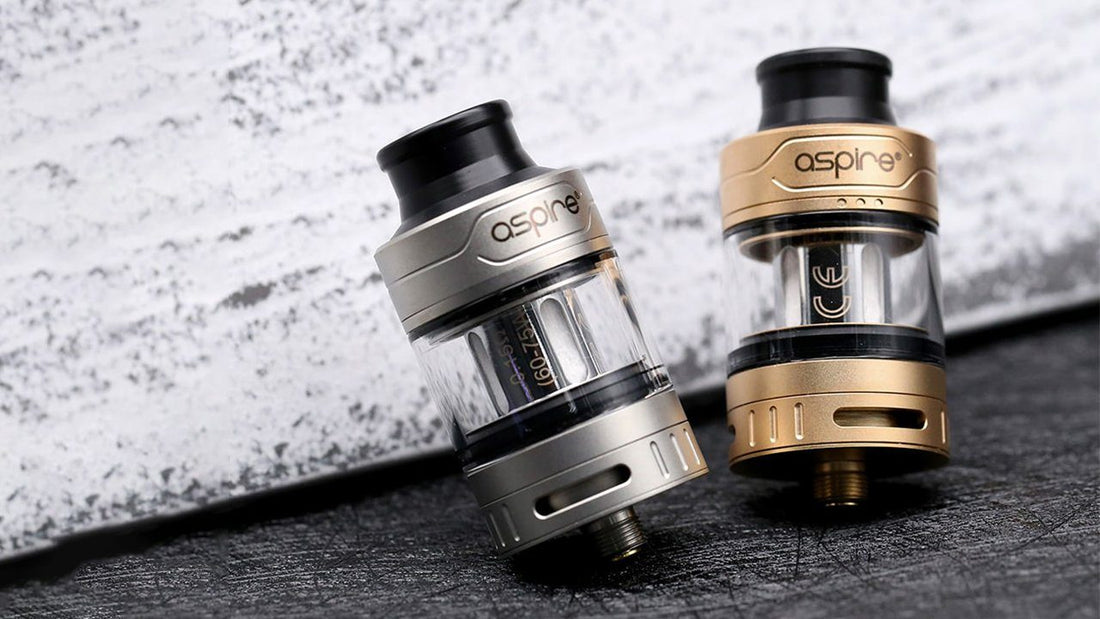 Aspire Cleito 120 Pro Review
For fans of the Aspire Cleito 120, you'll be excited to hear that the tank has gone professional with an upgrade to the Aspire Cleito 120 Pro! You'll get slightly more juice capacity, a couple of new coils, and an updated design that looks fantastic!
If you're looking to upgrade from the Cleito 120, or you're in the market for a new, high-end vape juice tank, then we strongly encourage you to consider the Cleito 120 Pro!
What's in the Box
1 x Cleito 120 Pro Tank
1 x 0.15ohm Mesh Coil (Pre-Installed)
1 x 0.15 Coil
1 x Replacement Glass
1 x Instruction Manual
Design
The Cleito 120 Pro has a base diameter of 25mm, which when combined with the 510 threading, will allow this vape juice tank to physically connect to most mainstream box mods. The body sports a stainless steel construction and the glass tank is pyrex, so you'll get quite the durable little vaping companion when you choose the Cleito 120 Pro!
The standard tank holds 3mL of vape liquid, though you can upgrade to a bubble tank that will hold just a bit more than 4mL of your preferred vape juice. In terms of high-end vape juice tanks, the capacity is pretty modest, though it will satisfy most vaping needs.
When the time comes to refill, you'll find a pleasantly simple refill process. The Cleito 120 Pro uses a slide mechanism to fill the tank which does NOT require disassembly. It makes it easy to quickly refill, even if you're out and about while vaping.
Overall, the design of the Cleito 120 Pro is a nice bump up from the Cleito 120, featuring excellent quality of life improvements and higher quality materials.

Performance
The Cleito 120 Pro, much like its predecessor, excels in sub-ohm vaping. It comes with two different coils: a 0.15ohm mesh coil and a 0.16ohm Clapton coil, which will blow you out of the water with the quality and quantity of vapour produced. The power requirements of the mesh coil are around 70W, and the requirements for the Clapton coil are around 110W.
Have you already invested in several Cleito 120 coils? Feel free to use them with the Pro, as all Cleito 120 coils are compatible with the Pro version!
Since the tank specializes in sub-ohm vaping, you'll want to be sure that your box mod has both the wattage output requirements as well as a hefty battery capacity, especially if you plan on vaping several times throughout the day without an opportunity to recharge.
Finally, if you're looking to tweak air control, you'll be happy to find two different airflow control slots, which offer a level of precision not always offered from vape juice tanks. If you're finicky about the amount of air used while vaping, you'll feel right at home with the Cleito 120 Pro.
Conclusion
While those upgrading from the Celito 120 will find particular benefit in choosing the Cleito 120 Pro, this vape juice tank offers a solid experience for any vaper looking to move to a higher-end tank. You'll get decent capacity (especially when using the included bubble tank), a very attractive aesthetic, and performance that specially caters to sub-ohm vaping.
Before purchasing the Cleito 120 Pro, you do need to make sure that the tank will fit your vaping needs. For starters, if you have a budget box mod with low wattage output, you'll have a very frustrating experience with this vape juice tank. Likewise, even if the wattage output is met by your device, a low-capacity battery will succumb quickly to the high power needs of this device.
In addition, sub-ohm vaping is incredible for freebase nicotine vape juices, but not so much for salt-nicotine e-liquids. If you are dedicated to vaping salt nicotine, you'll want to consider a tank that supports coils with higher resistances.
For those that can have their needs met (and can meet the power requirements), the Aspire Cleito 120 Pro promises to provide an industry-leading vaping experience. This is especially true of those moving from the Aspire Cleito 120 since the Pro has everything you love about the tank with very thoughtful improvements!
Convinced by our review? Head over to the Cleito 120 Pro product page to shop now!