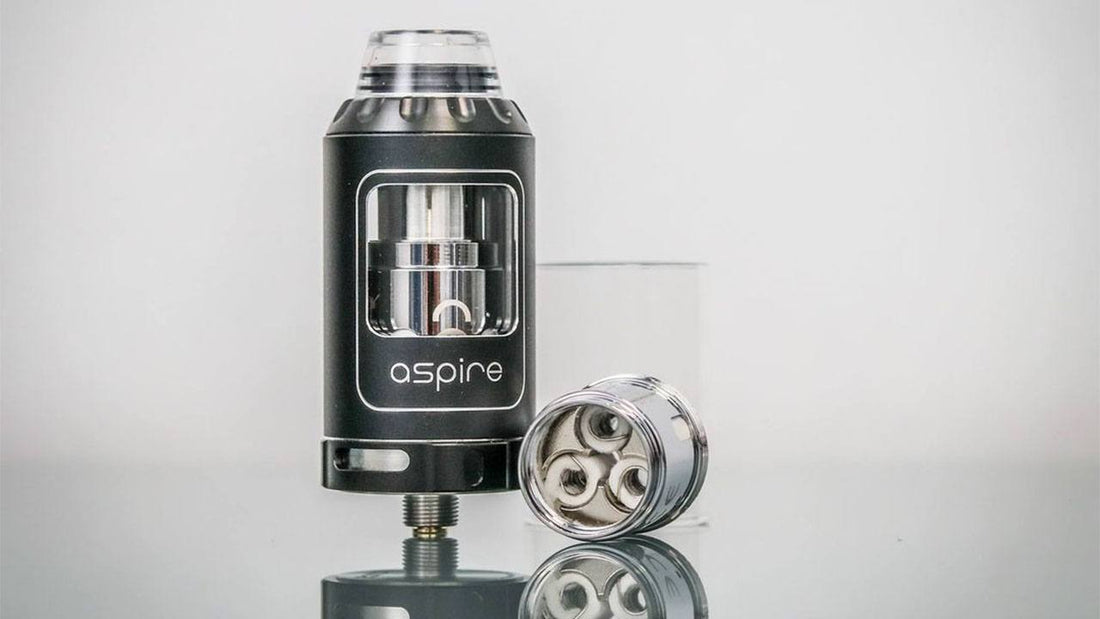 Aspire Athos Tank Review
Almost everyone loves to rip huge clouds of vapour, but usually what follows are harsh, nasty tasting hits. If it feels like you're constantly choosing between vapour quality or vapour quantity, then consider a choice that has both in mind, like the Aspire Athos.
You'll find a pair of great sub-ohm coil options, a simple design that allows it to connect to most box mods, and materials designed to vapour volume and quality.
Sound good so far? If so, keep reading to see if the Aspire Athos is the tank you've been looking for!
What's in the Box
1 x Athos Tank
1 x A3 Coil (Pre-Installed)
1 x A5 Coil
1 x Replacement Glass
1 x Instruction Manual
Design
The Athos has measurements of 58x25mm, which you'll find to be a pretty standard tank size. It's not too small that the vape juice capacity suffers, but it's not too large that it can't be used with box mods solely because of its size. The Athos is a great, middle-of-the-road e-liquid tank that you'll find to be quite versatile.
The tank has a capacity of 4mL and features a simple top-filling mechanism. All you need to do is remove the mouthpiece and top cap and fill it with your preferred e-juice. Quick refills are simple, which is a huge selling point for all-day vapers that may feel constricted by a 4mL capacity.
Overall, the design is straightforward but high-quality. While the Athos doesn't attempt to fill any niche vaping needs, the design is fantastic for meeting the needs of a large swathe of vapers.
Performance
The performance of the Athos is what will endear vapers are long-term fans. You have a choice between a tri-coil head or a penta-coil head, which makes it much easier to change your focus between flavour (the tri coil head) or extreme vapour production (penta-coil head).
The resistances of the coils are 0.3ohms and 0.16ohms respectively, meaning that the Athos is an ideal tank for vapers who value high-quality sub-ohm vaping. As sub-ohm vapers know, this technique is quite power-hungry. You'll want to make sure you have a box mod providing around 70W for the tri-coil and about 110W for the penta-coil for optimal performance.
Once you have your choice of coil installed, the airflow can be easily adjusted on the outside of the tank, helping to customize the vapour flavour specifically to your vaping preference. Overall, the performance is killer, and sub-ohm vapers will be particularly enthralled with the performance.
Conclusion
The Aspire Athos provides a high-end vaping experience while remaining in a budget-friendly price range. Your choice of coils can help you tweak your vaping experience, while the design and 510 threading make this tank compatible with a wide variety of different box mods.
However, be sure to pay special attention to the power requirements. Low-end box mods may not have the wattage requirements to use either of the coils, while many more won't have the power required to use both. The tank is designed with a fully-featured box mod in mind, and your experience will suffer if you try to use a weaker device with it.
This tank is also geared towards freebase nicotine juice vaping, which thrives in a sub-ohm vaping environment. If you are an exclusive user of salt-nicotine vape juice, you may want to consider a vape juice thank that has higher resistances than the coils included in the Athos.
With those limitations in mind, freebase nicotine vapers with a box mod that has sufficient power requirements will have an incredible time vaping with the Aspire Athos. If this sounds like you, and you're looking to add another vape liquid tank to your collection (or maybe getting one for the first time), then the Aspire Athos deserves your attention!