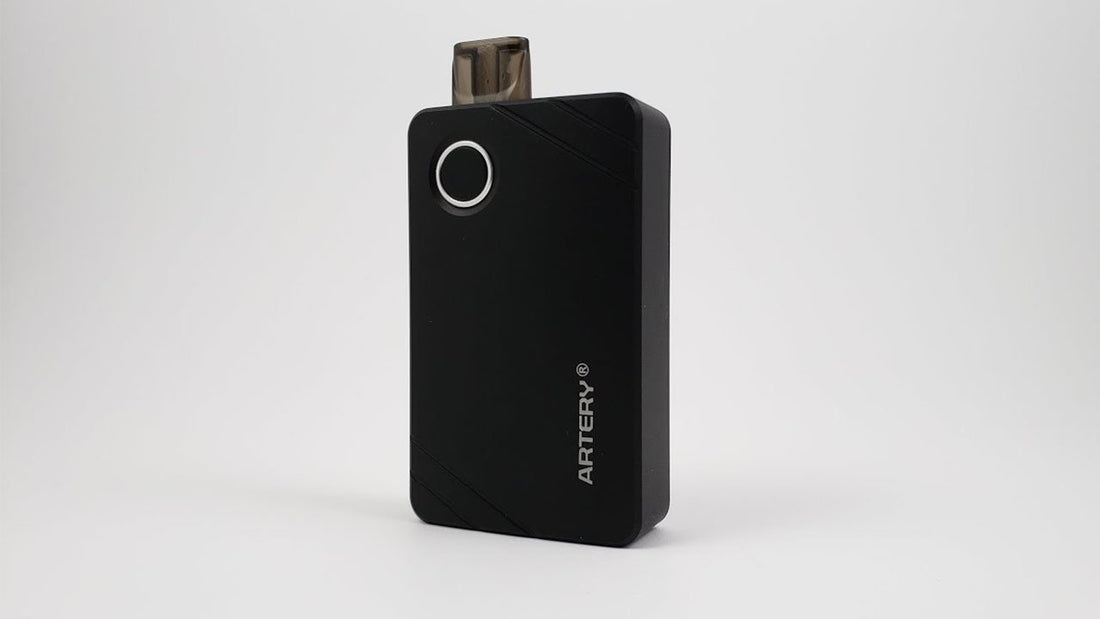 Artery - Pal II Pod Starter Kit Review
The PAL II by Artery is, of course, a sequel to their previous PAL system, this time crafted with the aid of Tony B. From the Vapour Trail. As an all-in-one device, one of the most appealing aspects of this mod is its dual function. It includes a 0.6 ohm DTL coil and a 1.2 ohm MTL coil, with adjustable airflow that is built to accommodate all types of vaporization. With a large battery capacity of 1000mAh and a modest juice capacity of 3.0mL, is this new device the pinnacle of AIO creativity, or is it just not up to the hype? You'll have to read on to find out.
Specifications
Size: 43x17x83mm
E-liquid capacity: 3ml (standard) / 2ml (EU)
Voltage: 3.2-4.2V
Battery: 1000Ah (internal)
Material: Aluminum 6063
Coils: 0.6ohm Mesh, 1.2ohm MTL
Easy filling system
Airflow adjustment
What's in The Box
Artery PAL 2 kit
USB cable
Spare O-rings
Extra coil
Spare plug
User manual
Design
The PAL II has a simple rectangular shape, with a few elegant grooves built into the body, making it more comfortable and more tactile than most miniature devices. In other words, the design is of high quality and looks solid, and the branding is well balanced, minimal and elegant. Even with its ultralight weight, this is not a mod that you forget in your pocket. In other words, make it a standard mod with a removable tank section, rather than a true fully disposable pod device. 
Performance
The hidden cartridge/coil combination fits snugly outside the alloy, just above the powerful 1,000 mAh battery. More importantly, both coils work exceptionally well. The coil housing contains the air flow control ring, which can be closed or opened at will by a simple rotation. Compared to similar pod mod/AIO devices, the flavour of the coils, the vapour production and (most importantly) the longevity are top-notch. This is my preference for Nic Salts, the longevity of the coils is quite good.
Vapour production
The PAL II artery is an absolute pod mod. 1.2 ohm MTL, but the 0.6 ohm coil is just as rich and nuanced, with a much thicker vapour flow. It is not a true competitor of the sub-ohm, but it is much closer than any pod device has the right to be. Overall, the efficiency of the coils and flavours is excellent. Even the most varied flavours have managed to establish themselves.
Battery Life
Wow, wow, wow. The PAL 2 artery wins in all departments. It's the best battery life I've ever seen for a POD device of this size. As far as I know, this pod monster works between 15 and 25W (variable voltage) and as such, its 1000mAh battery works for a good 6 hours on the MTL coil and 5 hours on the DL
Red light = 5-15%
Purple light = 15-50%
Blue light = 50-100%
Verdict
This is the winner. The Artery Pal II is one of the most efficient, effective and affordable units on the market, with mesh coils and adjustable airflow that makes things happen! If you're looking for taste and battery life that exceeds expectations, you can't go wrong with this purchase. Personally, I have no problem putting it in my pocket before I leave.
If you're still reading at this point then there's a good chance this product is exactly what you're looking for. Check out the Artery - Pal II Pod Starter Kit product page and order yours today. You owe it to yourself!