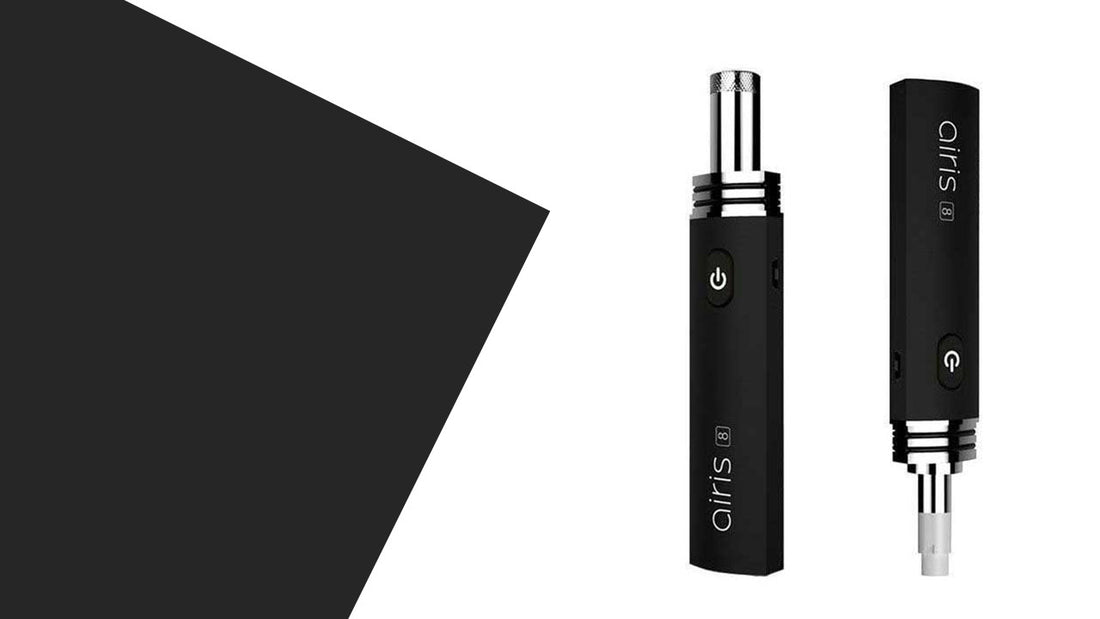 Airistech 8 Dip & Dab Vaporizer Review
Dabbing has a reputation for being a bit complicated. After all, if your only experience with dabbing is using a full dab rig, the idea of filling a water reservoir, preparing your concentrate, getting a blowtorch, and heating the dab nail rightfully seem very involved.
If you've been interested in dabs but not all the work that comes with it, then the Airistech 8 Dip and Dab is going to catch your attention quickly. It is extremely simple and beginner-friendly while still offering heating options to shake up the vapour produced. You'll even find two alternate modes you can use to add a twist on your favourite dabs, too!
What's in the Box
1 x Battery
1 x Mouthpiece
1 x Coil - C1 Touch
1 x Coil - C2 Dab
1 x USB Charging Cord
1 x Dab Tool
3 x Cleaning Brush
1 x User Guide
Look and Feel
The Airistech 8 Dip and Dab is going to feel smooth, light, and compact in your hands. It is designed with easy travel and discrete use in mind, so if you've been looking for an easy, nondescript way to enjoy your favourite concentrates, this little dab pen is a fantastic choice.
Regardless of what configuration you use (more on that in the performance section), you'll find the device easy to handle (it uses a single button to navigate a few preset heating options) and is large enough to fit in an average-sized hand without feeling like you risk fumbling around with it.
The look and feel are both fantastic and are perfect for stealthy, public use!
Performance
For being a small, portable device, the Airistech 8 Dip and Dab offers fantastic performance. It supports three variable voltage options: 3.4V, 3.7V, and 4.2V. The variation in heating options is important for substances like dabs, which produce very different flavours depending on the temperature at which they are vaped. Voltage is controlled by quickly pressing the power button three times.
However, the marquee feature in terms of performance is the "dip and dab" portion. You can use the Airistech 8 Dip and Dab like a traditional wax pen, where you load wax into an enclosed heating chamber with dual quartz coils and use it like a traditional vape pen. You can also use the pen like a nectar collector, reconfiguring the pen to expose quartz coils at the tip that can be dipped into your concentrate of choice.
The configuration option is fantastic, since the traditional pen style is great for on-the-go vaping, while the nectar-pen style helps give a lot of control to flavour while avoiding scorching your wax.
Conclusion
For those looking for an easy, convenient dab pen to use while on the go, the Airstech 8 Dip and Dab proves to be a tantalizing choice. It provides just enough features to offer reasonable customization without being overwhelming, and the ability to change the configuration is a welcome perk for those looking to change up their wax vaping from time to time.
Simple devices are not without their limitations, though. The 420mAh battery is pretty petite, especially if you plan on all day, on the go vaping. The lack of precision heating features will be disappointing for more serious dab vapers. If you're an experienced wax vaper and already have a solution for public vaping, more advanced vaporizers will serve you well.
For those looking for a budget-friendly travel solution, or for those who are new to wax vaping in general, the Airistech 8 Dip and Dab will provide a friendly, enjoyable wax vaping experience!