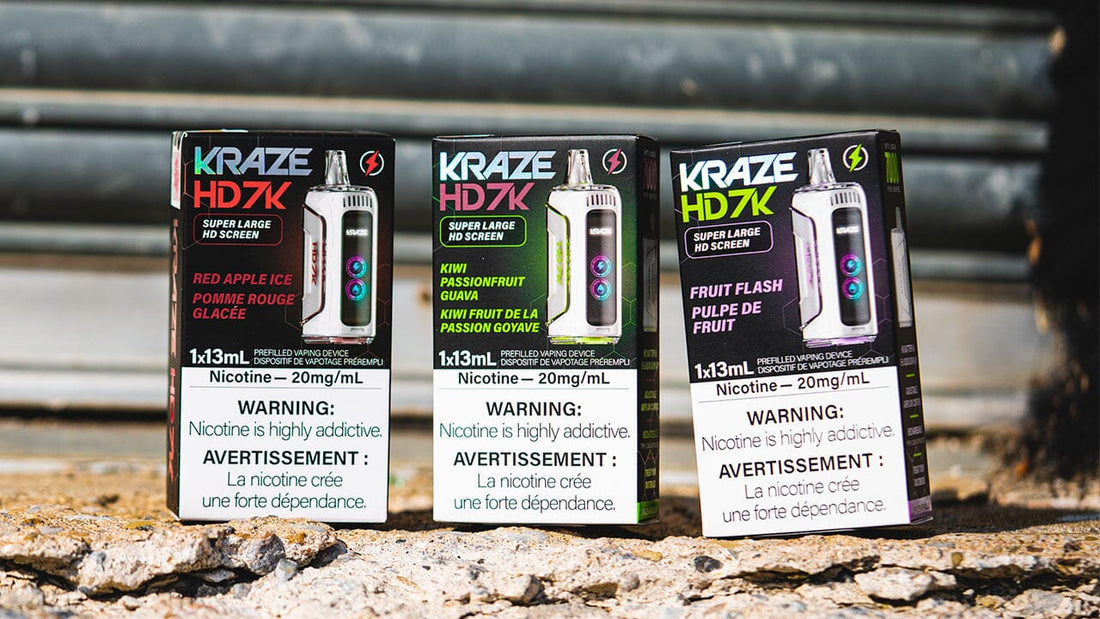 A Gimmicky Delight: Kraze HD 7000 TFT Disposable Vape Review
The vaping world is constantly evolving, and the Kraze HD 7000 Large TFT screen disposable vape is a prime example of this evolution. It has advanced features such as a large TFT screen, adjustable airflow control, a rechargeable Type-C port, and amazing flavour, offering up to 7000 puffs. These features make it an excellent choice in a crowded market.
Three New Flavours to Make You Smile
The Kraze HD 7000 Red Apple Ice 
The Kraze HD 7000 Red Apple Ice Disposable Vape is an exceptional product that offers a unique vaping experience. It combines the delicious taste of ripe red apples with a refreshing, icy twist, resulting in a perfect blend ideal for those who enjoy a crisp and refreshing flavour. Each inhale brings the sweet and familiar notes of red apples, while the icy finish on the exhale adds a layer of coolness that's both satisfying and revitalizing. This vape is a testament to the perfect balance of sweet and cool, making it a top choice for those who appreciate a refreshing and well-rounded vaping experience.
The Kraze HD 7000 Fruit Flash 
If you're seeking an exhilarating vaping experience that perfectly captures the essence of a fruit-filled paradise, the Kraze HD 7000 Fruit Flash Disposable Vape is the ultimate choice. This vape is a dream for fruit enthusiasts, providing a refreshing and satisfying fruity delight with each puff. Whether you're a fan of fruity blends or looking to explore a new flavour adventure, this vape will tantalize your taste buds and leave you craving more. With every inhale, you'll experience a fruity goodness that makes it an excellent choice for vapers seeking an intense fruity flavour.
The Kraze HD 7000 Kiwi Passionfruit Guava
If you're a fan of exotic flavours and want to try something new with your vaping experience, the Kraze HD 7000 Kiwi Passionfruit Guava Disposable Vape is the perfect choice. It offers a delightful blend of kiwi, passionfruit, and guava that takes your taste buds on an exciting journey to a paradise island. Don't settle for anything less than the best - choose the Kraze HD 7000 Kiwi Passionfruit Guava Disposable Vape and indulge in the ultimate tropical vaping experience.
Gimmicky Display with a Purpose
The most attention-grabbing feature of the Kraze HD 7000 is undoubtedly its oversized TFT screen. While some argue it's a needless addition, there's something undeniably cool about the animated flames accompanying every hit. The display adds a touch of spectacle and serves a practical purpose by simultaneously showing your battery and vape juice levels. It's a novel feature that combines style with functionality.
Bells and Whistles that Charm
The Kraze HD 7000 may not be everyone's cup of tea, but its large and flashy screen has its unique charm. Its animated flames and status indicators add a distinct flair to the vaping experience that can impress your friends and spark conversations. Though I forget about the screen's animations when vaping alone, I still enjoy them. I was curious about how the screen would look and was impressed by what I saw. The little animations also made me smile, and it's nice that they serve a function. While a vape with a fancy screen and cool lights isn't necessary, it's still something that I loved having once I got it.
Affordability Meets Quality
The Kraze HD 7000 stands out from its competitors by offering a combination of affordability and quality. It boasts impressive flavour, throat hit, and vapour production, especially compared to other disposable vapes in its price range. This speaks to the brand's dedication to providing a satisfying experience at an affordable price point. Additionally, the device features a funky, exciting, bright screen that displays a silly animated flame. Other disposable vape brands may want to take note of what Kraze is doing here!
In conclusion, the Kraze HD 7000 Large TFT screen disposable vape is more than just a gimmick; it's a delightful addition to the vaping scene. The mouthwatering Red Apple Ice flavour, the eye-catching TFT screen, and the overall quality make it a worthy choice for both seasoned vapers and newcomers. Try it to add a touch of spectacle to your vaping routine and impress your friends. After all, sometimes, a cherry on top can be the best part of the dessert.
At VapeMeet, we're committed to providing you with premium vaping solutions. Explore our range of products and take advantage of exclusive deals to enhance your vaping experience. Choose STLTH Pro and redefine the way you vape!
Stay updated with all our deals and promotions by following our
Instagram page
!