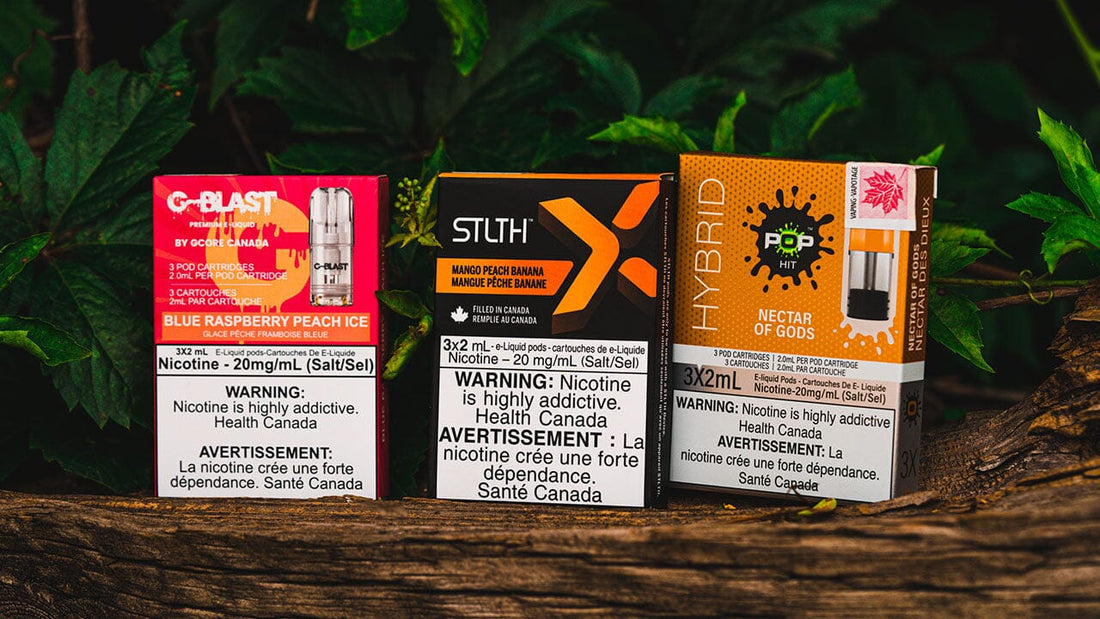 3 Summertime Vape Pods To Get This Summer of 2023
Summer is finally here, and what better way to enhance your vaping experience than by indulging in a delightful array of refreshing and fruity flavours? Look no further than VapeMeet.ca, your ultimate destination for all things vape. With their extensive collection of vape pods, you'll be spoiled for choice and ready to embark on a journey of summertime bliss.
Imagine yourself basking under the warm, radiant sun, savouring the invigorating vapours that capture the essence of summer. VapeMeet.ca offers a diverse range of vape pods thoughtfully curated to cater to your unique taste and preferences. With an unparalleled selection, from tangy citrus blends that transport you to sun-kissed orchards to luscious tropical medleys that evoke images of pristine beaches.
What are the best Vape Pods for Summer 2023
Now, look at three irresistible summertime vape pods that deserve your attention. These must-try flavours, available in-store and online at VapeMeet.ca, will tantalize your taste buds and invigorate your vaping routine. Get ready to embrace the epitome of summer vibes as we explore each vape pod, highlighting the intricate flavour profiles that await your senses.
First up on our list is the G-Blast Blue Raspberry Peach Ice vape pod. This delightful blend combines the tangy taste of blue raspberry with the sweet, juicy flavor of ripe peaches. To top it off, an icy coolness adds a refreshing finish, making it perfect for those hot summer days.
The G-Blast Blue Raspberry Peach Ice vape pod offers a smooth and satisfying vaping experience. The balance between the fruity flavors and the cooling sensation creates a truly enjoyable and invigorating vape session. This pod is a must-have for fruit lovers looking to add a twist to their summer vaping routine.
Next up is the Pop Hybrid Nectar of the Gods vape pod. This divine concoction features a heavenly blend of tropical fruits, creating a unique and exotic flavor profile. With every puff, you'll be transported to a paradise island, basking in the sun and surrounded by lush, vibrant scenery.
The Pop Hybrid Nectar of the Gods vape pod delivers a rich, full-bodied vapor that is bursting with flavor. The well-rounded and harmonious blend of tropical fruits make it an ideal choice for those seeking a truly indulgent and luxurious vaping experience this summer.
We couldn't resist adding one more summertime favorite to the list - the STLTH X Mango Peach Banana vape pod. This exquisite blend brings together the smooth and creamy taste of mango, the sweet and juicy flavor of peach, and the tropical taste of banana. Every puff is a burst of exotic flavor that will leave you feeling refreshed and energized.
The STLTH X Mango Peach Banana vape pod offers a smooth and satisfying vaping experience. This unique combination of flavors is perfect for those hot summer days, providing an invigorating and tasty treat that will keep you coming back for more.
Conclusion
In conclusion, these three summertime fun vape pods from VapeMeet.ca are must-tries for any vaper looking to elevate their summer vaping experience. The G-Blast Blue Raspberry Peach Ice, Pop Hybrid Nectar of the Gods, and Z Pod Blueberry Dragonfruit Guava each offer unique and refreshing flavor profiles that are perfect for enjoying in the warm, sunny days ahead.
So, don't wait any longer! Head over to VapeMeet.ca, either in-store or online, and grab these incredible vape pods for a truly unforgettable summer of 2023. Happy vaping!
Need more vapes in your feed? Stay up to date with all our deals and promotions by following our Instagram page!