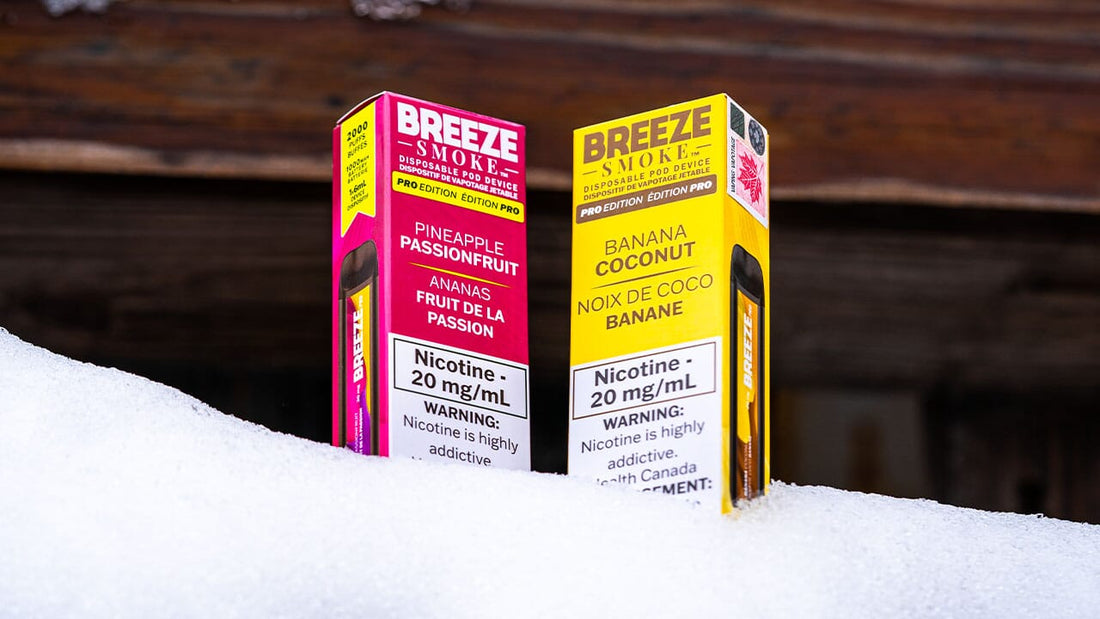 2 New vape flavours! Breeze Pro Review: Banana Coconut and Pineapple Passionfruit
Breeze Pro, one of the leading disposable vape companies, has two new delicious flavours: Banana Coconut and Pineapple Passionfruit, now at VapeMeet. If you're a Breeze Pro disposable vape fan or just looking for a tasty new vape, these flavours are worth checking out! Read this Breeze Pro review to learn more.
Breeze Pro vape Review: Banana Coconut and Pineapple Passionfruit
We have expanded our Breeze Pro Vape flavours range at VapeMeet and introduced two delicious new additions. Enjoy a tropical escape when you vape Breeze Pro Banana Coconut, with the perfect mix of rich, creamy banana and coconut paradise. Pineapple Passionfruit has all the sweet, sharp notes of juicy pineapple that merge perfectly with passionfruit bursts. Both flavours provide an unmistakable tropical Breeze Pro experience: superior quality blended with unbeatable convenience and portability. Breeze Pro Vapes is an easy way to get your daily vaping satisfaction.
Why we love these Breeze Pro flavours: they're a perfect tropical vaping experience.
Breeze Pro vape disposable vapes have earned a special spot in our hearts with their incredible tropical flavours. These flavours provide the perfect escape to the sweeter side of life, capturing the essence of somewhere far away yet so close to home. It's almost like taking a little piece of paradise with you wherever you go! In every puff comes an exquisite burst of flavour as potent as any fresh-made fruit smoothie, just without all the fuss - making them a wonderful vaping experience for beginners and experts alike. With Breeze Pro vape disposables, it has never been easier or tastier to vape all day while enjoying this getaway with every vape!
How to get the most out of your disposable vape: Quick tips and tricks for flavourful vaping
If you're looking for an ultra-premium vaping experience, look no further than the Breeze Pro disposable vape. Great for beginners and experienced users, this sleek device features pre-filled pods with various high-quality e-liquid flavours.
To get the best out of your Breeze Pro, remember to take slow draws of between 6 to 8 seconds - this allows the coil to heat up sufficiently and maximizes flavour. Furthermore, why not experiment with the different flavours available? How long do disposables vape last? With up to 2000 puffs per disposable, you'll get maximum value for your money with this durable device. For those asking how many puffs equal a pack of smokes, we find that 2000 puffs roughly equal a pack of cigarettes. So why not give it a go? The Breeze Pro always delivers satisfaction from its robust yet lightweight build - perfect for all vapers!
Our verdict on these flavours:
The verdict is in - the new Breeze Pro disposable vape flavours at VapeMeet are a hit! These two delicious options will add a little something extra to your vaping experience. What's your go-to flavour? Let us know! Our team loves the convenience and great flavours of the Breeze Pro disposables, and we think you will too. You will want to experience these enticing new tastes - pick up one of these nifty devices today!
With their smooth, intense flavour, Breeze Pro disposable vapes pack a powerful tropical punch. Banana Coconut and Pineapple Passionfruit make for a sweet vaping experience that's hard to beat. With these simple tips, you can now get the most out of your new product and maximize its flavour potential. We're confident these new flavours will be an instant hit – so why not come find out for yourself? Leave us your review of these new vapes on our product review page, and tell us why you love them. Juicy pineapple mingling with creamy coconut never tasted so good! Breeze Pro disposable vapes – the perfect puff every time.
Need to stay informed of all our new products at VapeMeet? Follow us on Instagram and stay tuned in for all the new flavours, products and mods we get in store!