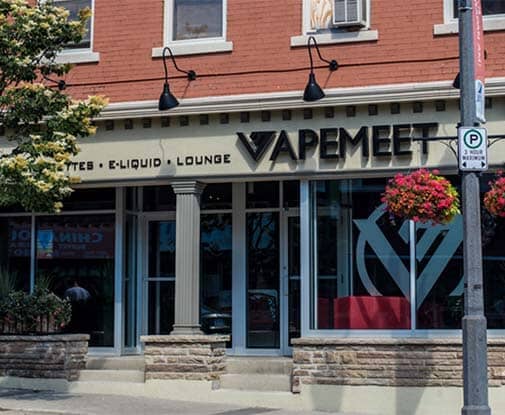 VapeMeet Milton: A Destination for Vaping and Downtown Exploration
If you're looking for quality vaping products and excellent customer service, VapeMeet Milton is the place to be! Their manager, Steve, understands the needs of his fellow passionate vapers like no one else. Located in downtown Milton, Ontario, Canada, VapeMeet Milton is the perfect place to get your vaping fix and explore the area. Whether you're a local or just passing through, stop by and see what all the fuss is about. 
The Local Milton Vape Shop 
Steve's decision to start vaping at 36 has proven to be a wise one. "I started vaping at 36 years old, and I was a two-pack-a-day smoker," Steve commented. "One day, I could not walk up a flight of stairs without stopping. Since I've started vaping, I can run again. Everything tastes and smells better. It has been an all-around life-improving step in the right direction."
Not only does he now enjoy improved taste and smell, but he has also been able to pick up running again. But what's even more impressive is his decision's impact on his customers. Through VapeMeet, he has helped countless individuals quit smoking and adopt a healthier lifestyle.
"Once, I had a customer come in to quit smoking. His family was skeptical at first," said Steve. "But when they saw him completely stop cigarettes, I ended up serving them for over two years." It's clear that Steve's passion for vaping goes beyond personal gain; instead, it's driven by a desire to make a positive impact on the lives of others.
More than just your average vape store
The store does more than sell goods - it designs an atmosphere that welcomes you, offering a safe and inviting place where you can learn all about vaping. Stepping in feels like walking through your front door, greeted by a warm and friendly team excited to answer any questions and help find exactly what you're looking for. "When customers walk into the store, I want them to have a warm, welcoming, honest experience that is tailored to their specific needs," said Steve. "I'll never sell a customer something that could stop their journey away from cigarettes."
VapeMeet Milton boasts an extensive range of vaping products, including e-liquids, mods, tanks, and coils. The store offers high-quality, top-of-the-line products from renowned manufacturers such as Smok, GeekVape, and Caliburn. The knowledgeable and personable staff is always eager to help customers pick the best vaping products to fit their preferences and enjoy a unique experience. Not only that, but the store also has an online shop that promptly delivers to your doorstep.
Discovering Downtown Milton
Located in downtown Milton, VapeMeet's store has plentiful free parking options. There's a public parking lot behind the building and convenient street parking in front. Visiting the store provides the perfect opportunity to explore other attractions and dining options in charming Milton.
Milton is known for its beautiful parks, and VapeMeet Milton is near several. You can stroll, bike ride along the scenic trails or picnic by the pond. Downtown Milton also hosts events throughout the year, such as summer concerts and farmers' markets.
The Milton VapeMeet location is next to a few good eats, such as Chudleighs Blossom Cafe, The Works Burger restaurant and the Thai House cuisine right next door. Downtown is full of excellent restaurants such as Casa Americo and Pasqualino's, or you can grab a drink with friends at the local pubs such as The Ivy Arms, Brydens Pub, or Pretty Rad. Downtown Milton offers a range of cuisines, from Canadian to Indian, and has something for everyone. Apart from dining and outdoor activities, downtown Milton offers many other activities, such as art viewing, shopping, or historical tours.
At VapeMeet Milton, we offer more than just top-notch vaping products. Our store provides a gateway to the picturesque downtown area of Milton - a charming destination in its own right. Our friendly staff and diverse selection of vaping products make us the perfect choice for vapers. While you're here, we invite you to explore Milton's tranquil outdoor spaces, savour its rich culinary experiences, and immerse yourself in its vibrant culture. We hope this post will inspire you to visit us and discover the beautiful downtown Milton. We value your feedback, questions, and thoughts on our blog, and we thank you for reading!