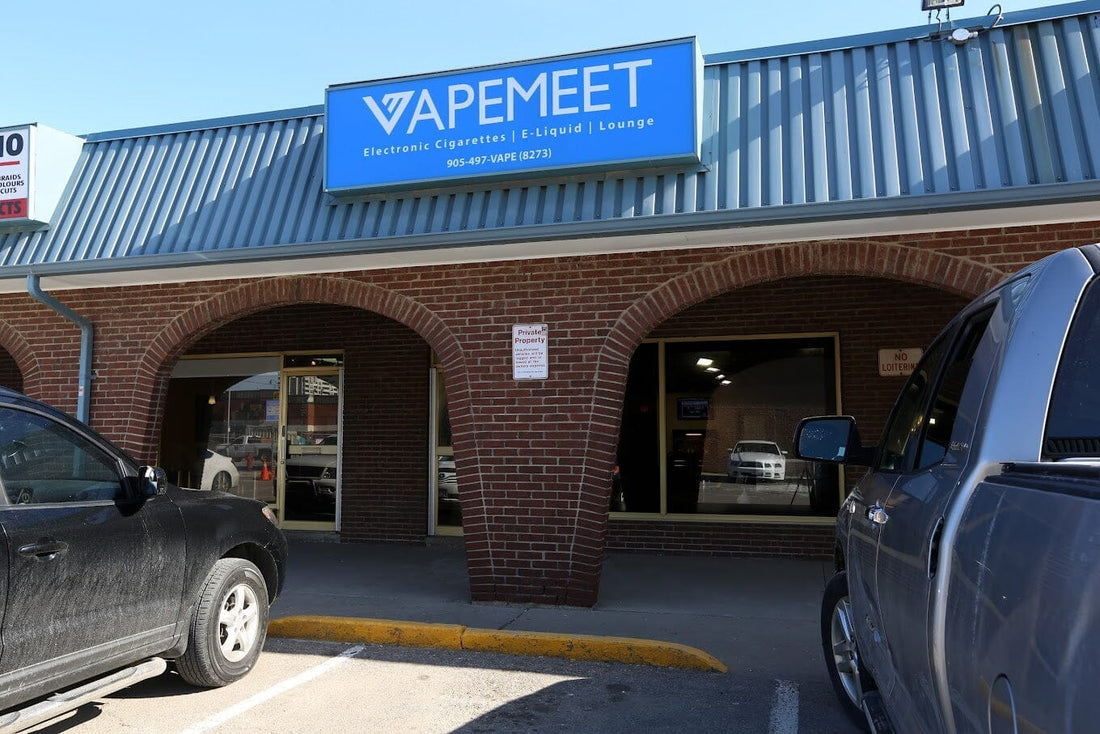 VapeMeet Brampton: Explore Brampton's Best Vape Store at VapeMeet
Welcome to Brampton, a vibrant city with an urban flair and rich cultural opportunities. If you're looking for the best vape store in Brampton, look no further than VapeMeet. Located at 239 Queen St East (Unit #12), VapeMeet is a one-stop shop for all your vaping needs. In this blog post, we'll explore everything you need to know about VapeMeet Brampton, including its range of products, commitment to customer service, competitive pricing, and more. If you keep scrolling for vape shops near me, put your phone down and check us out in Brampton. Plus, we'll provide you with a guide to nearby stores and attractions you can enjoy in the area.

VapeMeet Brampton has established itself as a leading vape store in the area, catering to the vaping hobbies and needs of Brampton residents. Strategically located at Queen and Kennedy, it offers visitors a hassle-free experience with free on-site parking. What sets VapeMeet Brampton apart is its wide range of quality vape products, ranging from sleek new mods to flavorful e-liquids. Visitors are guaranteed to find what they're looking for and enjoy in-store amenities as they do.

At VapeMeet Brampton, you'll find an impressive range of products, including e-liquids, pre-filled pods, disposables, vapes, and hardware. But what sets VapeMeet Brampton apart from other vape stores is its commitment to providing top-notch customer service. The knowledgeable staff are always available to answer questions and provide expert advice and recommendations. VapeMeet Brampton puts its customers first, which is why it has such a loyal customer base.


Places around VapeMeet Brampton

But VapeMeet Brampton is one of many attractions in the area. If you're looking for a bite to eat, you'll find plenty of great options nearby. For dinner, try Pind Balluchi Restaurant or Shawarma Corner Restaurant, which serves a variety of cuisines to suit all tastes. Uptown Hair Studio is a popular salon next door at VapeMeet Brampton, where you can get a fresh haircut.

Although Brampton may take time to come to mind as a popular tourist destination, this Canadian city has plenty to offer those seeking a good time. For example, if you're in the area to visit VapeMeet, why not stop by the Brampton Bowling Center for a night of bowling? It's a great way to add some fun to your trip! Consider strolling at the beautiful Garden Square and catching a performance or two. Another place to unwind is Gage Park, a green oasis in the city's heart with beautiful flowers, lively events and an aviary. Heart Lake Conservation Park is ideal for hiking, fishing, and camping if you're an outdoor enthusiast. Whatever your interests, Brampton's got you covered!

The rise of vaping offers a healthier alternative to smoking, and VapeMeet Brampton is leading the charge toward a vaping culture in the area. Their boundless commitment to championing a robust vaping culture is impressive and inspiring, setting them apart from the pack! By spotlighting the lifestyle aspect of vaping, they help customers transition to healthier alternatives and say bye-bye to smoking.

If you're looking for the best vape store in Brampton, look no further than VapeMeet. With its impressive range of products, commitment to customer service, competitive pricing, and community involvement, VapeMeet Brampton is the go-to store for both beginner and experienced vapers. And while you're in the area, check out some nearby stores and attractions Brampton offers. You won't be disappointed!